"The flame that burns twice as bright burns half as long"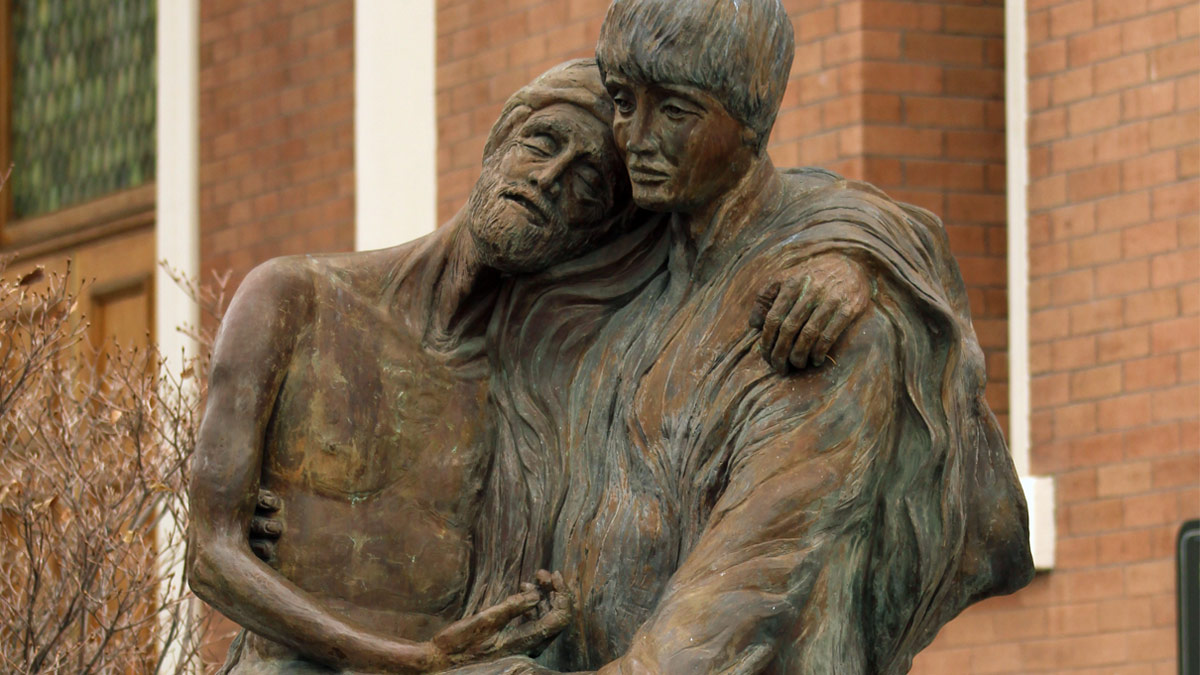 One of the traditions I enjoyed most during my decade of teaching at the Gregorian University in Rome was the annual concert every 21st of June to celebrate the feast day of Saint Aloysius Gonzaga (1568-1591), who died at the young age of 23.
The concert generally began in the central atrium at 9 o'clock in the evening, and featured a prestigious Italian orchestra or choral ensemble. Because June is already hot in Rome, the retractable roof of the Gregorian University, high overhead, was always drawn back for these occasions.
I used to go up to the roof at about 10 o'clock. It was already dark at this stage. I would stand there gazing at the stars, while the lush music wafted up from beneath.
Those stars speak to me of Aloysius Gonzaga. Ad astra: "To the stars." Aloysius aimed high. This young man had no time for mediocrity. The motto of his princely Gonzaga family was: Ad montem duc nos, "Guide us to the mount". But the hill of wealth or power was not the mount he wanted to ascend.
Born in a castle in northern Italy near Mantua, the eldest of seven children, Aloysius was destined to succeed his father as Marquis of Castiglione. As a child, he used to play with Eleonora, the future Duchess of Mantua and with Maria of Medici, the future Queen of France. But at the age of 10, it became clear that this boy was intent on taking a very different direction in life. In the Basilica of the Annunziata in Florence, a Renaissance-style church of which Ludovico III Gonzaga had been patron in the previous century, and a place of worship that is still loved by the people of Florence, the child Aloysius offered himself to God, and consecrated himself to Mary, just like she had consecrated herself to the Lord.
The way his life unfolded after this gesture showed that he knew what he was doing. He gave himself more and more to prayer and became increasingly disenchanted with the superficiality of the opulent world in which he found himself. He began to consider renouncing his rights of inheritance as the first-born son. He first raised the matter with his mother, and then had to face the sustained opposition and fury of his father, who had placed all his hopes in Luigi – his name in Italian, of which Aloysius is the Latin form – who possessed precisely the kinds of qualities that were conspicuously lacking in his younger brother Rodolfo. After two years at the Royal Court in Madrid, their father sent both Aloysius and his brother Rodolfo on a tour of various Italian palaces in Mantua, Parma, Ferrara, Pavia and Turin. Aloysius was now 16 years of age. The purpose of this tour was to weaken Aloysius' religious ideals by immersing him in the glamour and excitement of courtly life, and also hopefully to awaken his romantic interest in one of the many princesses he was bound to encounter.
But on his return from this potentially distracting tour, Aloysius was more resolute than ever in his desire to renounce his right to succession, leave everything behind, and become a Jesuit. At this point his father, guessing that the vocation of Aloysius was solid and genuine rather than some adolescent flight of fancy, finally and sadly resigned himself to it.
So this highly intelligent and accomplished young man, who spoke six languages, and had such a promising character, became a novice in the Society of Jesus in Rome at the age of 17. The Jesuit priests who were guiding him quickly realized they had star quality in their midst. This young novice did not need to be ordered to live an ascetical life; on the contrary, their biggest problem was to tone down the penitential excesses he liked to impose upon himself. Ironically, the biggest penance his Jesuit superiors imposed upon Aloysius was to stop doing penance.
And because Aloysius suffered from severe headaches and migraine, he was ordered not to think so intently and constantly about God. Because he trusted that God was speaking to him through the commands of his superiors, Aloysius obeyed them, and as a result, out of love of God he tried not to think of God! In practice, Aloysius didn't find it easy to obey. He confided to an older Jesuit: "Father Rector forbids me to pray, so that I won't feel greater pain in my head; and I do myself greater violence by trying to distract my mind from God, because I have already developed the habit of keeping my mind always fixed upon God, so that this habit has become second nature to me, and I find in it no pain, but instead my true peace and serenity." God was so present to Aloysius that he ironically had to end up begging God: "Depart from me, Lord".
Shortly before Aloysius' 23rd birthday, there was a drought in Rome, followed by a famine and then an outbreak of typhus. Along with many other young Jesuits, Aloysius volunteered to help. He picked up the sick and dying from the streets, carried them to a makeshift hospital opened by the Jesuits, washed them and nursed them, making a point of helping those whose wounds and pains were most nauseating and stomach-turning. Finally, in early March 1591, Aloysius himself was infected by one of the sick people he helped. He lay bedridden for three months, and at the moment of his death on the 21st of June, 1591, he was uttering the name which was dearest of all to him, the name of "Jesus".
Aloysius' own confessor, the Jesuit Robert Bellarmine, himself later to be declared a saint (Bellarmine begged to be buried next to Aloysius), called his young charge a martyr of charity, because he loved so much that he gave up his life for his neighbour.
That was the great secret of Aloysius Gonzaga: everything in him was love. Everything he did was done out of love. And that's why Aloysius found it so difficult to obey his superiors when they ordered him to stop thinking about God – God is love, and God's love flooded Aloysius' heart so much that he couldn't forget God, not even for a moment.