Belfast book launch draws big crowd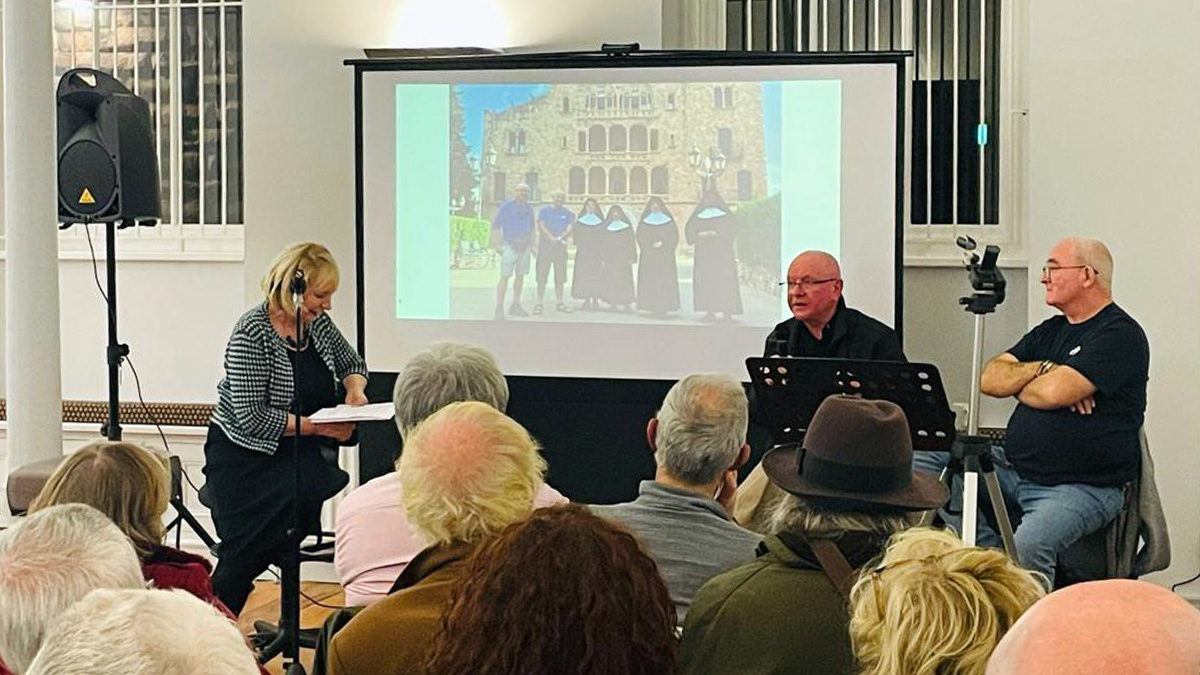 Over a hundred people attended the Northern book launch of Brothers In Arms, a journey along the Ignatian Camino co-authored by Brendan McManus SJ and Dublin taxi driver Jimmy Fullam. Presbyterian, veteran journalist, and author Alf McCreery officially launched the book in the Belfast Jesuit Spirituality Centre, Donegall St, on Thursday evening, 9 November 2023.
After a warm welcome to all by the centre Director Gerry Clarke SJ, Carolanne Henry of Messenger Publications gave a short introduction to the book. Pat Coyle of Irish Jesuit Communications interviewed Brendan and Jimmy about the whole experience, and they drew many laughs from those present with their tales of straight talking to each other, dodgy-looking local in a remote bar who turned out to be ultra friendly and being rescued and driven to Monserrat by a group of enclosed nuns who'd never heard of The Beatles! (See photo).
All of this was underpinned by the recounting of what they both gleaned on the trip concerning the power of Ignatian spirituality and its important contribution to wise discernment and good decision-making.
Alf McCreery (see photo: second from left) said he wanted to highly recommend the book, particularly for the stories that seemed to indicate the providential care of God that accompanied both Brendan and Jimmy on their pilgrimage.
He shared a moving story of his own encounter with Gordon Wilson who lost his daughter in the IRA bomb in Enniskillen on Remembrance Sunday 36 years ago. Having ghost-written Gordon's biography for him, he felt somewhat aggrieved when he, the author, seemed to be written out of the story. But Gordon loved sharing about the book and so Alf made peace with his anonymity.
Two years later Gordon died suddenly and not long after Alf was approached by another publishing company to write up the life story of this amazing man. "Coincidence or Providence?" he asked those present.
Gerry Clarke drew the evening to a close by thanking all who took part and inviting everyone to share in a cup of tea or coffee and continue the conversation with Brendan and Jimmy about a 'journey that had shaped them'.
Brothers in Arms is published by Messenger Publications » and costs €12.95