First vows – 'an immense inner joy'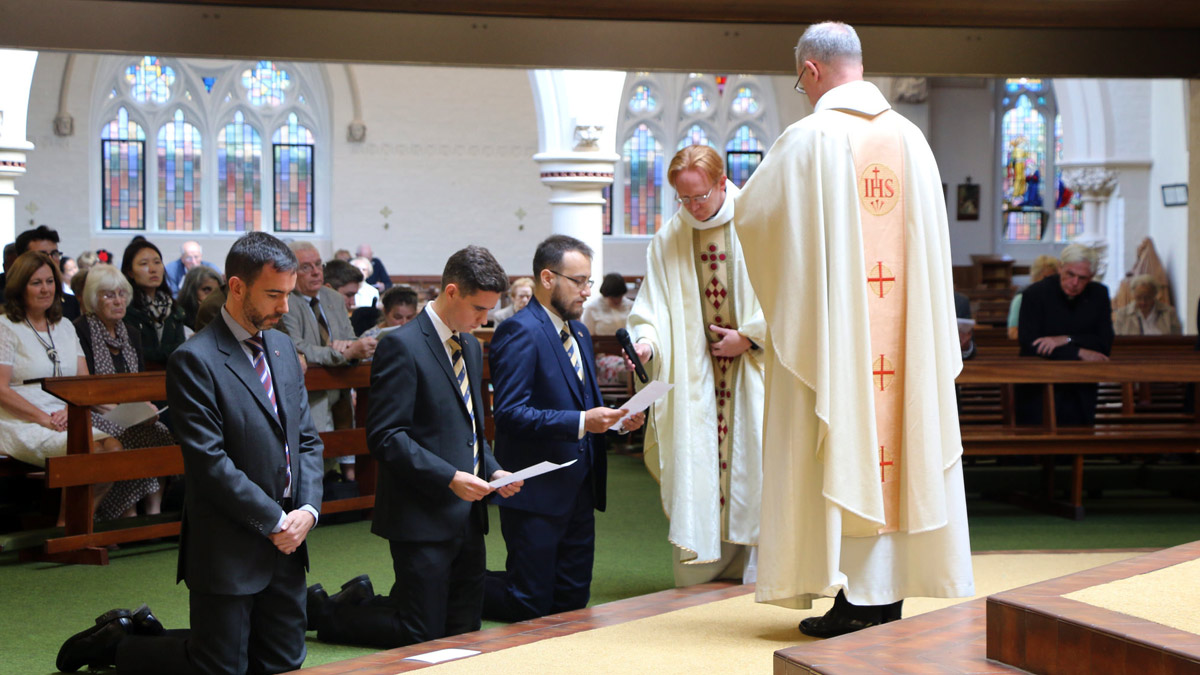 Three Jesuit novices, Teodor Avram SJ from Ireland, Christopher Brolly SJ and Stephen Noon SJ from Britain, took their first vows at St Mary's Church, Harborne, Birmingham on Saturday 2 September. The novices have completed their two years in formation at the Novice House in Birmingham which looks after novices from the three Jesuit provinces of North West Europe – Britain, Ireland, and Flanders-Netherlands.
The British Provincial Damian Howard SJ presided at the Mass. Bruce Bradley SJ, Socius of the Irish Province, and Walter Ceyssens SJ, representing the Provincial of Flanders and the Netherlands, concelebrated with Simon Bishop SJ, Brendan Callaghan SJ, and Kevin O'Rourke SJ, who have all served as Novice Masters over the past two years. Paddy Carberry SJ, Myles O'Reilly SJ and Liam O'Connell SJ, all travelled from Ireland to be part of the occasion.
In his homily Fr Damian described how the novitiate prepares men for life as a Jesuit:
"What we do is to build up a man's dreams about a life of love and selflessness, cramming his imagination with stories of Jesuits who were brave martyrs, intrepid explorers, brilliant scientists, accomplished artists and all sorts of other things. And then we place a broom in his hands and tell him to sweep the leaves in the drive. And, to add insult to injury, we tell him to him to find God in it."
He reflected on the temptation to follow in the path of the past heroes of the shared Jesuit heritage, but reminded those present of the need to work in close partnership or true communion with others in order to fulfill their mission:
"The vows are really pathways to communion,"he said, adding, "I close my arms around no one person because I open to all. I live a simple life because I depend on the generosity of benefactors, because I'm accountable to my companions and want to be closer to the poor. And I'm obedient because sometimes others know me better than I know myself and see where I can do most good."
Reflecting on the experience afterwards, Stephen Noon, who spent some of his time as a novice working in Dublin in Gardiner St Church, wrote:
"It has been a beautiful day. My head is filled with so many deeply moving and powerful moments. Filled to the brim with smiles, emotions, conversations, good wishes. And right now, as I sit here choosing the image of the day and trying to find words to set out what the day means, there is only really a profound sense of space, wholeness, calm.
So the picture that I have chosen reflects this reality – it is an image taken from my pew in the church before many people had arrived. I was struck by the intense light, by the lines – a sense of calm that reflected in so many ways how I was feeling as the service began. A real lightness of being.
The great inner peace of then, has become an immense inner joy now."