SpIRE making its mark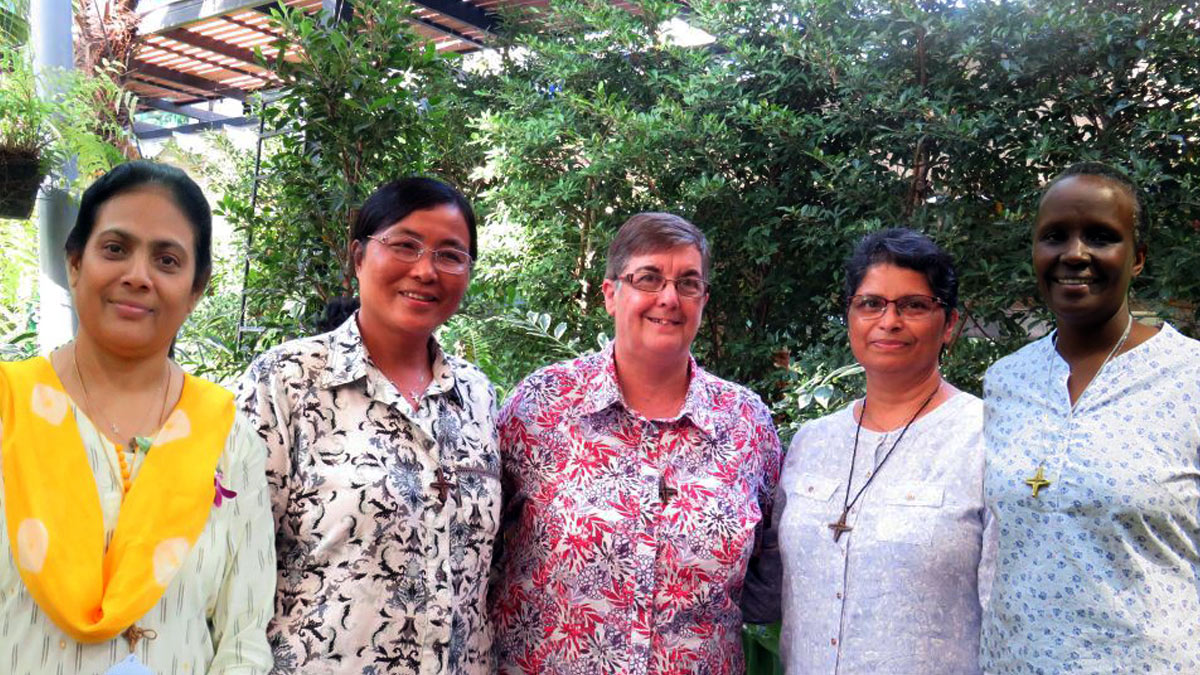 The Spirituality Institute for Research and Education (SpIRE) Library in Milltown Park, Dublin, reopens on 8 June, 2020, for the first time since the lockdown restrictions began. It will open on a limited basis to students and staff of the MA Applied Spirituality programme who are living within government geographical limits for travel. SpIRE, which hosts and supports the MA programme awarded by Waterford Institute of Technology, has adapted to the lockdown like other organisations in creative ways. Lectures were held online in April and May and students continue to work on their dissertations until 4 August. Graduates are also thriving including two religious sisters who have recently taken up major leadership roles in their congregation and two other graduates who have published books that are making a mark in the field of spirituality.
Fr Michael O'Sullivan SJ, Director of SpIRE and the MA Applied Spirituality programme, says:
"We went to online teaching in April and May and had to readjust some of the assessed assignments. Since the end of classes in May students are completing assignments, especially their dissertation. Research supervision and spiritual accompaniment are also, in general, being completed online.
The programme continues until 4 August when the students are due to hand in their dissertations and final Integration Process journal and to hold a closing ritual. The second semester internal and external examination boards, and the programme board, and programme leadership team, meetings were all also held online."
Two of the graduates of the MA programme have been elected in recent days to the world leadership team of their religious congregation, Our Lady of the Mission (better known in Ireland as the Notre Dame des Mission sisters). Sr Lucy Wambui Wainaina (first from right in photo) graduated in 2011 and is from Kenya, and Sr Margaret Maung (second from left) graduated in 2018 and is from Myanmar. Sr Margaret has also been elected Vicar-General. Their central house is in Rome.
Many other sisters from religious congregations who graduated with the MA have also gone on to major leadership roles in their congregations in different parts of the world (India, Indonesia, Bangladesh, the Philippines, Kenya, Nigeria, UK, and Ireland).
Two of the 2018-19 graduates have published books drawing on their MA in Applied Spirituality studies: Sr Anita Maryam from Pakistan and Diane Jackson from Northern Ireland and Dublin.
Sr Anita became the first person of the Kacchi Kohli tribe in Pakistan to take vows as a Catholic sister. In her book, Art Dispels the Darkness: A Spirituality of Healing, she focuses on the use of painting and poetry in spirituality. She proposes to make a journey through key elements of our inner life: awareness, longing, recognition, acceptance and moving beyond. It is not an ordinary academic path; suggestive ideas are interwoven with personal experiences and original perspectives. Furthermore, the author shapes her path as a healing journey where artistic expression and creativity are not only tools at hand but also the ground that makes healing possible.
Diane Jackson, who was in Sr Anita's class, had her book, Spirituality at the School Gate, published in June. Unlike the everyday location of the workplace or the home, the school gate, which is primarily populated by women, is an overlooked, under-researched locus of spirituality. This book reveals it as a context deserving of attention, and sheds a concentrated beam of light on what proves to be a site of rich, embodied spiritual practice. It will encourage readers to approach their daily school-gate experiences with more intentionality and appreciation of the presence of God in the everyday.
Twenty-two graduates of the programme from other years have also had books, book chapters, or articles published in recent years, including Gavin Thomas Murphy (2017-18), who works with Irish Jesuit Communications.
Fr Michael O'Sullivan SJ and Dr Bernadette Flanagan (Chair of SpIRE and Course Leader of MA Applied Spirituality) also continue to serve through their international leadership roles in the world of spirituality studies. They were both interviewed about the MA programme for a research project by a Swedish third level institute and will also be holding online seminars with PhD students from Kansas this summer.
Furthermore, Fr O'Sullivan says:
"We have been working hard on applications for the MA Applied Spirituality programme 2020-21 in the face of the challenges posed by Covid-19, and we have been making preparations to deliver the programme in its usual format but in the context of the existence of the pandemic."
Other users of the SpIRE Library will be given access later in the year.