Lonergan and social justice
February 27, 2014 in
News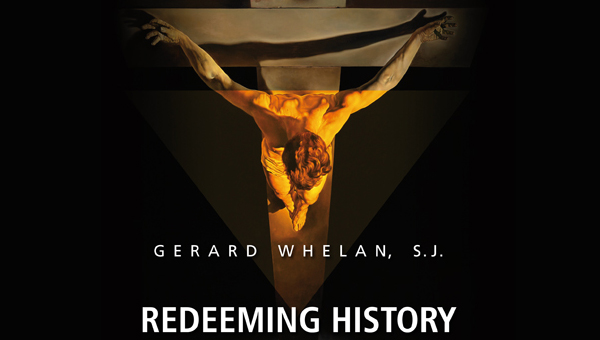 How are we called to collaborate with God's plan to redeem history? For Bernard Lonergan SJ this was a most important question and Redeeming History is the title of Gerry Whelan SJ's just-published book which focuses on the Canadian Jesuit's intellectual development and social concern. According to Fr Whelan that social concern, not often acknowledged, 'took root in the 1930's and remained a key guiding factor in Lonergan's career until he died in 1984."
In a YouTube video introducing his book, Fr Gerry notes his pleasure at getting copyright permission to use Salvador Dalí's famous painting 'Christ of St John of the Cross' on the cover. It is apposite, he remarks, as both Dalí's painting and Lonergan's writings are about the crucified Christ hovering over the earth in an act of redemption. For much of the video, Fr Gerry summarises his effort in the book to explain why even Lonergan scholars might fail to note Lonergan's deep-seated social concern.
Foremost among the reasons for this failure, according to Fr Gerry, is the fact that the writings in which Lonergan's social concern is most explicit are his earliest ones, most of which went unpublished. Like many intellectuals writing in the 1930s and 40s, Lonergan was deeply concerned by the the immense suffering wrought by the Great Depression, as well as by the rise of totalitarian politics, and he thought that his contribution might be to provide a Catholic treatment of the philosophy of history and a theory of macroeconomics broadly parallel to Marx's treatment of these same themes. By the end of the 1940s, however, Lonergan realised that his works were not making the impact he hoped for. He also began to see the need to withdraw from the great practical subjects in order to lay down a robust philosophical and methodological foundation. This, then, became his life's work, and it is for this that he has been remembered.
Lonergan never truly returned to the questions of social concern which had animated him in his earlier life. It is Fr Gerry's claim that this return was effected in large part by Lonergan's student Robert Doran SJ. What Fr Doran did was to graft onto Lonergan's foundational work both a psychoanalytical sensibility and an engagement with liberation theology. In particular, Fr Doran expresses lucidly the need to allow the situation to provide a source for theology. It was therefore through this expansion of Lonergan's foundational thematics that the return to the practical arena, the arena of social concern, has been effected.
Redeeming history is available from the publishers, Gregorian and Biblical Press.