Asylum seekers sleeping on hotel floors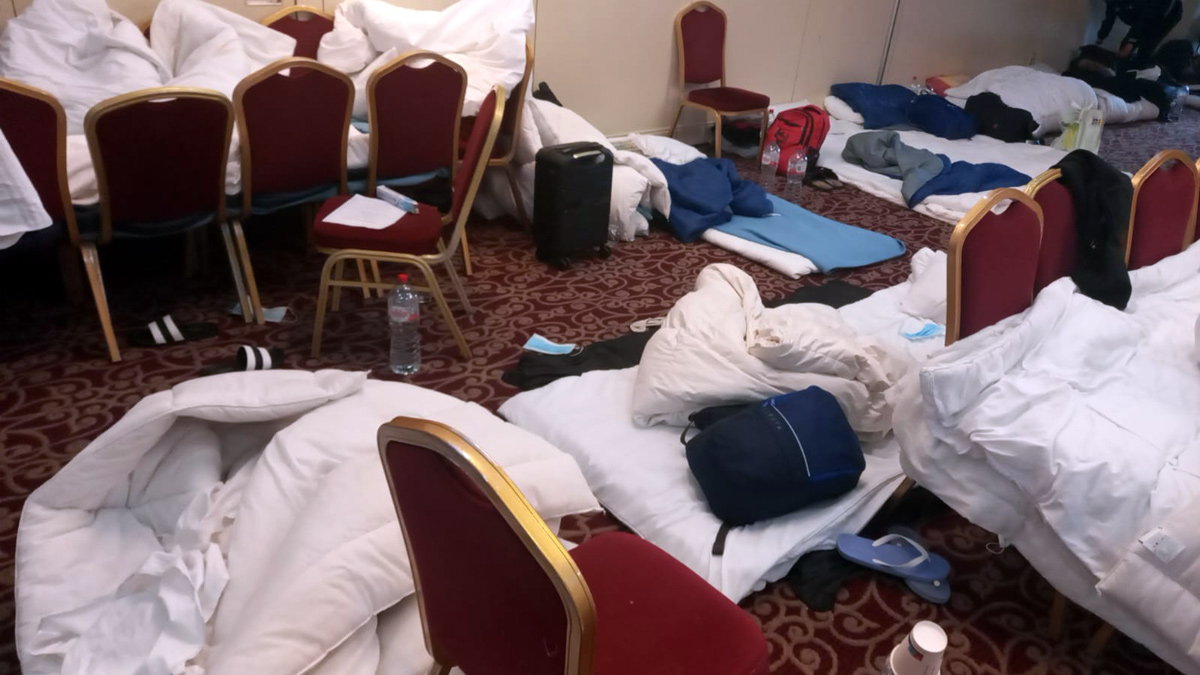 "It takes your breath away to see. It's like a humanitarian disaster to see asylum seekers sleeping on floors," said Eugene Quinn, National Director of the Jesuit Refugee Service (JRS) Ireland, referring to the situation of 300 international protection applicants being accommodated in the 'overflow' area of the Red Cow Moran Hotel in Dublin.
Speaking to Gavin Jennings on RTE Radio 1's News at One programme, today 13 June 2022, Eugene Quinn said these are the "worst conditions" he has seen in his 16 years in the sector and described them as "extraordinary and unacceptable".
On Friday 12 June, JRS Ireland and the Irish Refugee Council sent a joint letter to Minister for Justice, Helen McEntee TD, and Minister for Children, Integration, Disability, Equality, and Youth, Roderic O'Gorman TD, to express their concern at the unacceptable situation of asylum seekers sleeping on floors or makeshift beds from chairs.
The concerns raised reflect the living conditions and the nature of the accommodation in the overflow area, observed by JRS Ireland staff in delivering supports and services to asylum seekers in the Red Cow Moran Hotel over the last number of weeks.
The joint letter highlighted "the use of two of the hotel's ballrooms to accommodate people. No beds are provided and people are sleeping on the carpet or on makeshift beds from chairs. There are 25+ people in each section of the ballroom."
In addition to 500 international protection applicants accommodated in hotel rooms, 300 asylum seekers are in ad hoc sleeping arrangements (beds placed in converted conference and meeting rooms and the ballroom floors) in the hotel overflow area.
"The ballroom configuration presents obvious fire hazard and health safety risks to applicants and is contrary to the Reception Conditions Directive.
"We request that the practice of accommodating international protection applicants on the floors of communal hotel recreational areas cease immediately and concrete measures be taken to ensure it does not occur again, at the Red Cow Hotel, or elsewhere."
Speaking on RTÉ's Today with Claire Byrne, Minister O'Gorman said: "It's not the sort of response as a country we want to be providing to people fleeing here."
The Minister added: "In the short term, myself and my officials will be engaging with the Irish Refugee Council, with the Jesuit Refugee Service who flagged up their concerns, to see what measures we can take in the short term to improve the situation there."
Mr Quinn welcomed Minister O'Gorman's comments that he is willing to engage with JRS Ireland and the Irish Refugee Council. He urged that there needs to be a whole of Government approach and a more strategic approach in order to establish a long-term solution.
While acknowledging the huge efforts by International Protection Accommodation Service (IPAS) staff to procure suitable accommodation in the most challenging of circumstances, Mr. Quinn concluded that "the practice of accommodating asylum seekers on floors must cease immediately, a different type of 'overflow' accommodation has to be found that affords international protection applicants their basic dignity and does not place their health and safety at risk."
Photo copyright: Abolish Direct Provision Campaign (Twitter: @AbolishDirect)