First ever student leadership conference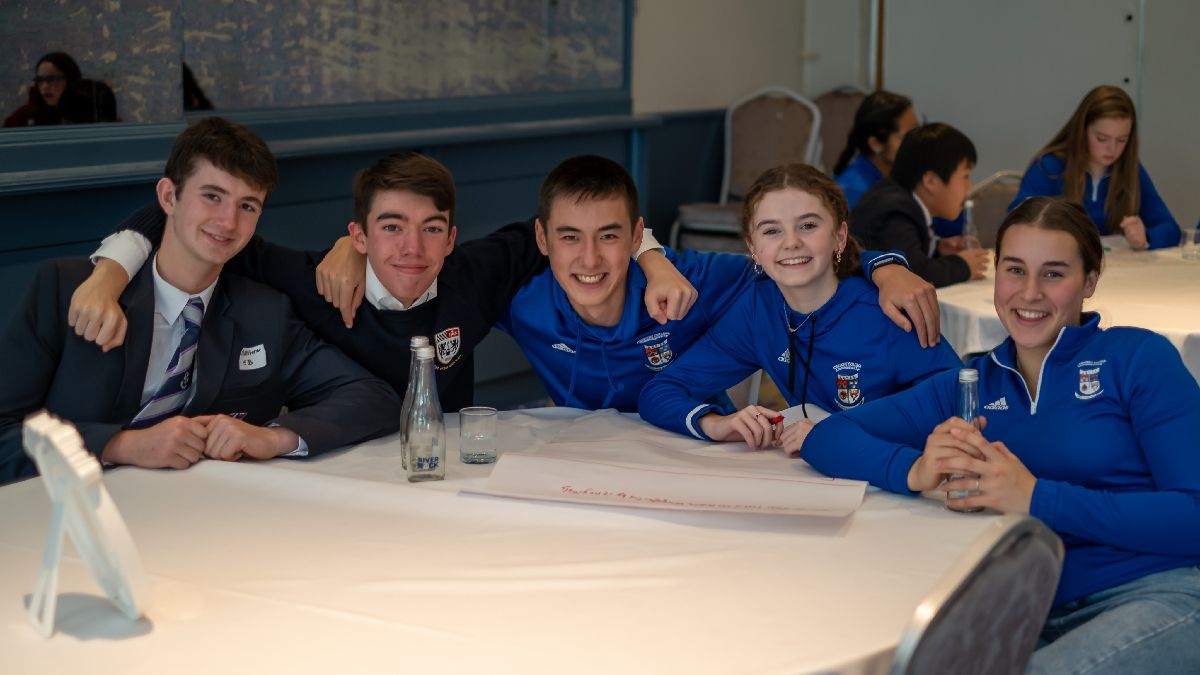 About 70 students from four Jesuit schools – Belvedere College, Clongowes Wood College, Coláiste Iognáid and Crescent College Comprehensive – participated in the first ever MAGIS Student Leadership Conference in Tullamore Court Hotel, Co. Offaly, on 26 October 2022. The event included an opening talk by John K. Guiney SJ, Director of Irish Jesuits International, as well as three workshops throughout the day and round-table discussions. Aifric Keogh, Olympic bronze medalist and Coláiste Iognáid graduate, also gave a talk on the importance of resilience and perseverance. Below, Belvedere College students reflect on their experience of the conference.
MAGIS Student Leadership Conference 2022
On the 26th of October, Student Council representatives took part in the first ever Jesuit Schools Conference in Tullamore, Co. Offaly. The aim of the day was to help students understand the concept of leadership in line with Jesuit teachings in order to become Men and Women for Others. Ten Belvedere students from Second to Sixth Year participated in the event. The students representing Belvedere were: Bailey Scanlan, Yoyo Shi, Hugh Johnston, Jim O'Keefe (incoming member of Student Council), Seanie Bowes (incoming member of Student Council), Ryan McSheffrey (representative of TY council), Dilan Ramnarian, Conall O'Seachnasaigh, Luka Vekic and Matthew Daly.
The event was well organized and was split into 45 minute workshops and seminars. The day ran very smoothly, containing many inspirational guest speakers and engaging group discussions allowing us to reflect on ourselves and then explore our views and attitudes with others.
The seminars were all very interesting, however one workshop that stood out was the topic of Change Theory. We are all aware that many problems exist in society today and that an individual's efforts of trying to change the country for the better may seem minimal and worthless in the beginning. Independent actions aiming to achieve a better world are labelled as "Individual Change".
However, in order for action to be meaningful and effective, like-minded individuals must join together their individual efforts into a bigger initiative of "Collective Change". This amplifies peoples' voices and brings the concerns of the public to the attention of governments and organizations. A collaborative working together can put pressure on politicians to take action and therefore can achieve more significant results. Through the far stronger efforts of a unified group, we can then incite "System Change" and help tackle injustices in the world.
Another interesting seminar that we attended talked about forgotten crises still happening around the world. We learned that the invasion of Ukraine has drawn the full attention of the media resulting in other issues with human rights being overshadowed. Due to Ukraine's higher political standing, their issues are getting broadcasted over smaller nations that don't get the recognition they deserve. There are tragedies taking place at the moment in countries such as Tigray, Yemen and Darfur which are practically unheard of in today's generation. These conflicts don't attract any media attention and the people affected don't receive much assistance. As Jesuit students it is our responsibility to shine light on these issues and to help those in need who are often forgotten about.
We also became aware that media outlets such as newspapers can be influenced by powerful shareholders causing reports to contain bias or exclude certain pieces of important information that the owner does not wish to be included. We were given an objective resource: Media Ownership Ireland » to find out who has major influence over Irish news outlets. With this, we can differentiate news services that either speak truthfully, or are biased in the views of their shareholder. We were also recommended to check out Irish Jesuits International », which is the website of the Jesuit organization that the speaker John K. Guiney SJ works for.
The last seminar we attended was on leadership. Everyone in the room had differing views on what leadership is. Some believed that it means having power whilst others believed that it means to serve the masses and desires of the people. However, we arrived at the realisation that being a leader means making a difference and inspiring others to go far by setting a good example. In the words of Pope Francis: "Be men and women with others and for others: true champions at the service of others."
These three workshops tied together nicely under the topic of leadership and helped us understand the meaning of attending a Jesuit school. It enabled us to conclude what attitude good leaders should have and what we can change to improve the Student Council in Belvedere. However, if we were to take part in it again, perhaps it would be even more beneficial to the school for the new students beginning their term in January to attend. Many of the students who went during the week are nearing the end of their term on the Student Council and it would have been useful for them to have completed this workshop towards the start of their period on the council.