Fr Browne on the world stage
November 14, 2014 in
News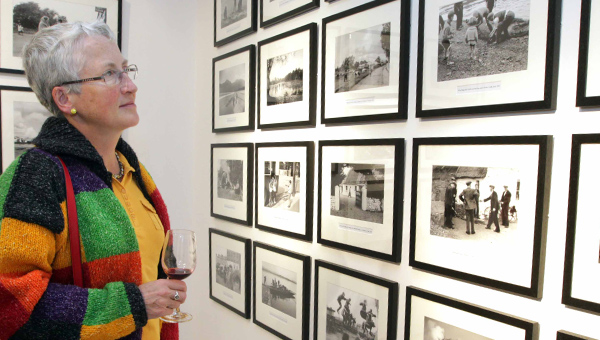 Frank Browne, A Life Through the Lens, a new book published by Yale University Press on the Jesuit photographer Fr. Browne and an exhibition of the same title featuring almost two hundred of his photographs was launched by Tanáiste Joan Burton with historian and broadcaster John Bowman in Farmleigh Gallery on Saturday 1st November.
Speaking at the launch, the Tánaiste described Fr Browne's work which spanned seventy years of Ireland's history as "quite extraordinary". She highlighted the qualities of Fr. Browne evident through his photographs: "He has a great interest in people and the relationship of the person to landscape and the world that they are in." The Tánaiste also predicted that this latest presentation of Fr. Browne's photographs would make Fr Browne's work and reputation even more well known: "I think the publication of the major study on his photography and exhibitions like this really establish him as one of the greatest photographers of the first half of the 20th century," she said.
The photographs in the exhibition are a small portion of the entire Fr. Browne collection which compromises over 40,000 photographs. Edwin and David Davidson who worked with Yale University Press on selecting the images for this definitive publication of Fr Browne's works were delighted with the results. The full collection of Fr Browne photographs were conserved, duplicated and catalogued by the Davidsons, who also represent and market the collection internationally for the Jesuits.
The exhibition Frank Browne, A Life Through the Lens continues at Farmleigh Gallery until the 23rd of December. Entry to the exhibition is free.