Jesuit Chaplains of World War I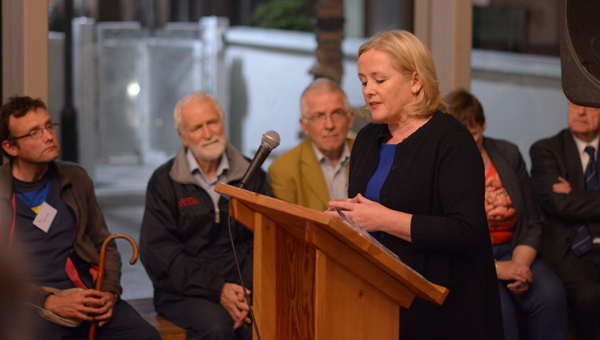 Irish Jesuit Chaplains in the First World War, (Messenger Publications) edited by Damien Burke, assistant archivist to the Jesuit Province, was launched on Friday 17 September, by Roisin Duffy of RTE. The launch took place in Belvedere College and was part of the history conference to mark the Jesuit Restoration of 1814, organised along with the Irish Catholic Historical Society.
At a time of great turmoil at home in Ireland, thirty-two Irish Jesuits signed up to minister to Catholic soldiers on the European battlefields of the First World War. and Damien Burke, has edited a wide ranging collection of essays on eleven Irish Jesuit Chaplains.
Six of the Jesuits in the book survived, such as Fr Frank Browne, the most decorated Catholic chaplain to survive the war. Roisin Duffy, whose television documentary on Father Browne was aired earlier in the summer on RTE, said the book made a valuable contribution to a much-neglected topic that was only of late receiving the attention of historians. In her talk she noted that, "Historians readily admit these days that until recently the significance of religion and the role of the chaplain have largely been neglected as an area of research in WW1". She quoted the Trinity College Dublin Historian Professor John Horne on the role of the chaplain: "Chaplains had an important role; they were participants but non-combatants, and more significantly they were close witnesses to what the war did to the soldiers to whom they ministered".
Amongst the five who did not come home was the much-loved Fr Willie Doyle, who story is told by Bernard McGuckian SJ. John Looby SJ, editor of The Messenger, has written a vivid essay on life at the front for a soldier, entitled 'T'he things they carried. The lives they led'. In it he writes, "Tthey saw themselves as making Christ present to men living in constant danger, often in terrible pain and dying. Whereever and whenever the men needed their priests, they were ready and willing to be there whatever the danger or risk involved".
The event was rounded off by Tracy McElroy from Inis Eoghain, Co.Donegal, a musician,composer and battlefield guide who has been working on the theme of Ireland, Remembrance and WW1 for the last 15 years. She spoke of her journey to Belfast to read the diary of her grand uncle, Fr James McRory, also a chaplain in the Great War. She spoke of his opening written words: "So you've found me at last". Then a hushed audience listened as she played 'In My Darkest Hour', on the violin. It was a moving air she had composed in honour of all the chaplains who served in WW1.
In this important contribution to WW1 history, the other essays are:
John Delaney SJ, MC (1883-1956) — Fr. Thomas Morrissey SJ
John Fitzgibbon SJ, MC (1882-1918) — Steve Bellis
Henry Gill SJ, MC, DSO (1872-1945) — Simon Carswell
John Gwynn SJ (1866-1915) — Fr. Paul Andrews SJ
Austin Hartigan SJ (1882-1916) — Fr. Michael McGuckian SJ
Patrick Morris SJ (1882-1966) — Fr. Hugh Duffy SJ
Patrick O'Mara SJ (1875-1969) — Fr. Liam O' Connell SJ
Daniel Roche SJ, MC (1882-1961) — Fr. Thomas Morrissey SJ
Australians and Michael Bergin SJ, MC (1879-1917) — Fr. Michael Head SJ / Graham Wilson / Damien Burke