Provincial launches NCI strategic plan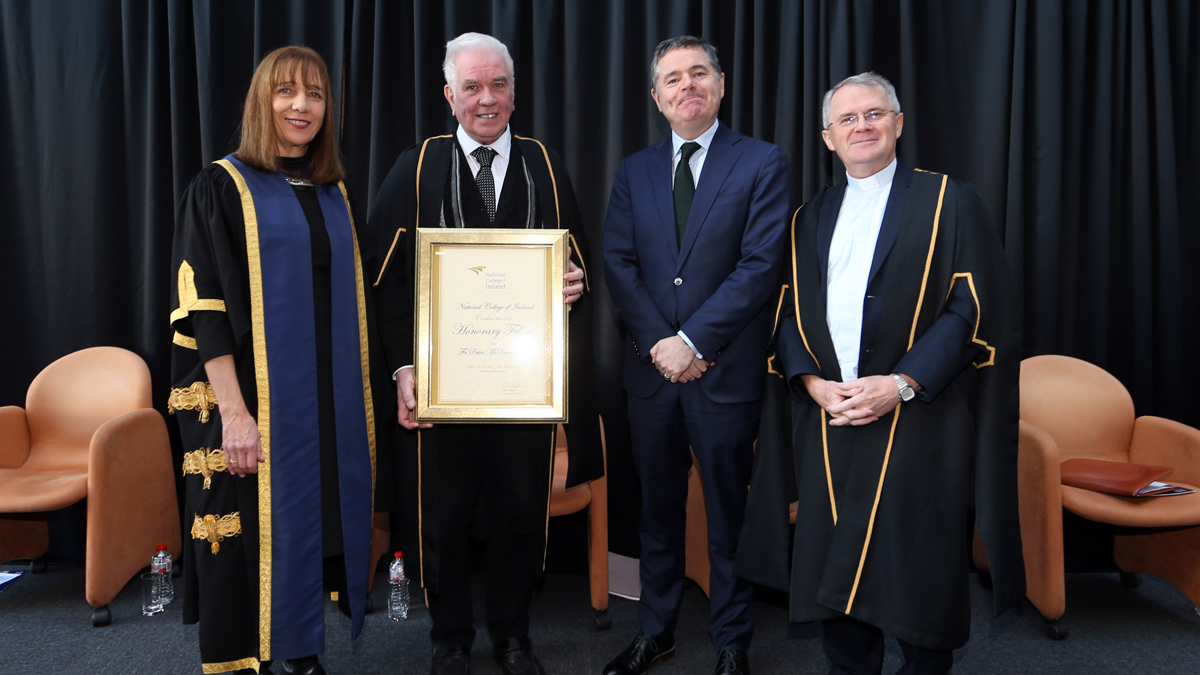 Irish Jesuit Provincial Fr Leonard Moloney SJ launched the five-year strategic plan of the National College of Ireland on Friday 18 November 2022. Homelessness campaigner Peter McVerry SJ was also awarded an honorary fellowship from the NCI at the event.
The roots of the NCI go back to the 1950's when the Jesuits founded the college to create a higher education institute that would educate workers and their families. It had a business focus but was also socially conscious in line with the Jesuit commitment to social justice as an integral part of any faith horizon.
Speaking at the launch, Fr Moloney said, " The NCI today, as an independent, not-for-profit college, maintains that same unique dedication to equality, social inclusiveness, and humane education through its mission."
Noting that we live "in changing and challenging times", Fr Molony said, "So as Chair of the NCI Governing Body, and on behalf of my Governing Body colleagues, I welcome this 5-year strategic plan because it is important to have signposts and a strategy for the future no matter how uncertain that future might appear from our present standpoint."
Referring to the motto of the college 'Changing Lives Through Education' Fr Moloney said that the college is at its core,"Open and accessible to the lives of those who are part of it, including the ever-growing student body and the surrounding community through the Early Learning Initiative, which has also expanded significantly." He also welcomed the fact that the college had recently taken 'the brave step' of investing in a further Campus Building, just a few meters away from the NCI main building Spencer Dock.
"So this strategic plan comes at a very important time in NCI's evolution," he said adding that it builds on NCI's distinctive position in the higher education landscape. "It holds a beacon of opportunity for all its students, is supportive of all its staff, believes in excellence in teaching and learning and research, all through a prism of accessibility. These values permeate this strategic plan."
He concluded that launch by thanking everyone involved in drawing up the plan and wishing the staff, students, and stakeholders every success in its implementation.
Fr Moloney then went on to say a few words for the conferring of the honorary fellowship award on his fellow Jesuit Peter McVerry SJ. He said it was an honour for him to present a testimonial for Peter though, knowing the type of man Peter was, "he's only here today because of those to whom he points in his life's work".
And that work of a lifetime is not about charitable rescuing for Peter, said Fr Moloney, going on to explain that, "It's about education and struggle and agitating for structural change. Jesus, for Peter, became the revolutionary who came to challenge the established order, the voice of God's special love for the poor. He came to set up a new order – the reign of God – a just society, true community, where all are cherished, and their unique dignity as beloved sons and daughters of God is honoured."
Fr Moloney went on to say that it was an honour for him to walk with Peter as a fellow Jesuit. And he thanked him and all the staff of the Peter McVerry Trust for their hard work and dedication through these incredibly difficult times with over 10,000 people homeless including over 3,000 children. "Unspeakable, outrageous suffering for so many in this housing emergency," said Fr Moloney.
In 2021, the Peter McVerry Trust was active in 28 of the 31 Local Authorities across Ireland and worked directly with over 10,000 people, supporting over 1,200 people in getting their own homes. According to Fr Moloney, "Peter lives the model of social justice, which aligns directly with the founding ethos of NCI. He is an advocate for those living in poverty, he speaks truth to power with the intellectual rigour that makes his message undeniable."
And the Irish Jesuit Provincial concluded by saying, "The National College of Ireland recognises his goodness, his wisdom, his persistence, and his bravery. We are proud to confer this honourary fellowship on Fr Peter McVerry."
After the NCI President Gina Quinn presented the Honorary Fellow Book for Peter McVerry to sign he shared some reflections. He told those gathered that his one regret in life was that he leant too late that the secret of success is getting other people to do the work. So behind his award lies the board, management and staff of the Trust. He also said that what people who are homeless want most is respect and to be treated with the dignity that is their right. "Homeless people are the real defenders of human rights and dignity," he said, "because they struggle every day to affirm their dignity in the face of enormous opposition."