Ignatius Loyola – 'The vulnerable saint'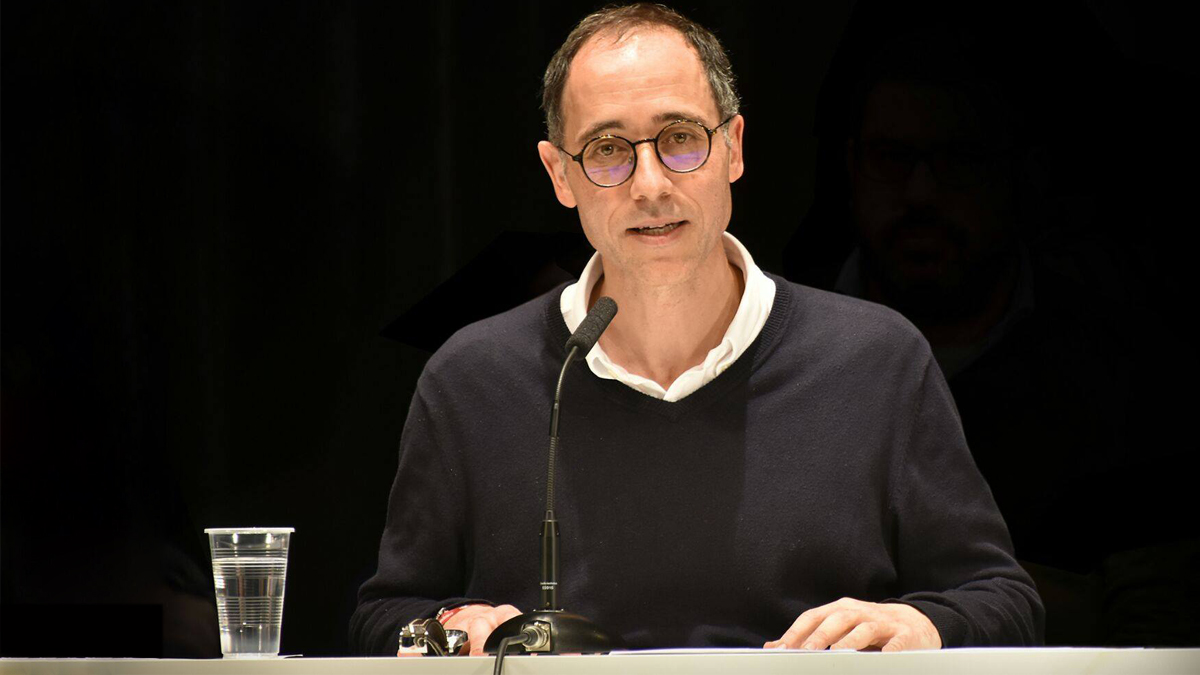 Spanish author José María Rodríguez Olaizola SJ delivered an Ignatian talk to a packed audience in the Arrupe Room, Milltown Park, Dublin on Friday 19 May 2023. Entitled 'St Ignatius of Loyola – a saint for troubled times', José María showed how the Jesuit founder was deeply inspired by the example of the 'poor and humble Christ' as found in the Gospels and through his own inner experience.
José María spoke about Ignatius's profound lessons as a result of the many failures in his life. He pointed out, for example, that Ignatius's first two groups of companions split up and came to nothing. It was only his third attempt in Paris and beyond that led to a shared experience of being 'friends in the Lord' and the founding of the Society of Jesus.
But according to the speaker, Ignatius continued to fail after that, for example, when fellow Jesuits voted for him to remain as leader later in his life despite his own prayerful discernment and conviction in the opposite direction.
José María, who has an active youth ministry in his Madrid parish, spoke on the theme of vulnerability from a theological, sociological and spiritual perspective. He referred to the popular 'No Limits' advertisement by the American company Nike, and how this message has permeated popular culture.
He asked: What does this mean for young people? Are they expected to be successful in everything without accepting vulnerabilities? Once more, he pointed to Ignatius's life as a model of someone who failed time and time again, yet did great things for God and the world.
A video recording of the talk will be available soon for those wishing to find out more (contact reception@jesuit.ie).
There was a tea and coffee break after José María's initial input where the audience engaged with each other on the content of the talk. What seemed to strike many people was the humanity José María offered of his own life in relation to the various stages of growth during Jesuit formation.
For instance, he referred to a deep reluctance to write a book on Ignatius when initially asked to do so. It was only later that he obeyed the request of his superior which resulted in a well received publication (Ignatius Loyola, Never Alone).
The final part of the afternoon involved a lively Questions and Answers forum. Younger and older Irish Jesuits threw up their hands enthusiastically, for example, in seeking clarification on sociologist Zygmunt Bauman's concept of 'liquid modernity' and asking about the significance of the Examen reflection (Review of the Day) for today's audience.
A Jesuit Partner in Mission inquired further into an important inner shift of José María which revealed an affinity to contemplate the life of Ignatius. He was able to use key tools such as imagining the 'composition of place', that is, where Ignatius laboured and with whom using all of his senses.
After the talk, José María was delighted to sign copies of his latest book Dancing with Loneliness (Messenger Publications) », converse about all things Ignatian, and listen to the people.
In addition to a large number of Irish people was a small group of Spaniards who came to support the speaker. They reminded others just how popular José María is in Spain including among younger people.
The same talk was also delivered to a packed audience at Belfast Jesuit Centre the following day on 20 May 2023.
Leon Ó Giolláin SJ, Director of Ignatian Formation, spoke of what prompted him to invite José María to Ireland to deliver the talk in Dublin and Belfast. He says:
"I first 'met' José María Rodriguez Olaizola SJ (JM) through YouTube – a clip sent to me by a Franciscan childhood friend working in Central America. I was immediately impressed by JM's unassuming personality and the rich content of his presentation which explored the interface between Ignatius of Loyola's life story and our own.
His deep grasp of Ignatian spirituality coupled with his professional knowledge, as a trained sociologist, of contemporary global trends, resulted in a very rich understanding of how Ignatius's itinerary is, potentially at least, paradigmatic, informing and enlightening our own human journey with all its attendant twists and turns, successes and failures, lights and shadows.
Ignatius, he says, well before psychology was 'invented', learned to put words and some order on his inner experience. His insights remain enormously helpful especially in today's 'liquid society' (Bauman) which more often than not leaves us rudderless and lost in an open sea."
Leon continues:
"JM has written more than twenty books on various topics. All of them aim to 'help souls' – a term dear to St Ignatius – by casting light on socio-cultural influences which so often offer false comfort, whilst at the same time proposing a way – an Ignatian way – through the labyrinth towards true and lasting inner freedom and spiritual consolation.
When Irish Messenger Publications spoke to me about his impending first publication in English – Dancing with Loneliness – I saw this as a Kairos moment and invited him to come to Ireland and speak on the topic 'St Ignatius – a saint for troubled times'. He gladly accepted. His talk both in Dublin and Belfast was very well received."