Henry Garnet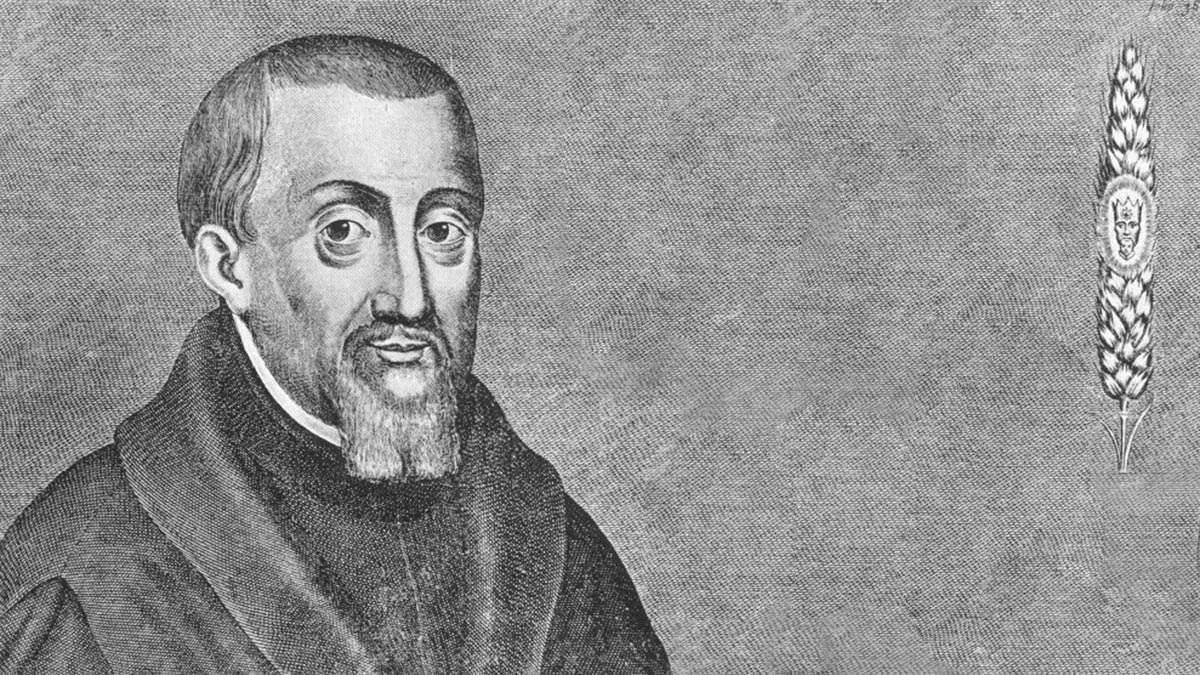 In the decades following Henry VIII's break with Rome, Catholics in England suffered greatly. For some this persecution was too much and they looked to violent means to regain standing in their own country. Henry Garnet was an important voice for passiveness during those troubled times.
Garnet was born in Derbyshire in 1555. His father was headmaster of a school in Nottingham, where he was educated. In 1568 he was accepted into Winchester College, which was known to have Catholic sympathies. Despite showing a good mind for study, Garnet did not pursue further education. This is likely because of his Catholic faith; his brother had been expelled from Balliol College for attending Catholic liturgies. Instead he travelled to London, where he worked for a legal publisher. From here he decided to become a Jesuit, which meant leaving the country, so in 1575 he sailed to Portugal and walked from Compostela to Rome in order to enter the Society.
Garnet remained in Rome studying theology until he was ordained a priest in around 1582. He then took up a position as professor. He remained teaching in Rome until his superiors decided that, rather than pursue an academic life, he should join the Jesuit mission to England. Garnet agreed and in 1586 sailed with fellow Jesuit Robert Southwell to his home country. In London they were met by the Jesuit superior for England, William Weston, who gave them advice on where to go and who to stay with. Garnet and Southwell then split up and began their separate journeys to preach and minister across England. Weston was captured by the English authorities only months later, and Garnet was then called upon to succeed him as Jesuit superior, an office he continued to carry out until his death eighteen years later.
For years Garnet fulfilled his role as missionary, travelling from house to house ministering to recusant Catholics, constantly at risk of being exposed and captured, like many other of his fellow missionaries. This persecution continued throughout the reign of Queen Elizabeth I and that of James I, who succeeded to the throne in 1603. In that same year, Garnet learned of a plan by Catholic priests and Puritans to kidnap King James, called the Bye Plot. Deeply opposed to the idea, fearing retribution on Catholics across England, Garnet alerted the authorities to the scheme and it was exposed. The Bye Plot never went further than discussion among those involved. Such was not the case with a later conspiracy planned by English Catholics, one to which Fr Garnet also found himself privy.
In 1605, Garnet was approached by a man called Robert Catesby. Catesby questioned him about the ethics of killing innocents for a cause. This line of inquiry made more sense when weeks later Garnet was told by another priest of a plan devised by Catesby to blow up the Houses of Parliament. Garnet felt unable to pass on this information though as it had been confessed to him and so was under the seal of confession. He did, however, urge the pope to publicly warn against the use of force. When the so-called Gunpowder Plot failed, Garnet was identified as an accessory, and a warrant for his arrest was issued. He was caught not long after and he was interrogated in the Tower of London. Though his connection to the plot was thin, the verdict was a foregone conclusion and he was condemned by a jury to be executed. He was hanged, drawn and quartered on the third of May, 1606.