John Sullivan SJ: first beatification ever in Ireland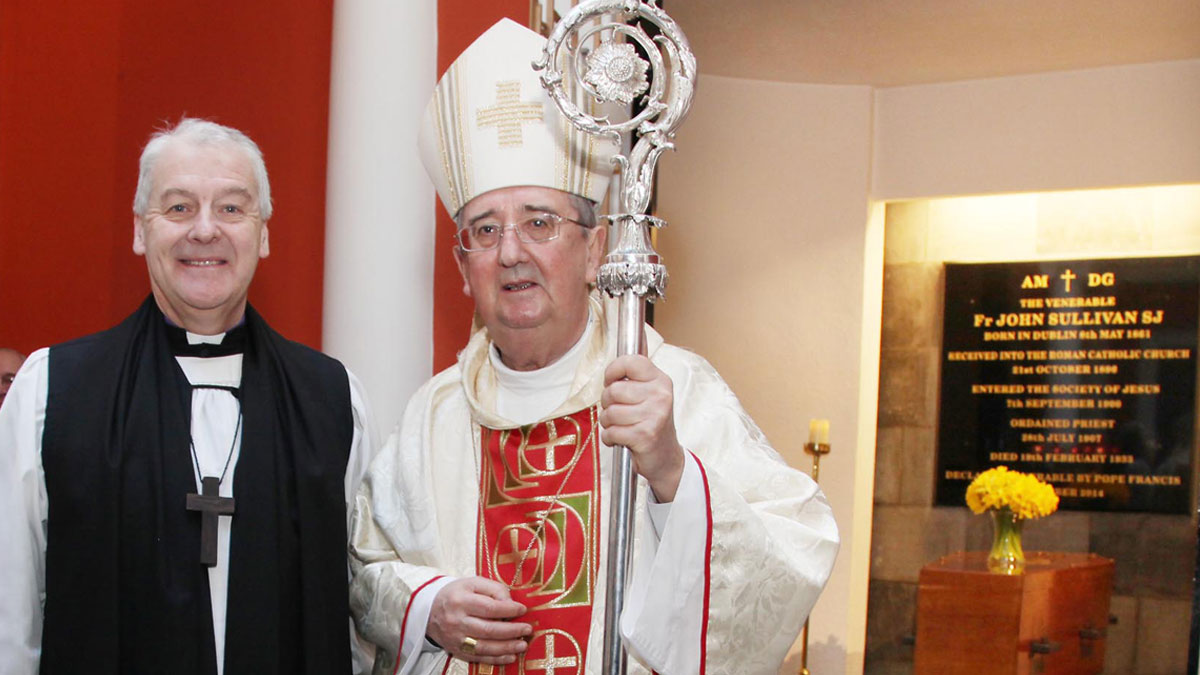 Fr John Sullivan SJ will be beatified at 11 am on 13 May, 2017 in Gardiner Street Church. The principal celebrant and homilist will be Cardinal Angelo Amato, Prefect of the Congregation for the Causes of Saints, and he will be assisted by the Archbishop of Dublin, Diarmuid Martin. The Church of Ireland Archbishop of Dublin, Michael Jackson, will also be present on the sanctuary.
The ceremony consists of a mass during which a formal request for beatification is publicly made. In an unprecedented ecumenical gesture, this request will be made by the Church of Ireland and the Catholic Archbishops together, reflecting the fact that Fr John was an Anglican for the first half of his life and Roman Catholic for the second. In fact, the entire event is unprecedented, as there has never been a beatification ceremony in Ireland before.
Beatification, which confers the title 'Blessed', means that a man or woman is considered to be truly holy and worthy of veneration at a local level. The next stage after beatification is canonisation, sainthood, which is a recognition of this holiness by the universal Church. For this process a further miracle is required, one which is confirmed to have taken place after the beatification. (See interview with Fr Toni Witwer SJ, Postulator for Jesuit causes.)
Fr John Sullivan's reputation for holiness stemmed in great part from his untiring attention to the sick and the poor. Most of his priestly life was spent in Clongowes Wood College, Co. Kildare, and it was mainly in the towns and villages around this school that he spent so much time walking and cycling to visit those in need. After his death on 19 February 1933, devotion to him continued to spread. It remains lively in many places around Ireland, so a large crowd is expected to attend the event, including the sick and the elderly.
It should be noted that the capacity of Gardiner St Church is quite limited. Unfortunately, there can be no guarantee that everyone who comes to the church will gain entrance. For this reason, the Jesuits have set up two marquees in the church's back garden, where a live broadcast of the event will be on display. This broadcast will also be viewable in Belvedere College, in nearby Great Denmark Street. Also, people at home and abroad can also watch the entire ceremony on the Irish Jesuit website, at www.jesuit.ie/beatification, where it will be streamed live.
Other dignitaries in attendance will include: Archbishop Eamon Martin, Primate of All Ireland; Fr Toni Witwer SJ, General Postulator for Jesuit causes; John Dardis, General Counsellor for Discernment and Apostolic Planning, who will be representing Fr Arturo Sosa, Jesuit Father General; Fr Leonard Moloney, Irish Jesuit Provincial; Victor Assouad SJ, Regional Assistant for Western Europe; and Brendan Carr, Lord Mayor of Dublin. Also expected are members of Fr John's family, most of whom will travel from England. Representatives from Portora Royal School, Enniskillen, which Fr John attended in the 1870s, and Trinity College Dublin, where he studied Classics and Law, will be present as well.
Music during the liturgy will be provided by students from Clongowes Wood College. Also, soprano Rachael Croash will sing the Ave Maria and Panis Angelicus. During the Mass, a large portrait of Fr John will be unveiled and a relic of his hair, which was kept by his barber, Charlie Barrett, will be brought to the altar. After the ceremony there will be a time for quiet reflection, during which attendees may receive a blessing from the Fr John Sullivan cross.
A Mass of Thanksgiving for the beatification of Fr John will take place in Clongowes Wood College on Saturday 20 May at 7pm.
Weblinks:
A short account of the life of Fr John Sullivan
Irish Jesuit website dedicated page (including news stories and podcast interviews)
Fr John Sullivan Facebook page