Two Archbishops celebrate venerability of Fr John Sullivan SJ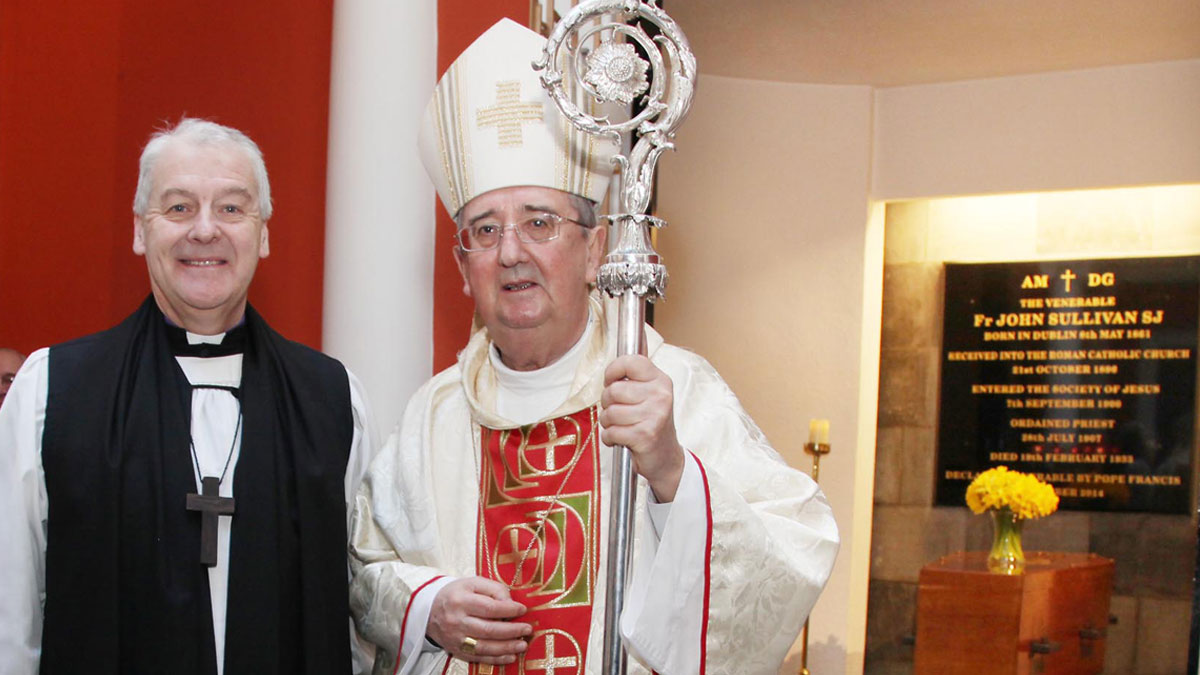 On Saturday 21 February Archbishop Diarmuid Martin was the main celebrant at a Mass in St. Francis Xavier's Church, Gardiner Street to celebrate the recognition of Fr. John Sullivan SJ (1861-1933) as Venerable Servant of God. The church was packed to capacity as people of all ages came to celebrate the recent declaration by Pope Francis of the heroic virtues of this truly remarkable Jesuit.
Archbishop Michael Jackson, Church of Ireland Archbishop of Dublin was also in attendance, and he joined in the celebration along with Jesuit Provincial Fr Tom Layden SJ, Conor Harper SJ Vice-Postulator for the cause of canonisation, and members of the Jesuit community who concelebrated the Mass. Archbishop Jackson has closely followed  the process which led to the declaration of the Venerability of Fr John Sullivan and his attendance at the Mass recalled Fr John's earlier Christian community. Fr John was brought up in the Protestant tradition of his father Sir Edward Sullivan and was educated at Portora Royal School, Enniskillen where Archbishop Jackson himself was a past pupil.  He then studied Classics at Trinity College. After a time of discernment he decided to become a Catholic in 1896, at the age of 35, and was received into the Catholic Church at the Jesuit Church in Farm Street in London. He later entered the Jesuits in 1900, completing his formation studies in Tullabeg, Stonyhurst College, England and Milltown Park. He was ordained in 1907 and went on to spend most of his priestly life in Clongowes Wood College in Kildare.
In his homily Archbishop Martin said that Fr John Sullivan was always open to the possibility of faith and prayer, and that while his search for God led him towards the Catholic Church and then towards ordination as a priest, he never put aside his initial formation in the Church of Ireland tradition. Indeed some of the roots of Fr John's spirituality can be identified in a special way to the time he spent at his former school. The Archbishop said the faith of Fr John was "the product of two traditions and always remained so and was enriched by that fact", explaining that "there is an important ecumenical transformation which comes through entering into the prayer traditions and the piety of other traditions." He said that "holiness knows no denominational boundaries" and explained how in our ecumenical reflection we don't pay enough attention to the fact that saints "can be a bridge between what is deepest and common in all our traditions."
Speaking about the holiness of Fr John, the Archbishop said his life was marked in a special way by his faithfulness to prayer and his great care for the sick. "There was nothing that would hold him back from visiting someone who was sick and who had asked for his prayers. In his years in Clongowes he would travel by bicycle or on foot when he heard the news of someone who was ill."  The Archbishop also highlighted the qualities of humility and sensitivity towards others which were at the heart of Fr John's life. "The roots of his goodness were very deep and marked by a total lack of self-seeking. Indeed most of his good works were done in secret unknown to others". Fr John was, according to the Archbishop, "a man who through his own prayer and personal holiness was able to transmit to those he encountered something of the healing power and the Good News of Jesus Christ". The holiness displayed by Fr John can inspire Christian traditions today to reach out to young people and help them "be fascinated by the person and the message of Jesus Christ", the Archbishop said. "Perhaps our Churches do not fascinate young people because we do not fascinate our young people with the way in which the radical holiness of John Sullivan did" he remarked.
Archbishop Michael Jackson spoke about how the legacy of Fr John's life in a post Communion reflection, and how it can encourage the Christian Churches to promote the work of ecumenism. "His lifetime was evenly and equally divided but not separating between the Anglican and Roman Catholic traditions; equally divided but again not separating between being lay and being ordained," he explained. "His invitation to all of us gathered here today" the Archbishop said "is to divide equally and not to separate the people and the things that matter most to us – and to do this within a living ecumenism in a modern world which needs the witness of saints on earth and saints in heaven."
Fr Conor Harper thanked the members of the Lloyd family, the nearest living relatives of Fr John Sullivan, for attending the Mass "Your presence among us is terribly important. We pray that very shortly – hopefully we will be celebrating the next stage in the cause when at last we can declare our beloved John Sullivan to be blessed." He also expressed his personal conviction "that the way forward in the Holy Spirit is together; may Fr John Sullivan guide us and inspire us as we seek the way forward in the name of our common Lord and Saviour, Jesus Christ."
There continues to be a monthly Mass in Gardiner Street Church in thanksgiving for the life of Fr John and in prayer for his canonisation. The closing Mass marking the declaration of Venerability of Fr John will be in Clongowes Wood College on Sunday 2 May, at which Bishop Denis Nulty, Bishop of Kildare & Leighlin diocese will be the principal celebrant.
For more information about the life of Venerable Fr John Sullivan SJ see www.frjohnsullivan.ie.
Archbishop Diarmuid Martin's homily notes for the Mass