Fr John Sullivan and the healing power of the cross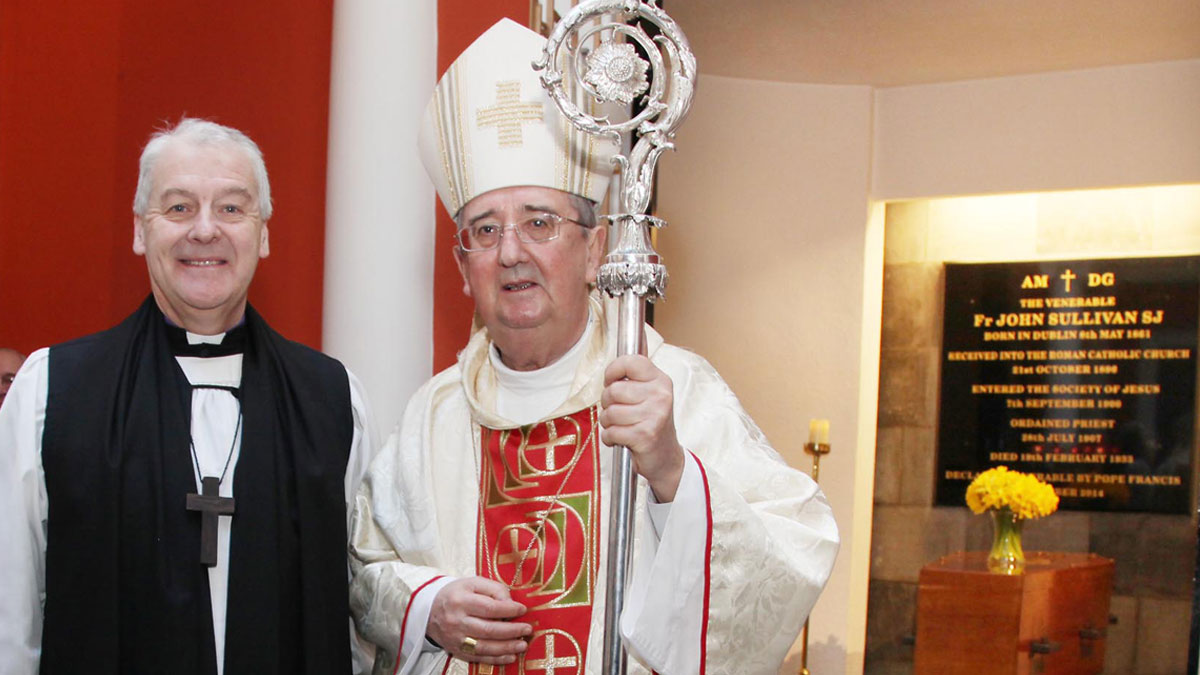 "The Saints are those are those who live holiness to such a degree that they truly go beyond human narrowness and live a life of love that embraces everyone. That is the virtuous life that has been recognised by the Church in a special way in the life of John Sullivan". So said Archbishop Diarmuid Martin who was the principal celebrant at the  Annual Blessed (elect) John Sullivan Mass in Gardiner Street Church, Dublin, on Saturday 18 February. The Church of Ireland Archbishop Michael Jackson was also in attendance along with some of Fr John Sullivan's Anglican relatives. The church was filled with people, including the sick,  from all parts of the country.
Acknowledging their presence Archbishop Martin said that all who had gathered, including himself, were aware, "each of us in our own hearts, of the many graces and favours which have been received through his intercession. Many of you know of that powerful intercession from personal experience and for that together we give thanks to God".
Referencing the presence of Archbishop Jackson and Fr John's Anglican relatives he said that their presence "once again reminds us that holiness knows no denominational boundaries. The holiness of John Sullivan was the fruit of his education in both Catholic and Church of Ireland traditions… his faith was the product of two traditions and always remained so and was enriched by that fact".
The Gospel for the mass was that of the wealthy young man who walked sadly away rather than give up everything and follow Jesus and Archbishop Martin noted how Fr John, in contrast, renounced the wealth he would have inherited, and the worldly ambition that could have enticed him, to live a life of deep simplicity as a Jesuit priest. His cross became a symbol of his concern for the sick, he said,  and of the healing power of the cross of Jesus Christ.
Finally he pointed out that Fr John's  saintliness should be seen as a renewed call to bring the message of the healing power of the cross of Jesus to those who are sick and troubled.
Many people remained in the church for the blessing with the Fr John Sullivan cross of healing given to him by his mother.
See the Archbishop's homily in full.