Symbols and theology of the Book of Kells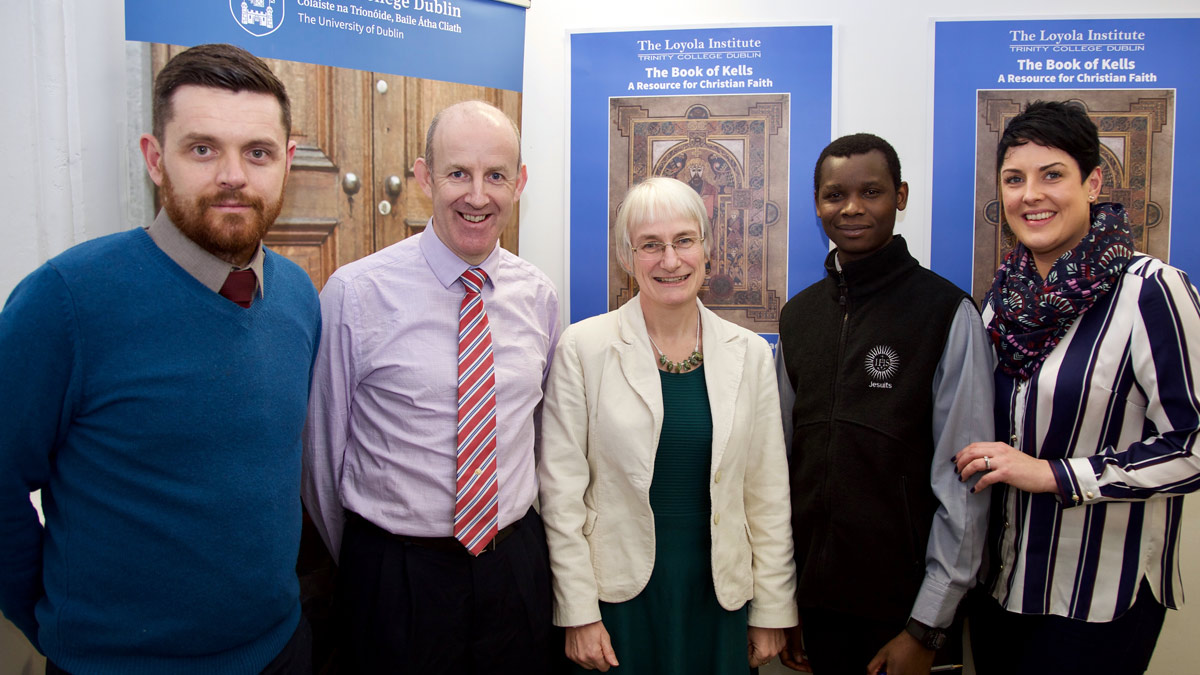 The Loyola Institute, Trinity College Dublin hosted a workshop on the Book of Kells attended by 50 Religious Education Teachers and Chaplains from 30 schools. The Belvedere College SJ Team, with their chaplain Eoghan Keogh and Director of Faith Padraic Swan, were among the attendees. (Pictured here left from right along with Dr Fáinche Ryan (Director Loyola Institute), Charles Jaryekonga S.J, and Chaplain Trish Carroll)
The workshop was on the theology of the Book of Kells which, as Dr Con Casey of the Loyola Institute pointed out, is described in the Annals of Ulster written in 1007 as "Prim mind iartair domain' – 'The most precious object of the Western world' . It was hoped that the workshop would be of help teachers of RE in their presentations to pupils regarding this historic manuscript which is fact the most visited book in the world.
The participants learnt about the iconography of the book of Kells, the importance of symbols such as lozenges, lions, peacocks, snakes and fish – and how to identify these symbols in this richly illustrated manuscript. Dr Casey said the depiction of animals and abstract symbols was a work of skilled artistry and often great humour that was much appreciated by scholars and lay people alike.
But he was interested in pointing out that these symbols also carry deeper meaning. "They themselves are part of the telling of a theological narrative, the story of human salvation." he said. He cited the lion, as an example, noting that it often appears issuing multi-coloured breath from its mouth. "In the background are the contemporary Bestiaries, books of animal stories. There it is said that lion cubs are born dead. The male lion after three days returns, breathes upon them and life enters their limbs." He then went on to draw the parallel with the Christian story of the Resurrection of Jesus from the dead after three days which would have been very much in the mind of the scribes.
Referring to the colourful depictions of snakes in the manuscript he said the snake had a double meaning. Usually thought of as representing evil in the world as in the Garden of Eden story from the Old Testament, the fact that the snake sheds its skin and enters a new phase of life serves as a reminder of the resurrection for the illustrators of Kells.
Dr Casey said the symbols that regularly appear and reappear in the Book of Kells, drawn so beautifully with colour and imagination, are a message to us and that message is "the word of the Lord". They are reminding us that we are engaging a sacred text, we are taking part in an act of liturgical reading.
The workshop concluded with the teachers being taken on a private visit to see the Book of Kells.
You can read more about the theology of the Book of Kells in this article written by Dr Con Casey and Dr Fáinche Ryan of The Loyola Institute for The Irish Times. And there is now a course on the topic currently offered by the Loyola Institute at Trinity College Dublin.