Growing a 'pocket forest'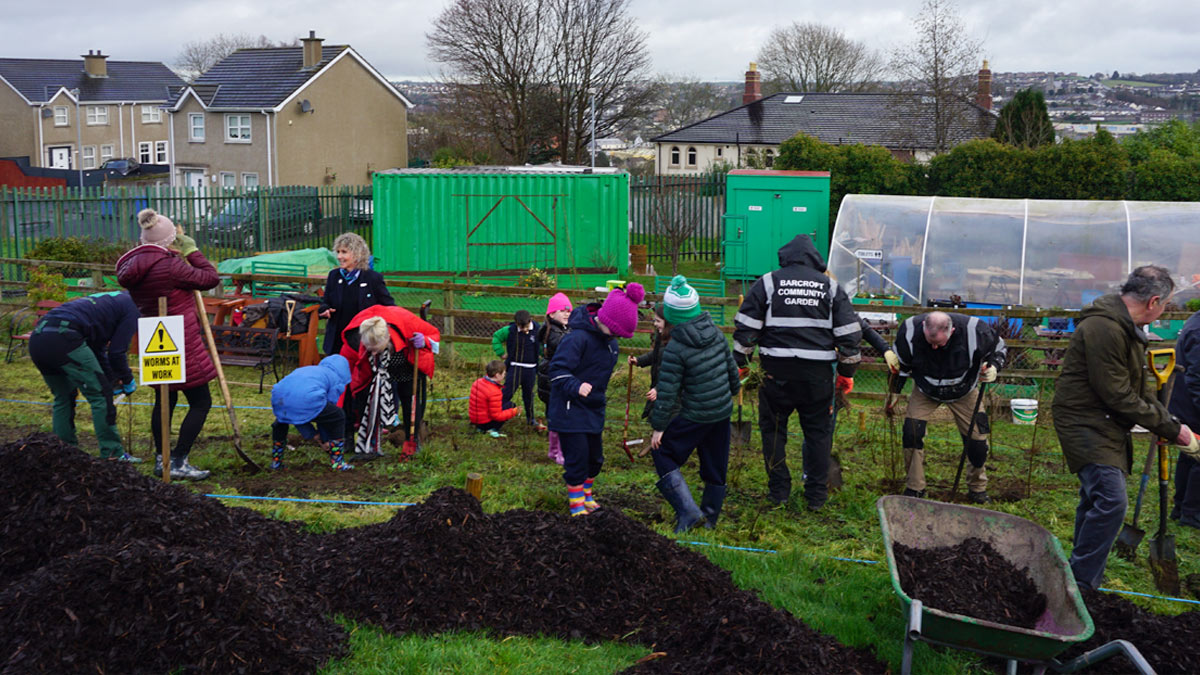 The  Jesuit ACRE initiative (Active Communities Restoring the Earth) » along with Newry Felons began planting a new Pocket Forest of 350 trees in Barcroft Community Gardens in Newry on Thursday, 3 February 2021 .
Pocket Forests are tiny biodiverse forests, usually located in urban areas, which replicate as closely as possible a naturally wooded area. They are planted in small areas, ranging from the size of a car park space up to that of a basketball court. 300 trees can fit in the same space as six parked cars.
According to Acre and Newry Felons members, including Irish Jesuit Brian Lennon, the 350 trees are being planted close together in order to create a pocket powerhouse of carbon sequestration. Together the soil, microbes, plants, and insects create a biodiversity hotspot that grows ten times faster, is thirty times denser, and absorbs sixteen times more carbon than conventional forests. They also enhance the biodiversity in the local area.
Explaining the background to the project, Brian Lennon says that after COP26 people wanted to do more to save the planet, and a pocket forest was one very practical way to do so. ACRE played a key role at the beginning of the project, but now it is wholly owned by Barcroft Community Gardens: "They are the local community at the centre of everything".
The first step in creating a Pocket Forest is soil preparation, including adding lots of organic material to the soil, feeding the worms and microorganisms, which are essential for healthy soil. A wide range of native trees and shrubs are planted densely together, encouraging fast growth which quickly bears fruits, attracting birds, butterflies, and bees.
Barcroft Gardens have partnered with local St Monica's Primary School. Thirty-one primary school children attended the planting to learn about Pocket Forests, and the site will be used for ongoing outdoor classes with local schools.
The organisers say the project could not have succeeded without the technical know-how of PocketForests.ie. They are the group who has played a huge part in getting Pocket Forests planted all over the South.
As well as the Jesuits in Ireland, who gave seed funding to ACRE, this project has also been generously funded by the Northern Ireland Housing Executive. Their grant was the largest they have given for this kind of project. Newry, Mourne, and Down District Council also contributed.
Brian Lennon SJ explains that ACRE was set up by Jesuits in Northern Ireland in 2020: "Working out of the vision for our Sister Earth, which Pope Francis outlines in his letter Laudato Si', we support and encourage positive climate projects among marginalised groups".
Barcroft Community Gardens was set up by Newry Felons, who created their own raised beds and found this a great help to their mental health, especially during the Covid lockdowns.
For further information you can contact:
ACRE: Brian Lennon, S.J. 078 3499 7011
Barcroft Community Gardens: Frank Johnston: 077 0796 0736
Pocket Forests, Dublin: Ashe Conrad-Jones: [email protected]