Kensy Joseph ordained deacon
November 26, 2017 in
News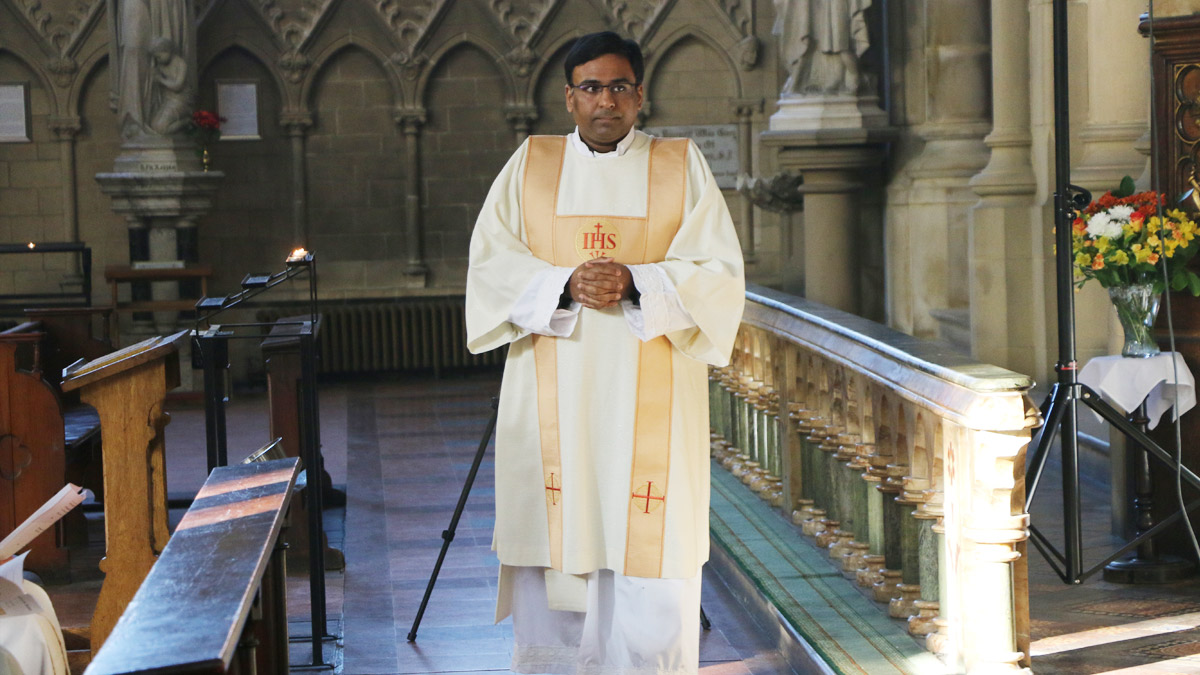 Kensy Joseph SJ of the British Province was ordained to the diaconate on Saturday 11 November at Holy Name Church Manchester by the Right Rev John Arnold, Bishop of Salford. Kensy is known by many in Limerick as he spent two years teaching there.
Concelebrating were Fr Provincial Damian Howard SJ and the Superior of the Manchester community Fr Brendan Callaghan SJ, along with assistant chaplain Fr William Pearsall SJ and over twenty other Jesuits and diocesan clergy. Music was beautifully performed by the Manchester University chaplaincy praise group, led by Afonso Luís Barroso and Hana Bútorová. Soloists Kirsten Miller and Rebecca Clayton of the chaplaincy Classical Choir Group led the Litany of the Saints. The organist was Simon Leach and lead pianist was Patrick Goh.
Kensy, who was brought up in Kuwait, was joined by his parents and brother, who had travelled from India, and other relatives who had all travelled long distances. Kensy's family were very much involved in the ceremony with his parents undertaking his vesting with the liturgical vestments of the deacon, his brother Kevin reading from Isaiah in Malayalan, and his cousins bringing up the offertory.
Kensy, Bishop John, Fr Provincial and Kensy's familyIn his homily Bishop John reminded Kensy of some of Pope Francis' advice to clergy on the need to be in three places at once: at the front leading by example – the example of the gospel manifested in our action; in the middle alongside the flock we are trying to serve, so that we can understand their problems and recognise and harness their gifts; and at the back, making sure no one is left behind or marginalised.
Bishop John referred to the pope's encyclical Evangelii Gaudium in which he asked the people of God to become missionary disciples – tasked with growing in our personal faith and our love of others. He reminded Kensy that those ordained have a special responsibility to help people on this faith journey, discovering how they can best use their personal gifts to serve God. He finished with a blessing:
"I wish you well on your journey, so that through you many may come to know the power of Christ, I will be with you on your journey blessing all that you do".
Kensy joined the Jesuit novitiate in Birmingham in 2007. He studied Philosophy at Heythrop and in Pune, India, and took his Bachelor of Divinity at Heythrop in 2016. During his two-year regency he taught Religion, Philosophy and Maths in Limerick, Ireland. He is currently completing an MA in Religions and Theology at Manchester University, and has been a member of the Manchester Universities' chaplaincy team since August 2016.
Please also remember in your prayers Philip Harrison SJ, who joined the Jesuit novitiate with Kensy in 2007. He was ordained deacon on 25 November in Bogota Colombia, where he is completing his Theology studies.
Both Philip and Kensy will be ordained to the priesthood in London in June.
A version of this article first appeared on the website of the Jesuits in Britain.