'Laudato Tree' project launched in Áras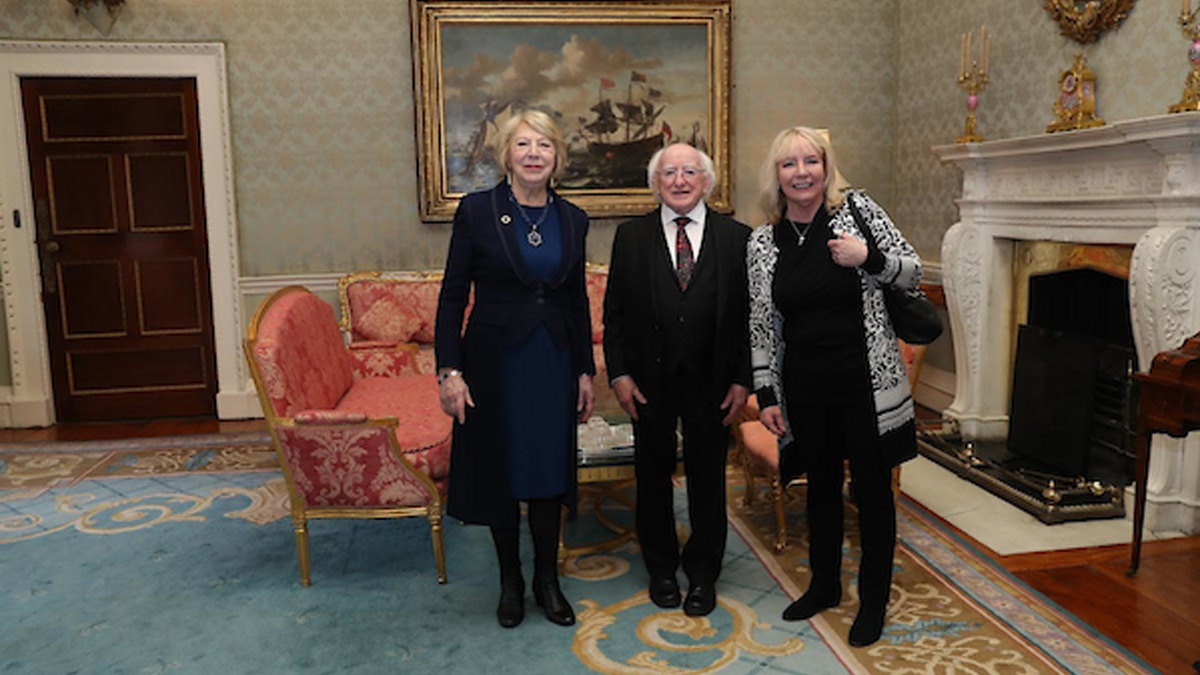 Pat Coyle of Irish Jesuit Communications and Jesuit theologian Gerry O'Hanlon were among a group of over 80 people invited to Áras an Uachtaráin for the launch of an environmental initiative in Ireland that could help transform the continent of Africa.
The Laudato Tree Project, is inspired by the environmental encyclical letter of Pope Francis, Laudato Sí, along with an African initiative, the growing of a Great Green Wall. The purpose of the wall is to halt the impact of desertification across the Sahel region of the continent.
The project links the planting of trees in Ireland with increasing support for the planting of trees along Africa's Great Green Wall, and it will be developed in association with various environmental organizations throughout Ireland, as well as local and national government. It is the brainchild of Don Mullan, Communications Officer with the SMA, and is also part of their Family Tree Programme through which the society will work with young people, families, parishes and community groups, in the lead up to the World Meeting of Families next August, which will be attended by Pope Francis. Speaking in the Áras on behalf of the Society of African Missions, the Provincial, Fr. Michael McCabe said the order believed that the project is an imaginative way to achieve the goals and commitments agreed in the Paris summit.
Addressing those present from various justice, religious and environmental groups, President Michael D Higgins spoke of Ireland's role in combating desertification caused by global warming. He  gave his firm backing for the Great Green Wall initiative and urged leaders to come forward in Ireland to develop the Laudato Tree project all across the country.
To help accomplish this the Society of African Missions has joined forces with the United Nations Convention to Combat Desertification (UNCCD), the UN agency with responsibility for supporting Africa in growing the Great Green Wall. The Executive Secretary of the UN Convention, Ms. Monique Barbut, attended the event where she presented the first Laudato Trees for planting in Ireland to children from various schools in Co Dublin.
Ms Barbut said that Africa is growing a wall, unlike any other in human history in that it was not made from bricks and mortar, or barbed wire fences. "It's a Great Green Wall that promises to grow solutions to Africa's most urgent challenges – including mass migration, drought and impending climate breakdown."
She said that by 2030, this African-led initiative aims to green 100 million hectares of degraded land across the world's poorest region, the Sahel, and "spark a Continent-wide movement that will create 10 million jobs in rural areas. The initiative provides global benefits too – forecasts suggest that the 13 countries involved will sequester as much as 250 million tonnes of carbon, through its evolution," Welcoming President Higgins' support for the initiative she added, "I am extremely hopeful this will now extend itself to the highest levels of Government here in Ireland."