Mary's story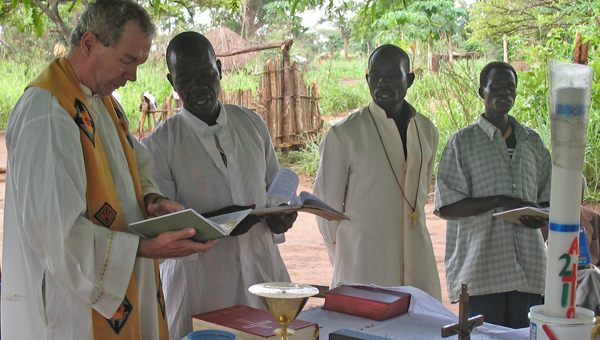 Before Richard O'Dwyer SJ melts back into Africa, he gives us a taste of his life there: "As I write, I am about to head back to South Sudan on 1st September. Every one who cares about South Sudan has been hoping that the current peace talks would bear fruit. Sadly, neither the government nor the opposition seem prepared to compromise and to cede ground to each other. So the fighting that has gone on since mid-December drags on with no end in sight. Most of the fighting is concentrated in Upper Nile and Unity States in and around the oil fields. Given the nature of the fighting, where the rebels seem able to attack a town in force and then pull back into the bush when the government counter-attack and take back the town and then it all happens over again when the rebels attack another town and so on.
The fighting has seriously interrupted oil production which is the source of 98% of South Sudan's national income. Some economists have said that oil output has fallen by as much as 50%. Farmers in the areas affected directly by the fighting have fled and so no planting of food crops has taken place and other farmers in adjacent areas have been afraid to plant as their crop could be destroyed if the fighting were to spread. As far as I know none of the over 1 million people who have fled have returned to their homes and continue to live in neighbouring countries as refugees or within South Sudan as internally displaced people.
As I prepare to go back, my mind and heart turn towards the local people in Akol Jal, the village where the MAJIS Farm is located 12 kilometres outside Rumbek. Although no government versus rebel fighting has taken place here, the absence of proper policing and the absence of army personnel has led to a general sense of insecurity and created an opportunity for lawlessness in the form of cattle raiding by heavily armed raiders.
Over the last 18 months we have come to know many villagers and my colleague Tomek Nogaj SJ and I have become immersed in the lives of many people by helping people with medical treatment, especially young children under the age of five, pregnant mothers and widows. We have also been able to give work to some people who helped us cultivate 2 vegetable gardens and a tree nursery. Others have assisted us with translation work and we have started saying mass every Sunday in the village at the invitation of the villagers! They have asked us to build a small church and to open a medical clinic.
I would like to share one story of coming to know the people of Akol Jal. About a year ago, a boy of about 12 years approached one day at the farm and asked me if I would take him to see a doctor in Rumbek. I asked what was wrong and he showed me a badly infected wound on his shin bone, and I immediately agreed to take Malual to town but I told him that I would have to ask his mother's permission. He told me that we could stop at his home which was on the way into town and only a kilometre from the farm.
So we stopped at the farm and met his mother who was a very soft spoken and gracious lady. I also met his little sisters who were well behaved and friendly towards me. Towards the end of the conversation with Mary, the mother of Malual, she told me through our translator that she herself was not well and she pointed towards her chest. I said a silent prayer that Mary did not have a heart problem as there would be no treatment available for her in Rumbek. I promised to bring Malual to the Ugandan doctor in town and come back and bring Mary to the doctor the following day.
The doctor cleaned Malual's wound, gave him an anti-tetanus shot and dressed the wound. The next day I brought Mary to the doctor who diagnosed with the help of a blood test that Mary was suffering from both typhoid and malaria. Fortunately, we were able to bring her for a series of five injections for the next five days. However, at the end I had a feeling she was not as well as might have been expected, and I asked the doctor if he felt her general health was okay and he told me it was. But I went away feeling vaguely dissatisfied.
A few days after Mary's treatment was finished I called again to see her at her home with a South Sudanese friend of mine whom I knew from my time in Eastern Equatoria and we chatted for some time. Mary told us she still did not feel well. My friend, Eugenio, asked me to ask Mary if she could lower her bottom eyelid and we immediately noticed it was completely white. Eugenio looked at me and said, "Mary is completely anaemic as a result of repeated bouts of untreated malaria", which had greatly reduced her red blood cell count.
We took Mary to the same Ugandan doctor and we told him that Mary was anaemic and he told us he would have to run some tests. After an hour, he came back to tell us that Mary was anaemic! I asked the doctor to put Mary on an iron tonic to help her get better. Eugenio, with a lifetime's experience, told me that we should buy her red millet porridge as it too was a great source of iron, and that Mary should take a bowl every morning for the next few weeks.
Eugenio left a few days later and I went to visit Mary. Up to then, I had invariably found Mary seated at the wall of her house in the shade of the grass roof and struggling to rise to her feet to greet me because she had so little energy. Mary's eldest daughter gave me a wonderful smile as I approached the house and told me that Mary was gone to visit her friends in a house about a kilometre away, which was the first time she had been able to do so in many months. All I could do was to smile back.
I had been told that the Dinka people never show gratitude towards outsiders for help received and were a most ungrateful people. But a few days later I discovered Mary had been at work in the interim when she proudly presented me with a 2 kilogram bag of ground nuts (peanuts) which she had shelled and roasted. The following week she gave me a kilo of peanut butter which she had to pound in huge pestle and mortar by hand and which must have taken many hours. I felt completely overwhelmed by Mary's kindness and generosity, and all the negative prejudice that I heard about the Dinka people completely melted away. I felt the Kingdom had come out of hiding and that its splendour had been revealed, and that I was a privileged witness. If only politicians could see how cooperation and simply giving and receiving can dispel the darkness of sickness, fear and despair and bring health, hope and life.