Tertians talk the walk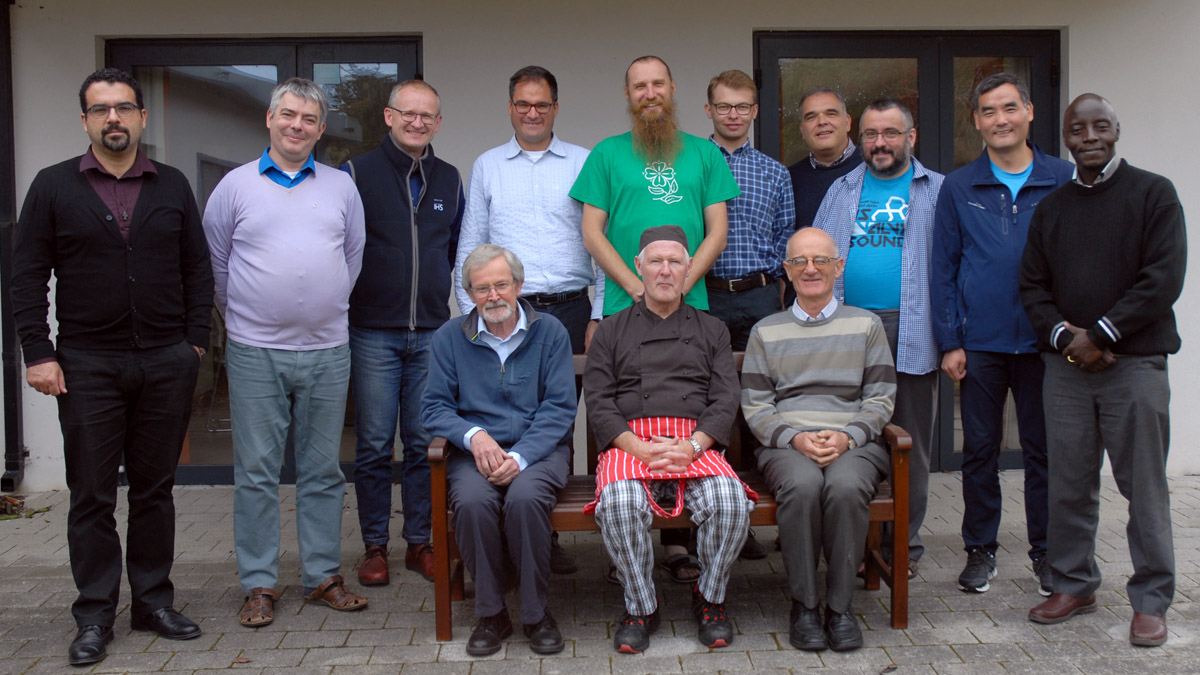 There was lots of laughter and hard work at a media training workshop given by Pat Coyle of Irish Jesuit Communications for Jesuit tertians in Manresa Jesuit Spirituality Centre in Clontarf on Thursday 18 January 2019.
The training included modules on making a story newsworthy, writing for the web, producing a good press release and doing a good radio interview. "Five brave victims – I mean volunteers – put themselves forward to be interviewed on a topic of concern for them," said Pat, "And all of them did some things very well and other things not so well. So that meant when we listened back and critiqued the interviews there was lots of learning for the 1o tertians in the room".
Tertianship is the final stage of Jesuit formation after a priest or brother has usually worked for several years, leading to the professing of Final Vows. This years tertians come from many countries, France, Belgium, Austria, Slovakia, Poland, Italy, China, Kenya and Lebanon. They are the steady care of tertian masters Paul Pace SJ, from Malta, and Tom McGuinness from Scotland. Nourishment for the body is provided by Tommy, the chef acclaimed by tertians down the years in Manresa.
Albert Evrard from France was one of Pat's volunteers. He was a lawyer for many years before joining the Jesuits. He wanted to discuss the relationship between the law and elderly people. He felt the law as it stands does not do enough to protect older people in terms of their rights and freedoms. Hans Brandl of the Austrian Province spoke about the importance of the relationship between philosophy and theology and how one discipline can compliment the other.
The thorny issue of dwindling religious vocations in some countries was tackled by Polish Jesuit vocations director Mateusz Ignatic. Linyi Zhai is a Chinese Jesuit from a rural region of China near Mongolia. He talked about the relationship between Catholics and the Chinese state and in light of the latest positive developments between the Vatican and China. And Hicham Chemali from Lebanon, told Pat about his work in the University of Bethlehem where he teaches Christian dogma and doctrine to Muslim students.
Also referred to as the 'second novitiate' or the 'third stage of probation', tertians (Jesuits on tertianship) complete a 30-day silent retreat (The Spiritual Exercises); undergo 'experiments' or placements in various ministries; study the Constitutions of the Society of Jesus; and the General Congregations. They also study and reflect on Final Vows and there may be workshops on Jesuit formation and personal growth. Over the course of nine months, it is hoped that the men involved strengthen and affirm their call as a Jesuit or companion of Jesus.
Tertians have just left Manresa for a while on placement in a variety of ministries. Three of them will be working with the homeless in Dublin and Edinburgh. Two tertians will join Brother Kevin in the well-known Capuchin day centre, feeding the hundreds of people who go there for food and clothing every day. There's one placement in the L'Arche community in Ukraine, and one in Armenia with the Sisters of Mother Theresa. And two tertians will go to London to work with the Jesuit Refugee Service there.
"I'm looking forward to interviewing them when they come back," says Pat, adding, "They will have learnt a lot from their work on ministry and I hope also from their media training, so I should have a collection of very good podcasts for Irish Jesuit Communications!"
Pat Coyle is a former journalist with the BBC and RTE, and she has experience in radio and television both as a producer and a presenter. After leaving the BBC in Belfast she returned to Dublin and set up media training workshops with Alan McGuckian SJ, the then Director of Jesuit Communications (now Bishop of Raphoe). Irish Jesuit Communications delivers training workshops for Jesuits and colleagues.
Tertianship is a journey of companionship with other Jesuits of various backgrounds and talents. The 'schola affectus', or 'school of the heart' is emphasised during this time in order for the tertians to enter into the experience with depth. Upon approval by the Jesuit Curia in Rome, tertians pronounce Final Vows whereby they reaffirm their First Vows of poverty, chastity, and obedience, and they may also make a 'fourth vow' (special obedience to the Pope regarding missions) and promises such as not to strive or ambition for high office. Importantly, their original commitments made at the end of their novitiate are ratified by the Society.