Eusebio Kino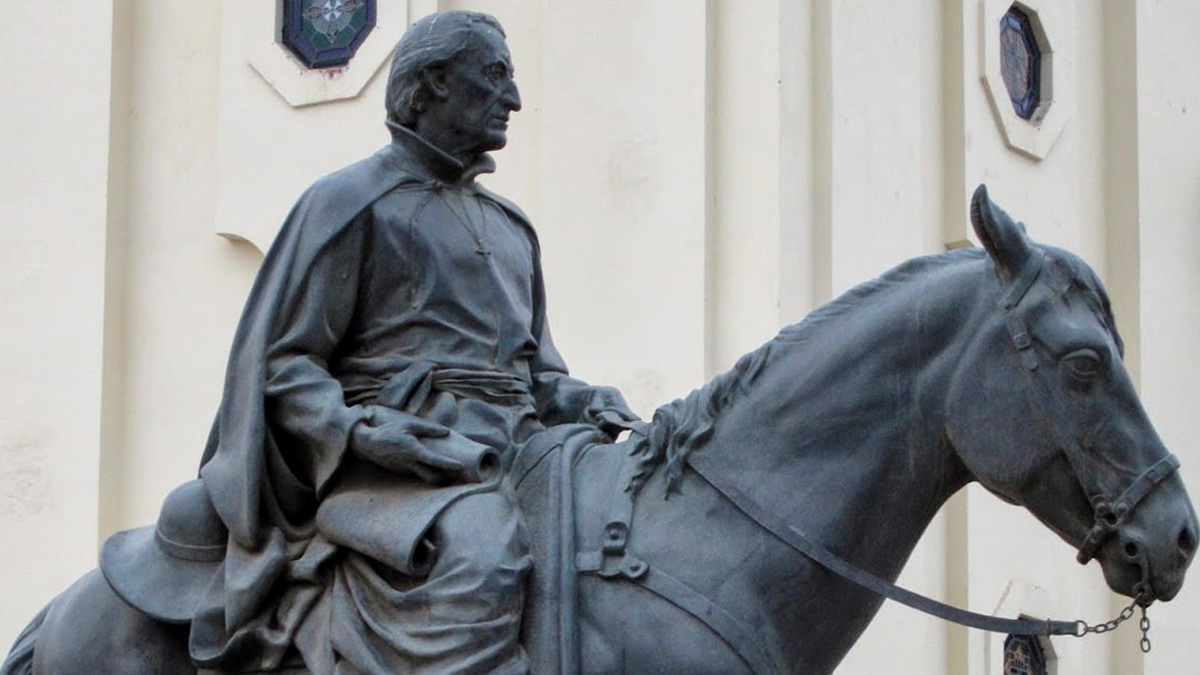 Eusebio Kino is an inspirational Jesuit for a huge number of reasons. He was an explorer, geographer, cartographer, missionary and astronomer.
He was born in the village of Segno in Mexico, in the Territory of the Bishopric of Trent, which was then part of the Holy Roman Empire. The area in which he was born is now part of the town Predaia. The exact date of his birth is still unknown although he was baptized on 10 August 1645 in the small parish church in Taio. He died on 15 March 1711.
Kino was highly educated. On 20 November 1665 he joined the Society of Jesus after he recovered from a serious illness. He received religious training in Ingolstadt where he also taught mathematics, which was a huge interest of his as well as geography, which led him to create maps of his travels. Once he completed the training, he received Holy Orders as a priest on 12 June 1677.
On 14 March 1687, Father Kino began his priestly work. He established the first mission in a river valley in the mountains of Sonora. Kino interacted with 16 different tribes during his travels in the Pimería Alta. Kino opposed the slavery and the hard labour forced upon the native people. He helped the native people by providing them with cattle as well as protecting them against slavery. This was a huge controversy among his co-missionaries at the time, since most of them acted according to the established laws.
Eusebio Kino set up nineteen villages which helped supply cattle and fruit to settlements. Kino helped the native people hugely. Kino followed ancient trading routes which were later changed into roads. He did many of his expeditions on horseback covering over 50,000 square miles. He created very detailed accurate maps. Many of today's geographical features were first named by Kino.
Kino has towns, schools, monuments, and geographic features named after him in Mexico and the United States to honour him. The copper silicate mineral Kinoite is named in his honour due to his missionaries. In 1965 a statue of Kino was donated to the United States Capitol's National Statuary Hall collection. There is another statue of him in Kino Parkway in Tucson. An equestrian statue stands beside a cathedral in the city of Hermosillo, Sonora in Mexico.
The largest statue of Kino is located along the US-Mexico border in Tijuana, Baja California. There is also a wine named after him called 'Padre Kino'. Kino has been honoured with many more monuments around the world, because of his travels and work. Films such as 'Mission to Glory: A True Story' and 'Kino: The Legend of The Black Hood Priest' were made about Father Kino's life.
Kino continued working on his missions until the day he died. He died on 15 March in 1711 due to a fever, at the age of 65. His skeletal remains can be found in his crypt, which is a national monument of Mexico. Kino's missionaries helped many people and he lived a very successful life.