Pope Francis is a sign of God's love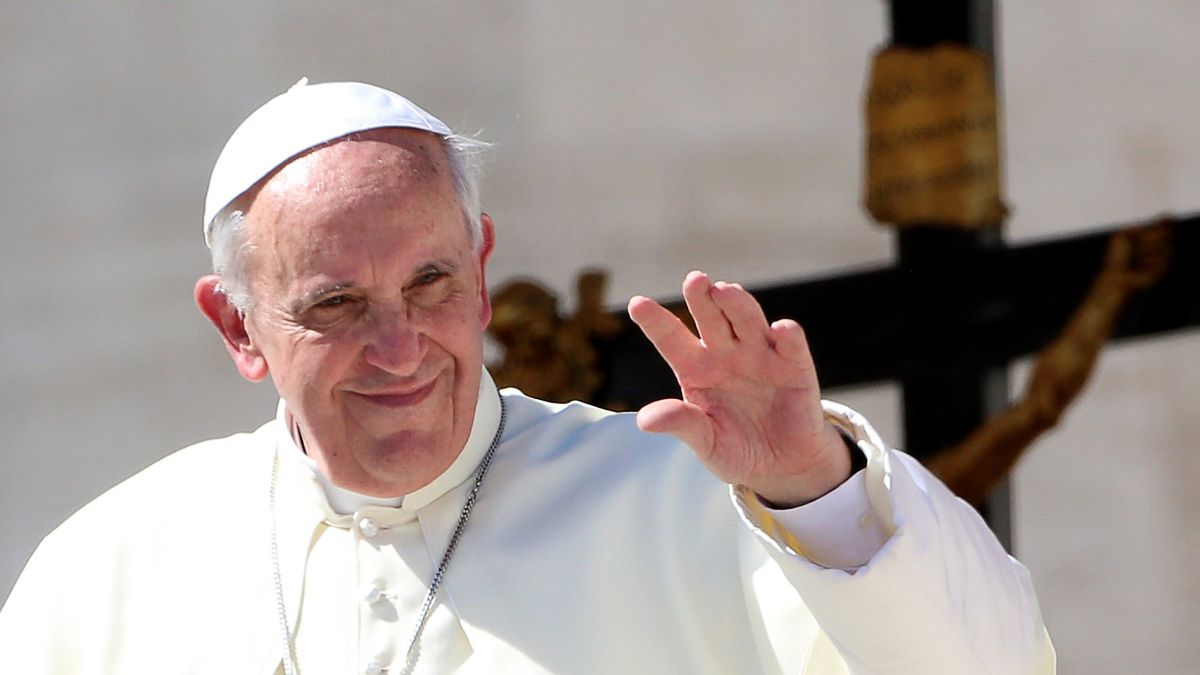 SUNNY JACOB SJ (Assistant Secretary of Global Jesuit Education) ::
"Suffering is a call to conversion: it reminds us of our frailty and vulnerability." So says Pope Francis, the 87-year-old Pontiff, who finds it difficult to walk due to a severe knee problem. He suffered a small fracture in the knee when he took a misstep while a ligament was inflamed. He is suffering from arthritis which is affecting various joints. He is a man of hope in the midst of troubles.
Look at him: he is cheerful and busy. He continues to work and pray. He walks with the help of a walking stick, and moves on a wheelchair, addresses people, meets dignitaries, and blesses all who meet him. Pope Francis walks forward, teaches the world to be cheerful in the midst of pain and suffering, wars and violence. I feel he is a sign of God, a prophet of our times.
The Pope is not only affected by physical pain. He worries about the ongoing war between Russia and Ukraine, the millions of refugees and migrants in Central Asia and the Middle East, the mindless kidnapping and persecution of people in Africa, the rigidity of political powers, increasing religious discrimination, and ongoing prejudices of religions. He also worries about the massive impact of the pandemic, the selfish nature of religious and political leaders, and the mindless exploitation of the environment by corporations and governments. Yet, he is hopeful, trying to bring all people of good will together to respond to the destructive forces. He is a sign of hope for the world.   
Pope Francis wrote in a letter to Archbishop Rino Fisichella: "We must fan the flame of hope that has been given us, and help everyone to gain new strength and certainty by looking to the future with an open spirit, a trusting heart, and a far-sighted vision". The Pope's motto on his coat of arms "miserando atque eligendo" is taken from a homily by Saint Bede which roughly translates as "having mercy, he called him". It is relevant to the Pope's life. Furthermore, he says we are stewards of creation, called to ensure the fruits of the earth are shared by all, not to exploit the earth or destroy it.
The Pope, even in his physical pain, is bent on sharing true joy with people whom he meets. I was so touched by a moment when he consoled a woman in a wheelchair like him. It makes me think of our call to be instruments of God's mercy and love. We are called to be joyful and to share God's love with all, especially the weak, the marginalised, the refugees, the migrants, the sick and the suffering. However, we are often concerned about our own 'aches and pains'. Very often our concerns are very limited and narrow: our priorities are immediate and our focus is very constrained. We have misplaced priorities and are caught up in vicious circles of ritualistic nuances or parochial concerns.
When we look at the Catholic Church and its history, we must admit its manyfold shortcomings and frailties. Yet, we must not forget its resilience and depth. The Church has not crumbled in its self-deception and sinfulness—the Crusades, the Inquisition, and the most recent child abuse scandals. Or it has not crumbled under the weight of the onslaught of secularisation in Europe. In and through all these negativities, the Church navigated for more than 2,000 years and is still moving ahead. The Second Vatican Council, which addressed issues between the Church and the modern world, certainly reflects its ability to learn and grow.
The Catholic Church, with its glaring failures, is a reminder that there is hope for us. Yes, the Church has failed on many occasions. But it has stood as a beacon to the world showing values of love, forgiveness, compassion, charity, faith and hope. When we look at the Church and ourselves, we see like the exodus journey, we have had the Divine interventions to pick ourselves back up again and to journey in the way of faith.
For us, Pope Francis symbolises hope. He is a Divine intervention in our times. As an amazing Argentine Jesuit, he has a spirituality committed to contemplation and action in the world. And he represents a theology that acknowledges the salvific grace of deprived persons.
It is apt that the Pope chose the name of St Francis of Assisi as he has demonstrated similarities to him on numerous occasions. Like St Francis, the Pope is committed to interfaith dialogue. He has demonstrated the Church's commitment to respect and befriend people of other faiths, a necessity in today's pluralistic world. We have seen it in ample instances. Like St Francis was called to rebuild the Church of his day, the Pope is now doing the same.
There are of course several issues affecting the Church, but the Pope is showing us the way. The Synodal church proposed by him is a great opportunity for the Church to be relevant in today's world. Nothing is impossible, for we too are 'called to be saints, just like the multitude of witnesses before us, so as to be heralds of hope for the world'. As Pope Francis urges young people, "Live, love, believe, and with God's grace, never despair". He is a sign of God's presence among us, and so, we hope.