Br John Maguire SJ – 'One of Leitrim's treasures'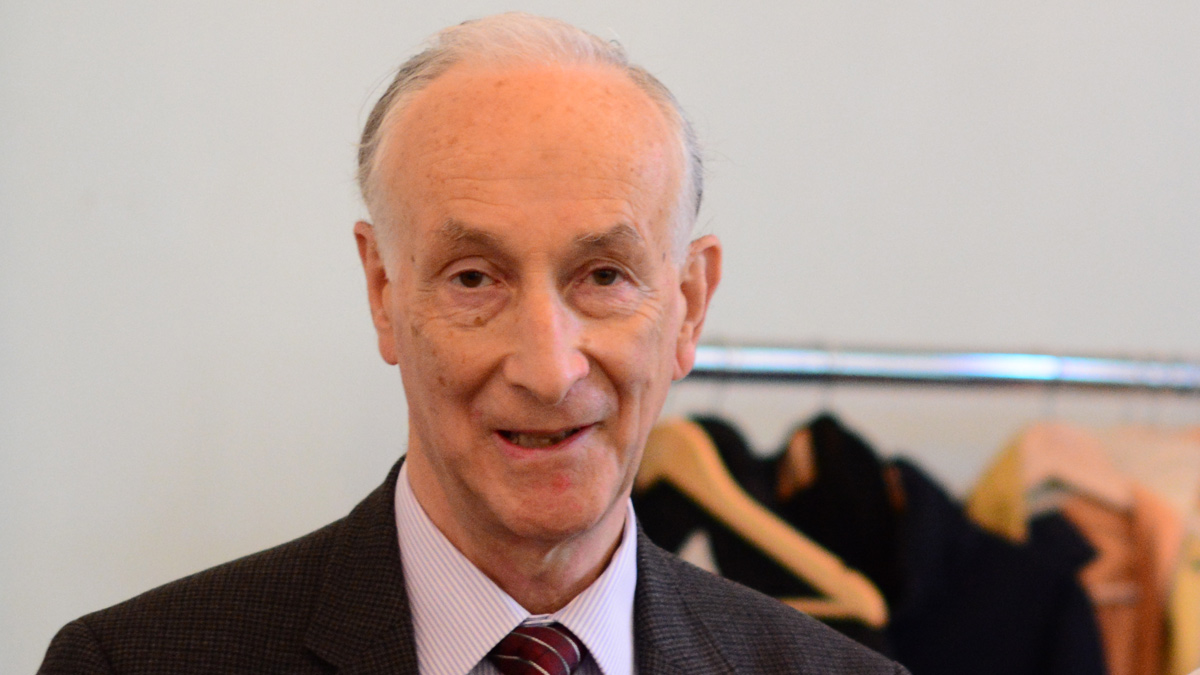 Brother John Maguire SJ died peacefully in Cherryfield Lodge nursing home, Ranelagh, Dublin, on 16 April 2020. Due to government guidelines regarding public gatherings, a private funeral took place on 18 April, followed by burial in Glasnevin Cemetery. A small number of relatives attended. Fr Bill Callanan SJ and Fr John K Guiney SJ represented the Jesuits. Around 100 messages were left on the online Condolences Book (RIP.ie), such was Brother John's influence on the lives of lay people and religious over many decades. Many remember him for his quiet reassuring presence and for his wise judgement and administrative skills while working for the Irish Jesuit Province.
Brother John was born in Glenfarne, County Leitrim, in 1933. Before entering the Jesuits at 35 years old, he worked as a grocer in Ireland and England and attended Rathmines Tech and Catholic Workers College in Dublin. After his novitiate at St Mary's, Emo, County Laois, he worked as secretary to the Provincial and studied at Milltown Park, Dublin, followed by theology studies at St Patrick's College, Maynooth. He continued his studies and administrative work in Milltown Park and did his tertianship in Tullabeg, County Offaly.
From 1980 to 1984, Brother John was a missionary in Lusaka, Zambia, where he was secretary to the rector of St Dominic's Major Seminary. He also took his final vows there.
Upon his return to Ireland, he worked as minister for the Loyola House community in Dublin, acted as Province secretary and editor of the Province newsletter. He continued his work as Province secretary, took a sabbatical at the Franciscan Study Centre in Canterbury, England, in 1993, and was involved with administration in the Provincial's office right up until 2017. In recent years, he lived in Cherryfield Lodge nursing home, where he prayed for the Church and the Society of Jesus.
The private funeral which took place on 18 April was officiated by Fr Bill Callanan SJ and assisted by Fr John K Guiney SJ. Fr Guiney, director of Irish Jesuit Missions, thanked the four members of Brother John's family who travelled from Leitrim on the morning of the funeral. He was grateful for their presence in the difficult circumstances where it was not possible to do a normal Jesuit funeral and to fully celebrate Brother John's wonderful life as a Jesuit companion.
Fr Guiney thanked the Maguire family for giving Brother John to the Society and for his service of so many in Zambia and Ireland. He said that his gracious, gentle, dedicated and humble service touched the lives of so many down through the years. His sister Peggy was unable to attend because of government constraints, but she was well represented by her family. Brother John occupies the last place available in the old graveyard at Glasnevin Cemetery and the next Jesuit burial will take place in the new one.
A number of other Jesuits have expressed their condolences for the loss of their dear brother in the Lord.
Tom Layden SJ, former Irish Provincial, commented:
"May John rest in the peace of the Risen Lord and may the hope of the resurrection bring comfort to his family and friends. I thank the Lord for John and his gifts of kindness, quiet competence and friendliness."
Kevin O'Higgins SJ, Director of Jesuit University Support and Training (JUST) in Ballymun, said:
"It is lovely to see so many tributes to John. Like St Peter Faber, one of the first Jesuits, John was a 'quiet companion', always courteous, anxious to help, unfailingly kind and generous. After a lifetime of dedicated service, may he now rest peacefully in God's love."
Paddy Carberry SJ, former novice director and editor of Messenger magazine, commented:
"I have known John for many years, and worked closely with him at one time. He was always kind, obliging, gentle and good-humoured. I will miss him. I have offered Mass for him. My condolences to his family and to all who miss him."
The Provincialate staff in Milltown Park remember him as a great colleague. They said:
"Brother John helped new staff settle into their jobs in so many little ways and was welcoming and good humoured to all who came into the office.
"We have memories of him loving the fun at coffee breaks, for his gifts of homemade biscuits and for his tin whistle playing.
"He was a gentleman in every sense with a lovely simplicity, albeit with a touch of delicious roguery! He was one of Leitrim's treasures. May he rest in endless peace."
Paddy Moloney, who used to visit Brother John in Cherryfield Lodge, also paid tribute to him.
"John was gentle, and was particular about any job he did. He liked the garden, flowers, was a player of the tin whistle and played in bands in his hometown. He was in a small 3 piece Irish music group in Dublin.
The other two remained his friends for life. My wife Aline worked as a receptionist in the Curia and knew him when he was well and said he was interested in people and she always found him helpful."
A Memorial Mass in celebration of Brother John's life will take place at a later date.
Ar dheis Dé go raibh a anam dílis.