Fr James Hurley – 'an exceptional Jesuit'
Fr James (Jimmy) Hurley SJ died peacefully in Cherryfield Lodge nursing home, Ranelagh, Dublin, on Easter Monday, April 13, 2020. He was 93 years old.
Due to government guidelines regarding public gatherings, a private funeral service took place on 15 April followed by burial in Ardmore Round Tower Cemetery, County Waterford. You can watch a video of the ceremony here.
It was attended by a small number of his family and Tom Casey SJ of the Milltown Park community who represented all Jesuits. Messages of condolence were sent from Hong Kong where Fr James spent over 50 years as a missionary involved with education and pastoral work. Watch a photo-story tribute to him here made by his friends in Hong Kong. Also read a tribute by the Asian Human Rights Commission ».
Born in Ardmore, County Waterford in 1926, James was educated by the Cistercians at Mount Mellary Abbey and entered the Jesuits at St Mary's, Emo, County Laois, in 1944. He was influenced by his brother Michael (sometimes called the 'father of Irish ecumenism') who entered the Jesuits before him. After studying at UCD and Tullabeg, James went to Hong Kong in 1952 to study Cantonese and to do his regency as a secondary school teacher. He studied theology and philosophy at Milltown Park in Dublin, and after ordination and tertianship he returned to Hong Kong in 1960.
James took on many different roles during his years as a Jesuit missionary. He was a secondary school teacher, a spiritual father, a university chaplain, a novice master, a parish priest and spiritual director. He came back to Ireland in 2015 where he engaged in pastoral ministry at Milltown Park, Dublin.
Fr James was much loved wherever he went, and after his return to Dublin he had a steady flow of visitors both from Ardmore and from Hong Kong.
Messages of condolence were sent by the Chinese Jesuit Provincial and Cardinal of Hong Kong, expressing their deep appreciation for the missionary work of Fr James and acknowledging the impact of his legacy on the people of Hong Kong. The messages were read out at the graveside by Irish Jesuit Fr Tom Casey on Wednesday 15 April.
In his letter, Fr Stephen Chow SJ, Chinese Provincial, said: "Jimmy was an exceptional Jesuit who had given so many years of his life to Hong Kong. He was always energetic, curious, daring, caring, and active. Many of us have been awakened by his passion for social justice. And he is dearly remembered for that".
He continued: "Many have left words and prayers on my Facebook page after I posted the announcement this afternoon. Cardinal Tong of Hong Kong also sent me a condolence message this evening. This has never happened before with Jesuits who had gone before him, and some of them were famous and well-loved priests."
Cardinal Tong wrote the following: "On behalf of the Diocese, I would like to offer my condolences and sympathy on the death of our dear Fr Jimmy Hurley. Jimmy had served the Diocese in different ministries for many years with much love and dedication to every ministry he was assigned to.
He served as Spiritual Director of the Justice and Peace Commission, Chaplain to students of some universities in Hong Kong, Pastor of St Vincent Church in Wong Tai Sin, Christ the Worker Mass Centre in Ngau Tau Kok, Star of the Sea in Chaiwan, and St Ignatius Chapel in Waterloo Road.
He was a very capable man. He spoke very good Cantonese and was able to reach out to the different sectors of people in Hong Kong. He was well-loved and appreciated by everyone. He was a good example for the priests in our Diocese".
Both Fr Chow and Cardinal Tong prayed: "May Fr Jimmy now rest in the eternal embrace of our Risen Lord whom he has vowed to follow".
The Diocesan Justice and Peace Commission of Hong Kong has also created a cartoon image depicting Fr James going to his eternal reward.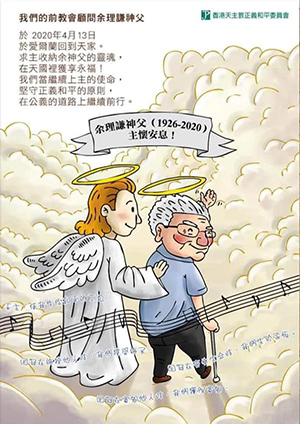 Fr Todd Morrissey SJ, historian and author of the book Jesuits in Hong Kong,  paid the following tribute to Fr James, his fellow community member in  Milltown Park.
"When I visited Hong Kong in 2006 to research the history of the Irish Jesuits there, Jimmy was still full of zeal as a parish priest working directly with the Chinese people. He was very popular, always willing to help people out and was noted for his good sermons and his fluency in Cantonese.
When he came to live in Milltown Park, there were constant visitors from the Chinese. These included young Chinese people who have great respect for the elderly and their wisdom. There were many dinners with our Chinese visitors, several days a week over three years."
According to Fr Morrissey, even during his last two years at Cherryfield Lodge, Jimmy was always a man who listened to people, interested individually in what they were doing, and very friendly and encouraging. "He was always in good humour and cheerful no matter what complaint. He was a very pleasant man to live with and to know."
Fr James is deeply missed by his family, his wide circle of friends and his Jesuit communities in Hong Kong and Dublin. He is buried alongside his parents. A memorial Mass in celebration of Fr James' life will take place at a later date.
Ar dheis De go raibh a hanam dilis.