Gonzaga rocks the Rock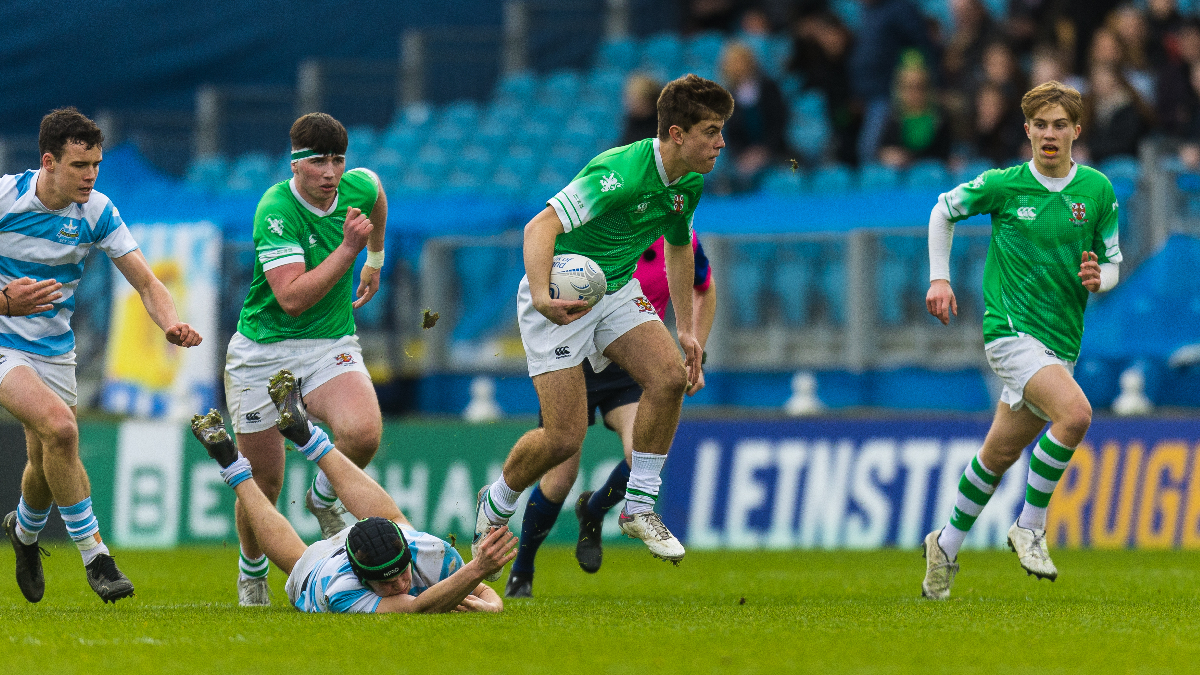 Gonzaga College SJ made history on St Patrick's Day, 17 March 2023, when they beat Blackrock College to win the Leinster Schools Senior Cup for the first time ever. A large crowd in the RDS, Dublin witnessed a nail biting finish when Tom Wyley scored a try in the 68th minute, leaving the final score: Gonzaga College SJ 35, Blackrock College 31. Victory was all the sweeter for the Gonzaga side given the school was beaten in the Senior Cup Finals in 2019 and 2022 against St Michael's College and Blackrock respectively.
"What an achievement for the Senior Cup squad! They are an outstanding group of young men who have worked exceptionally hard both on and off the pitch this season," said Paul Kieran, the team's manager and school gamemaster. He added: "The team played with huge energy and determination and were great to watch. We are all incredibly proud of them."
Tom Casey SJ, (see photo insert) the school chaplain was thrilled with the result in what he called a David versus Golitath game. Using the bible story as his framework, Tom drew three lessons from a match that was won by the absolute underdog. Read them all below,
The Irish Examiner reported:
"In an explosive start to the contest, 'Rock No 8 Tom Brigg and Gonzaga full-back Hugo McLaughlin traded converted tries. Justin Vanstone's defending champions regained the advantage courtesy of a routine place-kick from Oliver Coffey on 25 minutes, but they were knocked back on their heels thanks to a spectacular scoring burst by Gonzaga in the latter stages of the opening period.
One of five starters from last year's final reversal to 'Rock, McMahon elected to tap a close-range penalty in the 28th-minute and proceeded to power past the whitewash in clinical style.
There was further joy for Gonzaga's number 10 just past the half-hour as he was put through by prop Adam McVerry for another five-pointer after winger JP Breslin had gone close to scoring.
McMahon also contributed conversions to both of his tries to propel Gonzaga towards a commanding 21-10 interval cushion.
Although momentum was seemingly with their opponents, Blackrock were firmly back in the reckoning when loosehead prop Tom O'Riordan finished off a lengthy attacking move for a converted try on 40 minutes.
Gonzaga reinforced their authority just four minutes later when superb approach work from McMahon and Hugo McLaughlin created the platform for Breslin to touch down in the right-corner. Yet, even though McMahon added two more points to his impressive personal tally, 'Rock seized control of the action either side of the third-quarter mark.
Alex Mullan was growing into the play as it progressed and he registered tries off multi-phase moves in the 46th and 56th minutes to move 'Rock back into the ascendancy.
Whilst the expectation was that 'Rock were going to push on from here for their 71st senior title, Gonzaga simply refused to throw in the towel.
Despite Luke McLaughlin being held-up on the try-line, they remained on the front-foot and replacement scrum-half James O'Dwyer worked the ball into Wyley's hands for a try underneath the posts. McMahon brought his individual haul up to 20 points with a fifth conversion and after they withstood a resulting surge from 'Rock, Gonzaga had officially reached the promised land."
The Irish Times reported:
"It may have taken Gonzaga three finals in this tournament to get over the line, but this was a stunning triumph; league champions and Senior Cup winners in what constitutes a remarkable season, victories that were achieved playing a superb brand of rugby.
At times that sense of adventure looked like it might prove their undoing, but they retained the courage to stick to their playing principles and were ultimately rewarded in a fraught endgame before a crowd of 9,534."
Main image from Gonzaga College SJ Flickr page ».
A.M.D.G. Gonzaga wins the Leinster Schools Rugby Senior Cup for the first time:

It's such a privilege to have started working in Gonzaga in the season when they reached the Holy Grail of the Rugby Senior Cup for the first time. In the week leading up to the final, I found myself frequently thinking of the biblical story of David and Goliath.
I draw three lessons from this dramatic and astounding victory. First, God is bigger than our fears. Goliath was massive, had heavy armour and a javelin. The Bible says that Goliath was 9 foot tall! Goliath caused fear among the Israelites and that included David. The Blackrock team was physically much bigger and stronger than the Gonzaga team. But just as David approached Goliath in the name of the Lord, the Gonzaga came into that final supported by the prayers of so many people: mothers, family, fellow students… so many of us.
All of us feel afraid. Most of us feel smaller than our fears. But whatever situation we're in, we can be courageous if we know that God is with us, because God is bigger than our fears.
The second lesson: everyone is beatable – or – no situation is hopeless.
Goliath seemed unbeatable. Blackrock, with 70 points to 7 against Roscrea in the quarter finals, appeared unbeatable. But as David showed, and as the Gonzaga rugby team proved, it's our mindsets and our beliefs that are crucial. If size and strength mattered that much, David wouldn't have had the courage to go face to face with Goliath. I mean, all he had was a staff, 5 stones, and a sling! But David was bigger than the challenge. He believed it was possible. As our captain Paul Wilson said – "I always believed it was possible to win".
The third lesson: use what you have. David had 5 stones and a sling, which amounted to practically nothing compared to Goliath's armour. Saul gave David his armour but it was so heavy that David couldn't even walk. Gonzaga couldn't play the big, physical, power game of Blackrock. But our team have their own distinctive skills, and they stayed true to them. David pulled back his sling, and the stone flew at great speed right into the only place where there was a chink in Goliath's armour – his forehead. Just like David had 5 stones, Gonzaga have a lot of fast and fit players, and just like David hurled the stone at speed, so these players showed speed of thought and speed of movement to penetrate the few holes in Blackrock's armour. There's another lesson for us here: let's not complain about what we don't have. Instead, let's make use of what is already at our disposal.
Ad majorem Dei gloriam! Go Zaga!
Tom Casey SJ,
17 March 2023.