Jesuits open doors on Culture Night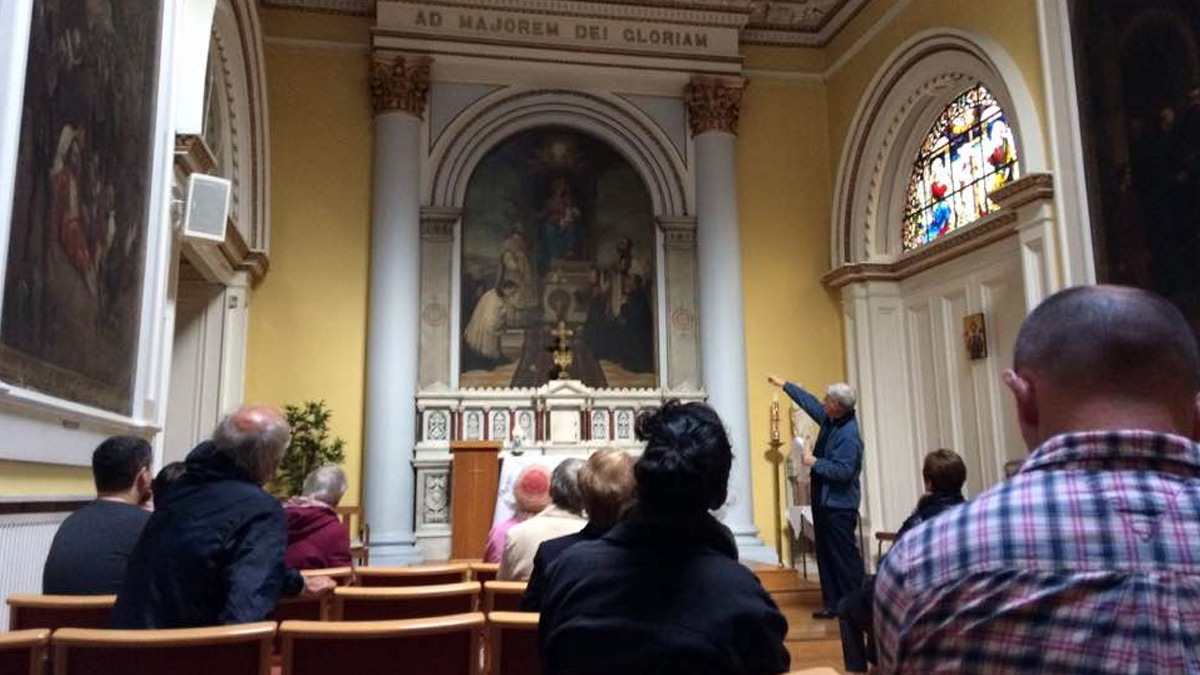 Jesuit apostolates opened their doors to the general public as part of Culture Night 2017, a free all-island celebration of arts, heritage and culture, which included Dublin venues of the Church of Saint Francis Xavier and Manresa Jesuit Centre of Spirituality.
Fergus O'Donoghue SJ gave tours of the church at St Francis Xavier's Gardiner Street on Friday 22 September from 6-10 pm, while hundreds of other historic buildings opened across the country. He says: "Our parish enrolled for the first time this year. Visitors were given a tour of the church itself (with a lecture about the high altar), followed by a visit to the Ignatian Chapel (where the five Evie Hone windows had just been backlit: they can be seen at night), to the new Prayer Room (with its Harry Clarke window) and the Oisín Kelly statue of Saint Joseph and the Child Jesus (on the Pope Francis Corridor)."
Fergus counted a total of 132 visitors which he thought was very good for a first-time venue. He reported that Dr Eileen Kane, art historian, amazed visitors with her knowledge of the church's art treasures and Denise Doyle, musical director, played for nearly four hours. Some of the visitors were parishioners; others were people who grew up in the parish, but now live elsewhere; others happened to be passing and noticed the balloons on the railings to advertise Culture Night, so they came in. "Those of us who know the church very well were still surprised at how much we learned about the building and the art," says Fergus, "and we plan to attract even more visitors next year."
Damien Burke of Irish Jesuit Archives presented a talk on 'The Jesuits in 1917' at the Royal College of Physicians of Ireland (RCPI) on Kildare Street, Dublin. He notes: "It focused on Jesuit attempts to help the poor of Dublin, with the establishment of the Dublin Food Supply Company, female writers in Jesuit publications, the conscription crisis in Australia and Jesuit chaplains in the First World War." The event was part of 'Letters 1916 – 1923 & RCPI' which also featured demonstrations, interactive exhibitions, augmented reality and live readings over a 5-hour period.
In addition, Manresa Jesuit Centre of Spirituality in Dollymount organised a lecture on 'St Anne's: the Story of a Guinness Estate' at 7.30pm. Visitors were told that the land currently occupied by Manresa and St Anne's Park was once known as Baymount House and the Guinness Estate. At the lecture, Joan Sharkey of the Raheny Heritage Society described the origins and development of what is now Dublin's second largest public park. It is hoped that many more will be introduced to Jesuit arts, heritage and culture at Culture Night 2018, which will mark the national event's fourteenth year.