Back on the road again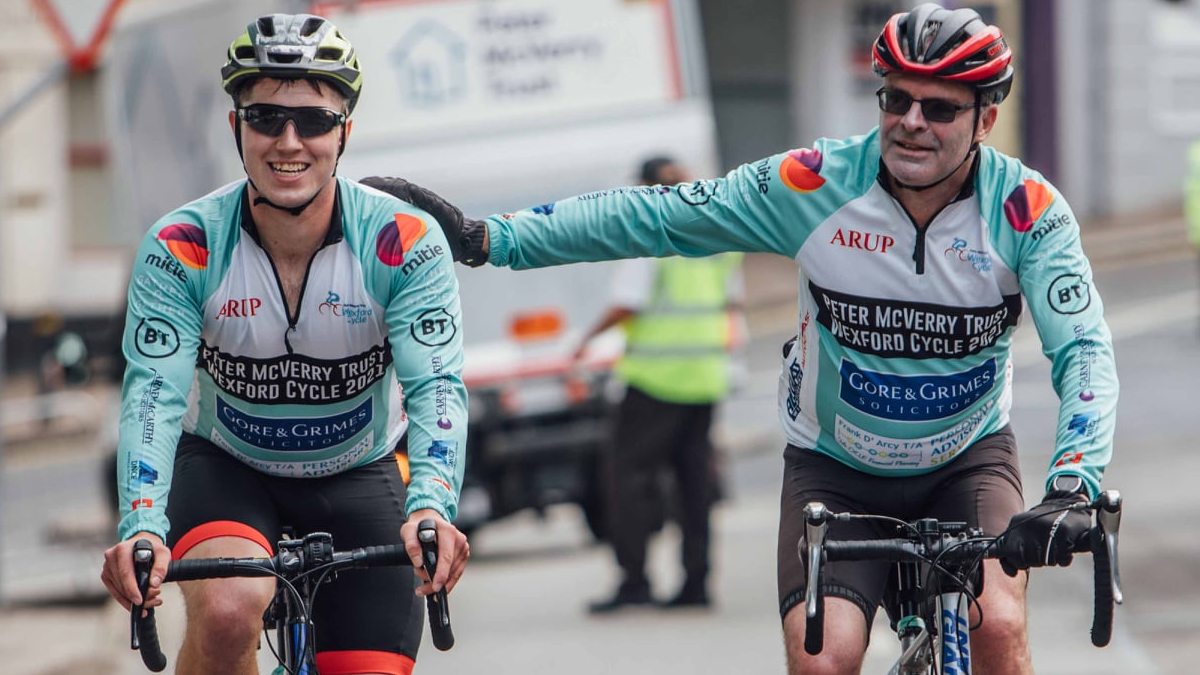 Over €60,000 has been raised for the homeless through the 32nd Peter McVerry Trust Wexford Cycle, which took place on Saturday, 18 September 2021. The money raised is particularly needed given the recent increase in the number of people in emergency homeless accommodation. According to a report from the Department of Housing, Local Government and Heritage, 8,212 people were recorded in emergency accommodation at the end of August 2021, an increase of 80 people.
Over 170 cyclists took part in the cycle – the first physical fundraising event for the homeless charity since before the Covid-19 pandemic. Running for 32 years, the popular cycle took a hybrid format this year and participants had the option to complete the traditional route from the campus of University College Dublin to Wexford town or take on a virtual cycle on the same date.
University College Dublin has been the traditional starting point of the cycle since UCD students originally decided to support the work of Irish Jesuit Peter McVerry.
After a foggy start at the UCD Bowl at 7am, the sun came out as cyclists tackled the route to Wexford town. The event finished with a BBQ in Clayton Whites Hotel, with buses running cyclists back to Dublin throughout the day.
Pat Doyle, CEO of Peter McVerry Trust, was delighted to see the cycling fundraiser back on the road this year and thanked all those who had supported it.
"It was brilliant to be back in person this year and cheering on the cyclists as they passed the finish line," he said, adding. "The event is the biggest on our fundraising calendar and we couldn't do it without the support of our volunteers, sponsors, partners, donors, staff and, of course, all the cyclists. There is no doubt that the pandemic has been a challenge to everyone. Now as we emerge to a more open society we want to ensure people in homelessness get every support they need to find and secure a place they can call home."
Fundraising is still ongoing but over €60,000 has already been raised by cyclists.
Referring to the latest increase in homelessness figures Pat said  that any increase is disappointing because it means more people impacted by homelessness. "However, we are now at the busiest time of year for social housing delivery," he noted, " and we would hope that the number of people getting access to housing will significantly increase in the coming months."
He said that the Peter McVerry Trust will deliver over 100 social housing units before the end of this year and that means few people, and in particular single people, in homelessness. "The priority each and every month is to ramp up the number of housing pathways we can secure and move more people into their own homes as quickly as possible."
Pat Doyle also said tht the Housing For All strategy means there is renewed momentum to tackle the issue of homelessness "and we need to quickly get onto a steady downward trajectory if we are to make the target of ending homelessness by 2030. It's up to all stakeholders to deliver more housing pathways to make that happen and we are very much committed to playing our role in that process."