Biography of a Jesuit-educated judge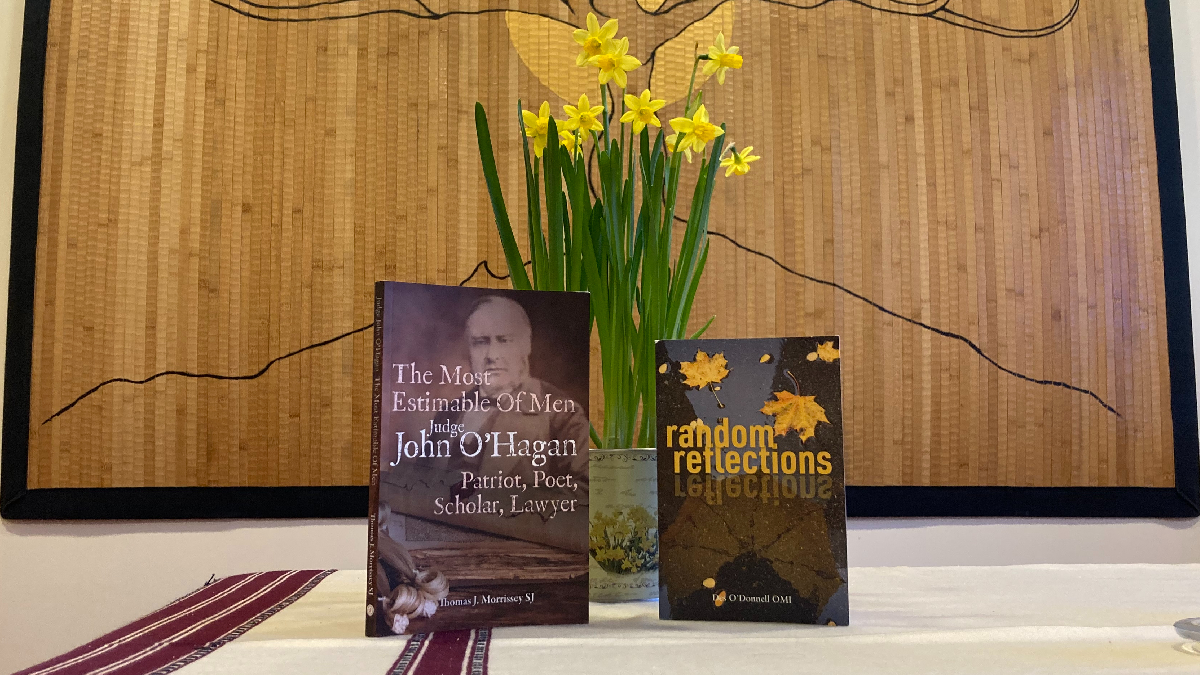 Random Reflections » by Des O'Donnell OMI and Judge John O'Hagan 1825-1890 » by Thomas J Morrissey SJ are two of the newest books by Messenger Publications. O'Donnell's little book of reflections aims to perplex, challenge, delight and encourage readers with a collection of 700 thoughts and phrases. Morrissey's book aims to help people better understand the past, present and future of the 'still-young Irish Republic' with a biography of an influential patriot, poet, scholar and lawyer. Together they emphasise a deeper contemplative dimension to life both personally and professionally.
Des O'Donnell OMI, Oblate priest and psychologist, writes in the introduction to Random Reflections:
"I offer them [the reflections] to the reader, not to amuse or to entertain, but as invitations to think, to reflect or to learn and maybe to be fruitfully confused. The full meaning of each one may not be immediately obvious. In fact, some of them could disturb the person willing to be stretched in their beliefs, in their style of thinking and perhaps in their behaviour."
Examples of nourishing thoughts and phrases include:
It is becoming clearer that we now live in a world of common fate and responsibility.
Modern life has to be increasingly lived with less experience of distance in time and space.
You live only once, but it is enough if you get it right.
God will not love us more if we improve. His love invites and enables us to improve.
Some days you are the pigeon. Some days you are the statue.
In Judge John O'Hagan 1825-1890, Thomas J Morrissey SJ (Jesuit priest and historian) refers to the Jesuit education of the highly respected judge, 'a man beloved and respected by all who knew him'. He notes that O'Hagan attended Hardwicke Street School in Dublin, later becoming Belvedere College:
"In accordance with the curriculum, he would have studied Greek, Latin, English and French, and also some history and geography. He probably received some instruction in philosophy and theology, and initial training in public speaking and debating.
Some of the school's students passed on to more notable establishments such as Clongowes Wood College, County Kildare, or Stonyhurst College in England. O'Hagan, however, seems to have continued at the school until he was ready to enter Trinity College, Dublin University."
John O'Hagan later came into contact with Saint John Henry Newman in relation to a professorship at the Catholic University in Dublin. They became friends and corresponded on many occasions. One letter, written by Newman to O'Hagan in 1874, stated:
"I have been exceedingly gratified, or rather have been much surprised and deeply touched by your letter, which has just come. I know I do not deserve it all – but still I accept it with all my heart as if I were worthy of it, and do not mean to part with it… And I can say on my part that your name has all along been on my list of Irish friends."
O'Hagan's story is that of a man who shaped his time without being overpowered by it.
Random Reflections by Des O'Donnell OMI retails at €4.95/£4.50. Judge John O'Hagan 1825-1890 by Thomas J Morrissey SJ retails at €19.95/£18.95. Both books are published in Ireland and the UK by Messenger Publications.