Back to the plough
September 27, 2022 in
News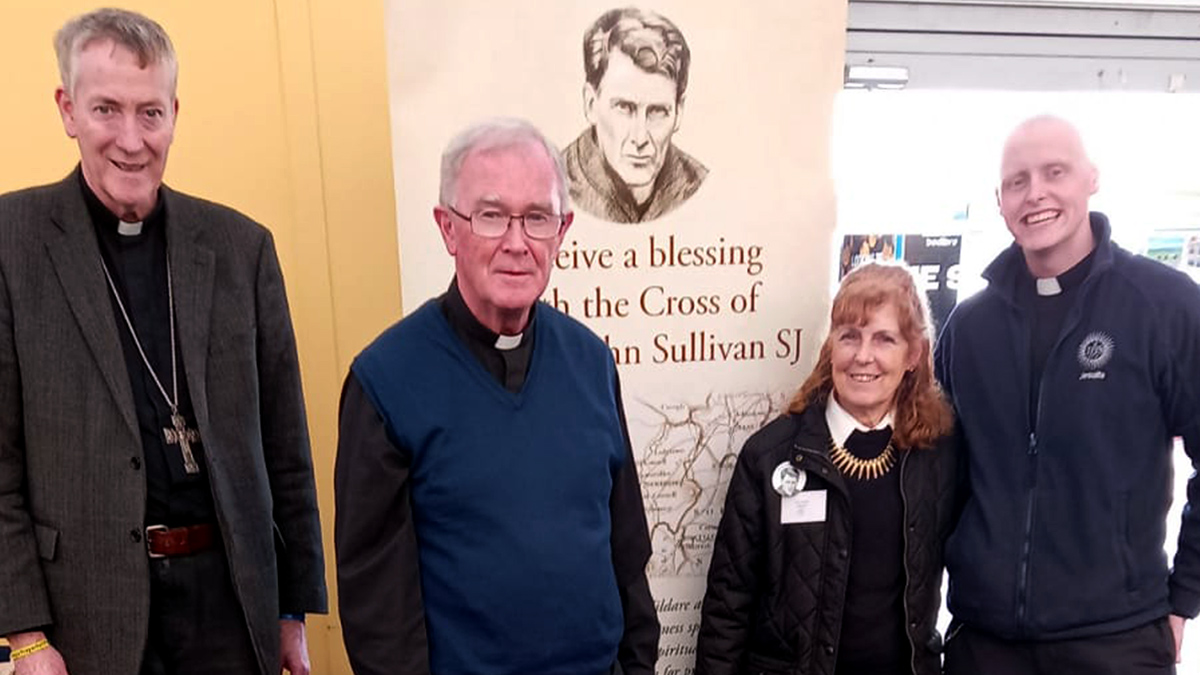 Jesuits were back at the National Ploughing Championships ((Tuesday 20 -Thursday 22 September 2022) for the first time since the Covid-19 pandemic began in 2020. Kevin O'Rourke SJ and scholastic Eamonn Walls SJ spent three days there offering a blessing with the cross of Blessed John Sullivan SJ, given to him by his mother and which he held in his hands as he lay dying. They were joined on other days by Donal Neary SJ and Barney Mc Guckian SJ.
"It was great to be back," says Kevin, "We had an early start, as usual, breakfast before 6 am. And we were kept busy from early morning til the end of the plouging day around 6 pm. As always it was a privilege to meet all those who came, pray with them and for them, and listen to their stories before blessing them with Fr John's cross."
For the first time, the Jesuits teamed up with the Diocese of Kildare and Leighlin and set up a sacred space in the large tent that the Diocese brings to the ploughing. The local Bishop Denis Nulty is a great supporter of the cause of Blessed John and takes part in the annual Mass at Clongowes in his memory.
Blessed John spent most of his life teaching in Clongowes Wood College and travelling the roads of Co. Kildare by bike or on foot visiting the poor and the sick. His reputation as a man of great holiness and healing spread in his lifetime and is still talked about to this day.
Cáit Cullen from Clane was reminded of that when she joined Kevin and Eamonn on the last day of the ploughing. Cáit is a key worker in promoting Fr John and she tends his grave in Clongowes College. (Fr John's body was exhumed from there in the 1960s and taken to Gardiner St Church in Dublin where many people call to pray and ask for intercession from him.)
She spent her time talking to the visitors about the Fr John Sullivan SJ story and facilitating those who wanted to get a blessing. "We had lots of people coming to us," she says, "And many of them had stories about Fr John and how good he was to the local people. These were memories shared with them by their mothers or grannies or uncles or whoever. I found myself growing taller as I listened to them, hearing again just what a wonderful man Fr John was and how much he loved the sick, the dying, the poor. It was a joy to be back!"
(Photo: Bishop Denis Nulty, Kevin O'Rourke SJ, Cáit Cullen, Eamonn Walls SJ.)