Pope compliments enthusiasm and zeal of youth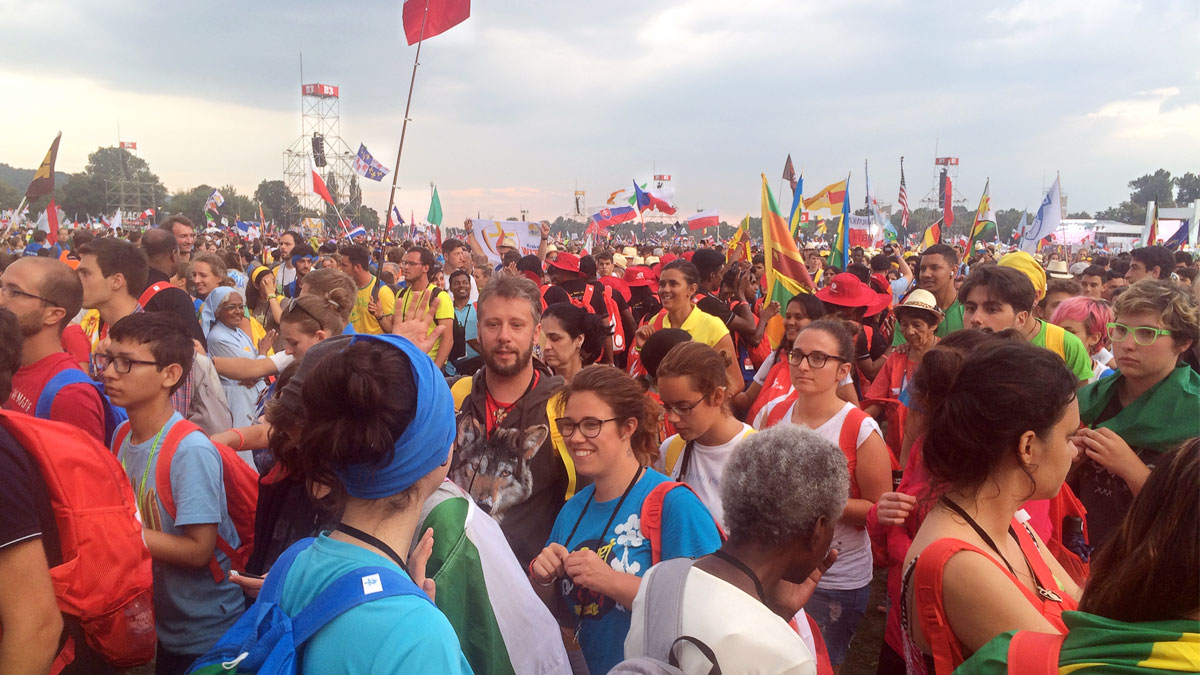 A group of twenty-three MAGIS pilgrims from Ireland travelled to the World Youth Day in Krakow and MAGIS 2016, the ten-day international experience organised by the Jesuits on the occasion of World Youth Day, from July 15-31. Niall Leahy SJ, Brendan McManus SJ and Jesuit novice Patrick Corkery accompanied the group that comprised of young people from all over Ireland. Fr. Alan O'Sullivan OP, Chaplain at Trinity College, and Sr. Leonor Franco ACI also accompanied the group.
Pope Francis was officially welcomed to World Youth Day on 28 July at Jordan Park, Blonia, by over 500,000 young people. In his address the Pope said that "nothing is more beautiful than seeing the enthusiasm, dedication, zeal and energy with which so many young people live their lives". He encouraged the the young people to build friendships with each other and with Jesus by sharing him with others. "What better way to experience the contagious joy of the Gospel than by striving to bring the Good News to all kinds of painful and difficult situations," he said.
The Pope explained how it disappoints him to see young people who are downhearted and who have lost their zeal for life. "It pains me to meet young people who seem to have opted for 'early retirement'… I worry when I see young people who have 'thrown in the towel' before the game has even begun… who walk around glumly as if life has no meaning." He outlined how, deep down, these young people "are bored – and boring", and this upsets him.
He continued: "It is also hard, and troubling, to see young people who waste their lives looking for thrills or a feeling of being alive by taking dark paths, and in the end having to pay for it – and pay dearly". There are young people that have gone into retirement, the Pope said, "who are enthralled by false illusions and end up in nothingness". He explained how he finds it "disturbing to see young people squandering some of the best years of their lives, wasting their energies running after pedlars of fond illusions… who rob you of what is best in you".
Niall Leahy SJ who accompanied the Irish group to Magis and World Youth Day was listening to the Pope's address through the lens of Ignatian Spirituality. "He's so real, he's so simple in his delivery, speaking simply but not at all superficially, he knows young people are capable, are able, to hear real things, important messages, important ideas" explained Niall outlining how Pope Francis "doesn't dumb it down but he sticks to the absolute fundamentals and people love it".
According to Niall what gives the Pope consolation is seeing "the contribution young people make to society and to the church", and "how generous and warm-hearted young people are in their service". What pains the Pope he says, is observing young people "growing old before their time…downcast at such a young age…who've given up before they've got going at all". Niall said this poses a question "and the answer is Jesus Christ, the person, and that's where we find fulfillment."
The Magis pilgrims to World Youth Day attended Catechesis sessions in the parish of Kazimierz on the outskirts of Krakow from 27-29 July along with many of the other 1,600 Irish pilgrims. The catechises, which is a core element of the pilgrim experience, was animated by a different Irish diocese each day. The Catechists were Archbishop Diarmuid Martin of Dublin, Bishop Richard Malone of the Diocese of Buffalo, New York, and Chicago Archbishop Blase Cupich. Each Bishop gave a teaching and then answered questions, and the gathering concluded with the celebration of Mass. In his Cathechisis on 29 July Archbishop Diarmuid Martin focused on the theme of World Youth Day 'Blessed are the merciful, for they shall obtain mercy' (Matthew 5:7).
The Archbishop said that all of us have to be remember we are sinners, "not to become depressed in our sinfulness but to realise that none of us would be where we are expect for the fact that God in his mercy has helped us, has protected us". God's mercy "tosses us head over heels" he remarked, outlining how it is gratuitous and superabundant and "goes way beyond anything we might expect, way anything we deserve". Highlighting that God loves us even while we're sinners, Archbishop Martin explained how one of the problems is that "we very often ourselves try to measure ourselves what God's mercy is..we put human limits on God's mercy".
One of the questions we have to ask ourselves at World Youth Day, the Archbishop said is "Who is Jesus Christ?" and when we ask that question we have to ask a second question "Who am I", he remarked. He explained that when we talk about mercy and the love of Jesus, "we don't just think of ourselves, our own little problems, our world", outlining how a living faith must be outward reaching into every aspect of life.
"Our faith must reach out into the world we live…that's a very big challenge. Our world needs the message of Jesus Christ, the harshness in our world needs the message of a mercy that can heal and free people", he said. The Archbishop challenged the young people to go away from World Youth Day not just thinking about themselves and the nice experience it was, but to consider "What now do I have to do to bring the message of Jesus Christ into the world in which we live…and that means every dimension of your life, not just what happens on Saturday evening and Sunday at Mass."
Reflecting on the pilgrimage of the Irish group to MAGIS 2016 and World Youth Day Niall Leahy SJ said that Magis is really like "a taster programme for the fundamentals of Ignatian Spirituality". He said that the young people who travelled with the group are "hungry for mission", explaining that mission is a huge part of Ignatian Spirituality. "A lot of young people are involved in mission and we need to support those people, a feed them, and allow them to learn from each other's experience", Niall said.
Marie Cummins, a participant in the group, also reflected on her experience of World Youth Day. "There are thousands of people here really wanting to live the Gospel, to live life to the full" she said, referring to the electric atmosphere on the streets of Krakow. "Everyone is so joyful and so full of song…that's something that needs to be spread across the world", Marie said. She found the message of Pope Francis was very hopeful. "There is hope no matter what circumstance you're in, there is always hope", according to Marie.
"If you don't know where to find that hope come back to the Church", she said, outlining how "Christ is there with his arms wide open ready to hug you, ready to embrace you with his love". Marie encouraged young people to get involved in the young Chuch at home. "Come to events like this, get involved in your parish, get involved in youth groups back in Ireland", she remarked, outlining how there are an array of different faith activities and groups for young people in the Irish Church.