Scoil Iognáid pupils – ethos in action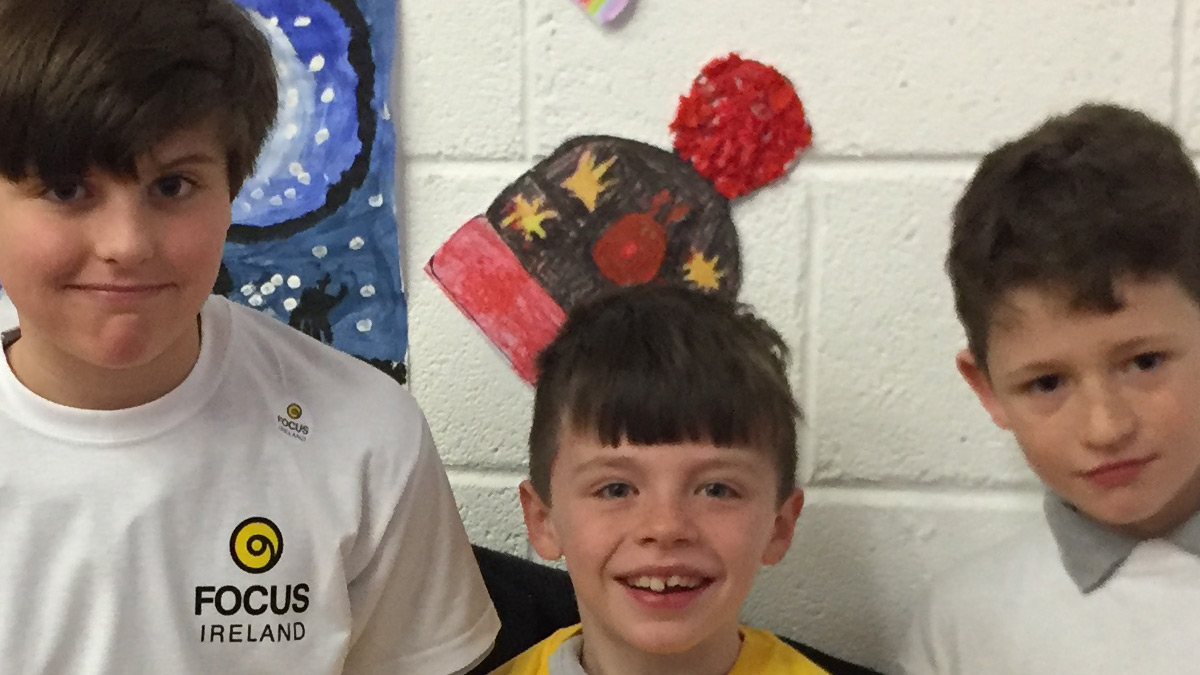 Pupils in Scoil Iognáid have been making the headlines this week on foot of their novel fundraising campaign to help the homeless. Lorna Siggins in The Irish Times told of their story, as did Pat McGrath on a radio package on RTE 1's flagship news programme, Morning Ireland.
The campaign had small beginnings. Rory Gavin, a fourth class pupil at the school, had been listening to the radio himself and was particularly struck by the stories of homelessness he heard on a  feature piece about Focus Ireland. He made up his mind that he would do something for the charity and get the whole school to help him.
He and his classmates DJ King, Sam Finneran and Rory Walsh had written a story about a duck and a detective and when they presented it to their teacher Ursula Gallagher, she had suggested that if they published it they could sell it and raise money for charity. Gavin decided they would do just that for 'Focus Ireland'. The whole class took part in hand -writing, illustrating and photocopying the story books and they sold them to the junior classes in the school.
"We had about 50 copies, but then we decided we would like to raise a bit more, so we organised a raffle, and baked buns and a few other things," Gavin told Lorna Siggins who added, "Those 'few other things' involved Gavin using his Holy Communion money to buy prizes for a raffle."  When 'Children's Books Ireland' heard about the fundraising they donated a hamper of books for the raffle. The pupils also had a sale of arts and craft, a lucky dip and a 'readathon'.
Patricia Forde, a well known author of children's books and based in Galway, heard about what the school was doing and was so impressed that she wrote a short picture book which the pupils also illustrated. She even came into the school and read her story called 'Fidget' to Gavin's class before his teacher presented him with the copy of the book.
Laoise Breathnach, school Principal, was delighted when Gavin suggested that the school choir might sing Christmas carols in the foyer at lunch time when parents came to pick up their children. It had the desired effect and a lot of parents contributed to the collection boxes wielded by the pupils as the the choir merrily sang and entertained them. She said it was wonderful to see such how the imagination of the whole school and the wider community was fired by the small but generous gesture of one sensitive pupil. "It just took off with everyone so willing to get involved and help raise funds in a whole lot of different ways. It was a real example of the Jesuit ethos, 'boys and girls for others', in action."
According to Lorna Siggins, Focus Ireland has 70 lifeline services across the State, with Sligo being the closest to Galway.  Homelessness has become a serious problem in recent months in Galway city, with estimates of up to 20 people sleeping rough at night. So the generosity and hard work of the Scoil Iognáid pupils will make a difference to those people who are affected by the crisis this Christmas.