Shane Daly SJ ordained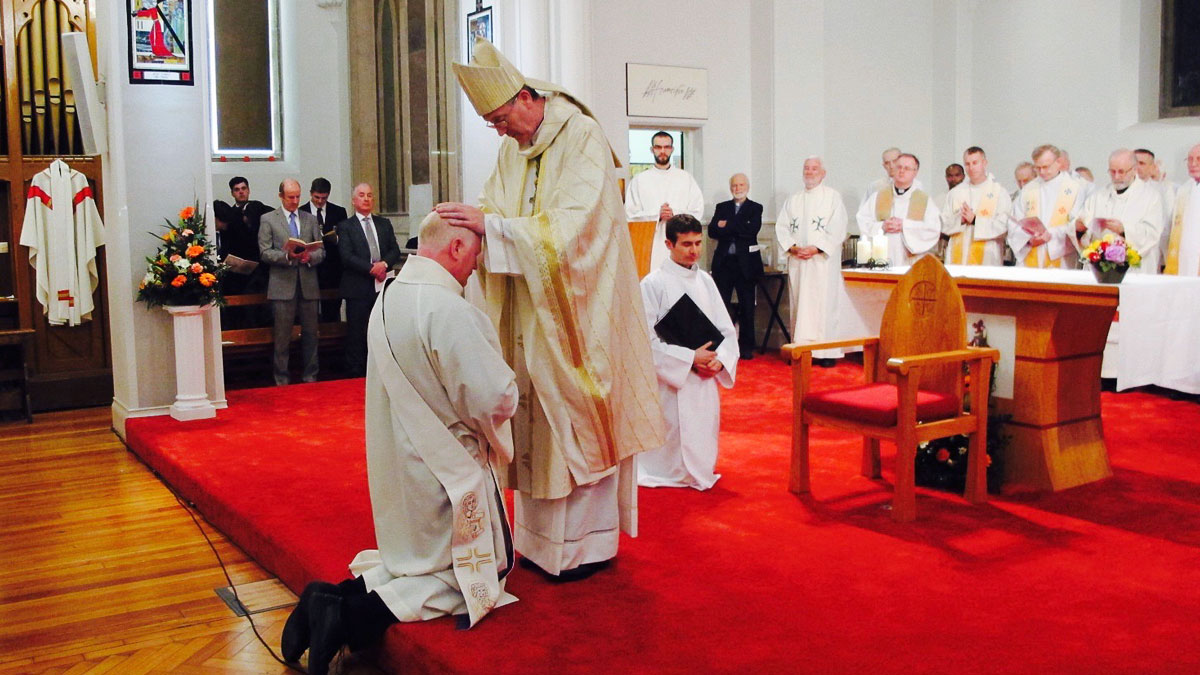 Shane Daly SJ was ordained a Jesuit priest, in Belvedere College on Sunday November 22nd. Shane, who is originally from Newbridge in Co Kildare, has been working in Belvedere College since September last. Ger Foley, headmaster of Belvedere said they were were delighted to host his ordination in the intimate setting of the college chapel, the first known ordination in the 183 year history of the College. The last Irish Jesuit ordination was in 2009 when Cathal Doherty, from Cardonagh, Co.Donegal, was ordained in Gardiner St Church.
Shane's ordination was presided by Bishop Denis Nulty, Bishop of Kildare and Leighlin, Shane's home diocese. Bishop Nulty commended Shane for the gift of his vocation and encouraged other young people to consider such a life. Shane was joined by his family, relations and former work colleagues from a number of places he worked in, particularly Oberstown detention school and Colaiste Iognaid in Galway.
Other guests travelled from as far away as Toronto in Canada where Shane studied theology. Some forty Jesuit priests and other guest priests gave Shane their prayers and blessing during the ceremony before he joined Bishop Nulty, Fr Tom Layden SJ, (the Jesuit Provincial) and Fr Derek Cassidy SJ (Rector of Belvedere College) in concelebrating the ordination Eucharist. Padraig Swan, college chaplain, said "It was a marvellous occasion and one that hopefully will not take another 183 years to repeat".
The following Tuesday, Shane celebrated his first mass with the Cherryfield Community of retired Jesuits in Milltown Park, at their daily 10.30 am Eucharist. He was accompanied by Deacon Albert, another Jesuit, from Belgium, who is to be ordained next year, and who had come to Ireland for Shane's ordination.
Shane thanked all his fellow Jesuits present for their sustained prayers which, he said, led him to this day. In his short homily he said he had been meditating that morning on the first reading at mass from the book of Daniel, where the prophet had a dream of a huge statue with feet fashioned from iron and clay. Shane said the statue was a bit like all of us – with our gifts solid like iron and our weaknesses and failings like clay. Up until now, he said, he had perhaps concentrated too much on the iron, his own personal gifts and strengths. But he thought this morning that the clay, his weaknesses, might be what God wants and needs. Just like St Paul had indicated when he said 'when I am weak, then I am strong'. "Perhaps my weaknesses, like St Paul's, will provide God with the space for the grace I need."
After the mass he gave his blessing to those who requested it and shared the coffee break with the older Jesuits who were heartened to have a newly-ordained Jesuit with them.
Click here to read the homily given by Bishop Denis Nulty during the Ordination Mass. There are a selection of photographs from the Mass on the Belvedere College website.