Ignacio Ellacuría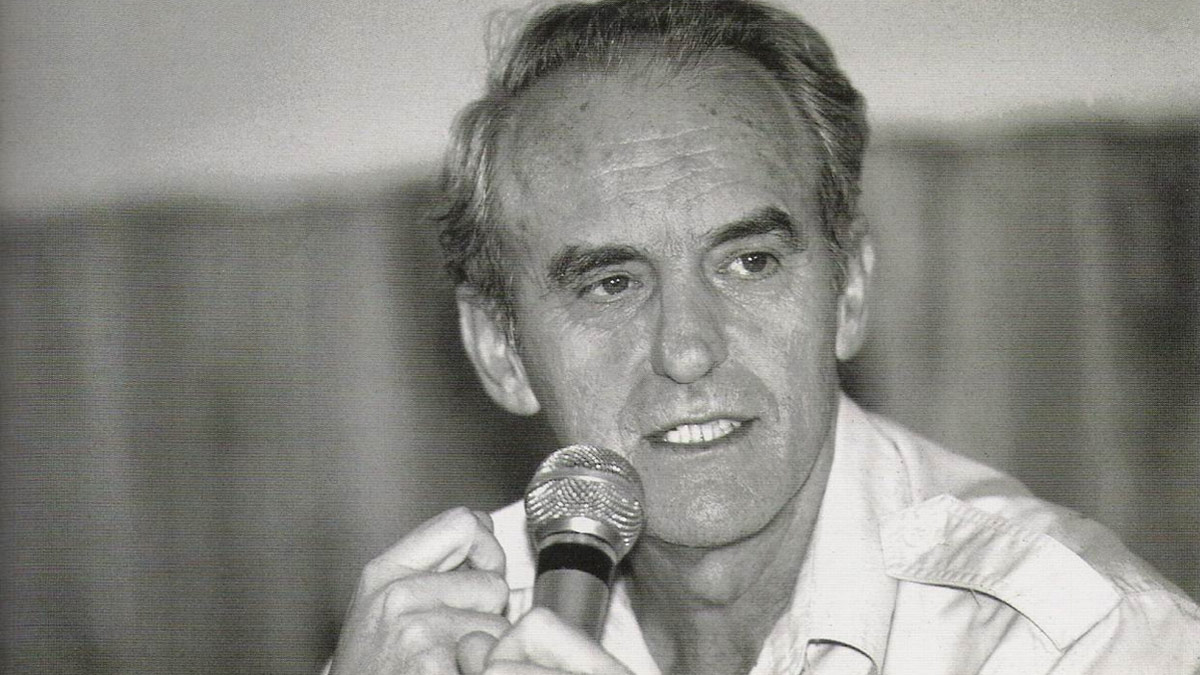 How many among us have had their life threatened for their work and their beliefs? This was nothing out of the ordinary for the Jesuit scholars living in El Salvador during its civil war less than three decades ago. Their outspoken criticism of the regime and their radical theology were seen as dangerous. Despite the risks, Ignacio Ellacuría and his colleagues continued their work, and for this they were murdered by government soldiers.
Ignacio Ellacuría was born in Portugalete, near Bilbao, in 1930. At seventeen he decided to join the Jesuits and entered the noviciate at Loyola. Soon afterwards he was sent to El Salvador to continue his studies, the country in which he would remain for much of the rest of his life, save travelling elsewhere for his studies. He spent six years in Ecuador, where he studied humanities and philosophy before returning in 1955 to El Salvador to teach at the seminary San José de la Montaña.
In 1958, Ellacuría returned to Europe to study theology in Innsbruck, Austria. There he was taught by Karl Rahner, the Jesuit theologian who would go on to have a vital impact in shaping the changes brought about by Vatican II. While in Austria he was ordained a priest. Back in his home country of Spain, Ellacuría engaged in further studies, receiving his doctorate in Madrid, before returning to El Salvador in 1967. He began then to work at the University of Central America in San Salvador, as professor of theology and philosophy.
At this time, radical new ideas were taking root across Latin America, particularly in one of the forms of Liberation Theology. Ellacuría himself contributed significantly to this. In essence it interprets the teachings of Jesus as demanding political reordering and liberation in order to address injustice and poverty. Dismissed by its detractors as simply a grafting of Marxist theories onto Christian theology, liberation theology nevertheless gained huge footing with many religious working closely with the poor.
In 1979 civil war broke out in El Salvador, between the military-led government and leftist guerrillas. With their ongoing working on behalf of the poor and their outspoken beliefs, priests were seen as enemies of the government and were targeted. Indeed two years before the civil war began Fr. Rutilio Grande García was gunned down in his car along with two other Salvadorans.
The same year as the civil war began, Ellacuría was made rector of UCA, a role he held until his death. As the war continued through the eighties, Ellacuría became more and more of a public figure; he appeared on television and had a column in a newspaper. For his outspoken views and beliefs, Ellacuría and many others received death threats, yet this did not stop their commitment to the project of developing a theological underpinning for social and political liberation.
Early in the morning of 16 November, 1989, members of the Salvadoran Army came to the residence of Ellacuría and five of his colleagues – Ignacio Martín-Baró, Segundo Montes, Juan Ramón Moreno, Joaquín López y López and Amando López – on the UCA campus. Entering the residence, the soldiers took four of the scholars outside and shot them, while the other two were murdered in their beds. Also discovered in the house were Elba Ramos, a housekeeper, and Celina, her sixteen-year-old daughter, who had left their house on the edge of the campus for what they thought would be the better security of the residence. They too were murdered. This massacre, which was at first blamed by the government on the guerrillas, brought international attention to the civil war in El Salvador and the crimes committed by the government.
Fr Ellacuría is widely regarded as a brilliant contributor to the development in Catholic theology of the notion of the 'preferential option for the poor'.