Warm tributes paid to Lúcás Chan SJ, RIP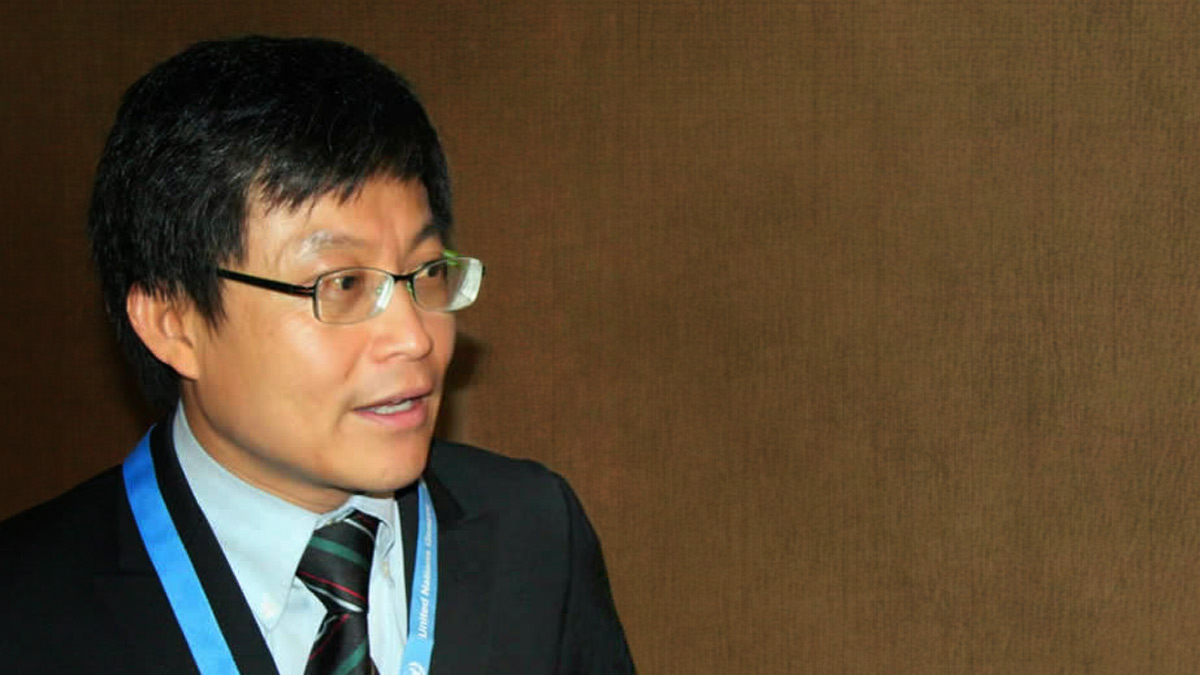 Warm tributes have been paid by noted academics and theologians from Ireland and around the world to Fr. Lúcás Chan SJ (46), a Hong Kong native and Jesuit of the Chinese Province who died suddenly on Tuesday 19 May after collapsing at Marquette University, Wisconsin, USA, where he was Assistant Professor of Theology. Prior to joining the faculty of Marquette in 2014 Lúcás spent a number of years in Dublin. He was the Michael Hurley SJ, Postdoctoral Fellow for 2013-14 at the Irish School of Ecumenics at Trinity College, and during that time he lived with the Jesuit Community in Leeson Street in the city-centre. He also lived in Dublin from 2012-13 while completing his Jesuit tertianship in Manresa.
Lúcás is fondly remembered in the Leeson Street Community. Superior Brian Grogan SJ paid this tribute:- "Lúcás was a delightful man and a good community member. A beam of sunshine on dark days, he never seemed to lose his inner happiness, and radiated good humour. Kind and considerate, he looked out for the older members of the community in unobtrusive ways. Since leaving us, he continued to correspond with me and ask for details of the brethren. I think of him as a prodigious worker, rising at an ungodly hour, to pray, have breakfast and get to work. He would cycle to Trinity College where he lectured in the Irish School of Ecumenics. He was highly conscientious with students, taking hours over marking scripts and giving helpful feedback. Saturdays and Sundays found him in his office. His was a 24/7 pace: I often tried to get him to slow down, take time out, etc. But he couldn't stop. And of course he was a rising star in the academic world. His writings form a rich legacy. Yet he could find time to become more proficient in Irish (Gaelic), and we had good fun in helping him to master it. We were quietly proud that a native of Hong Kong esteemed our native tongue so much! We have a well-known phrase in Irish: Ní bheidh a leitheidí arís ann. 'His like will not be found again'. He was, perhaps more obviously than most of us, unique!"
Linda Hogan, the vice provost and chief academic officer for Trinity College, said it was a "tremendous privilege" to have known and worked with Lucas. She said that while he was only beginning to gain recognition in his area of work, "it was already overdue since his publications were significant and profound." Marquette University President Michael R. Lovell described Lúcás as being "dedicated his life to serving God and being a man for others around the world." Robert Masson, the department chair in theology at the university, said the community were "still reeling" from his death."We anticipated that he would be a leading voice in the next generation of moral theologians and we were delighted to have him join our faculty", he said. Fr. Jim Keenan SJ of Boston College who worked with him as part of a global network of moral theologians known as 'Catholic Theological Ethics in the World Church' (CTEWC) explained how Lúcás was in deep gratitude for the work he was involved with, "more than anything he was very happy that he could be a part of something that meant the world to him and to others and he was excited by the way this work brought him into connection with others in his parishes, his classrooms, his conferences or his friends and family." Fr Jimmy Hurley SJ has now returned to Ireland from Hong Kong where he was missioned for many years and where he met Lúcás for the first time. At a special event in Trinity College to mark the life of Lúcás and his work, he paid warm tribute to him as a friend, Jesuit brother and academic.
A pioneer in the field of theological ethics, Lúcás focused his work in the still-emerging area of biblical ethics left a strong imprint in the field. The young theologian was to the fore in the academic effort to translate biblical teachings to the moral lives of ordinary Christians. At the time of his death he was editing a text that brought together 24 biblical scholars and ethicists from 17 countries and planning a conference in Bangalore, India, for July that is to see dozens of prominent academics across Asia gather to discuss doing theology in a cross-cultural and interfaith context. Lúcás was a high school teacher before studying for bachelor's degrees in philosophy and management, and later a master's degree in international management. After completing a Bachelor of Sacred Theology at the Ateneo de Manila University in the Philippines he earned his licentiate in theology at the Weston Jesuit School of Theology in Cambridge, Massachusetts, and completed a Ph.D. in theological ethics at Boston College. He was a recipient of post-doctoral fellowships from Yale and Georgetown universities and held other appointments at the Jesuit School of Theology, Berkeley; Santa Clara University; and the Chinese University of Hong Kong. Outside of his work in theology, Lúcás had an avid interest in photography, and he regularly captured images from the many theological meetings that he was part of around the globe. He spoke fluent Cantonese, English and Khmer, the official language of Cambodia. He is survived by his parents, brother, sister and niece and nephew. Ar dheis Dé go raibh a ainm dílis.
Niall Markey is a former Irish Jesuit novice and former teacher at Belvedere College SJ. He first met Lúcás in the Jesuit Novitiate in Birmingham and that was the beginning of a lasting friendship that transcended geographical borders. On returning from his funeral last week, Niall wrote this moving tribute to his dear friend.
"I am neither a scholar nor a writer. But what you read here is a very humble tribute to my late, great and dear friend, Fr. Lúcás (Yiu Sing Luke) Chan, SJ, who died May 19, 2015.
Believe or not, I learned of Lúcás' death through a posting on Facebook. I will never forget the sense of shock as my heart sank into despair and disbelief. Lúcás and I were born in the same year with our birthdays only five days apart. He was the youngest. In the early days of our friendship, Lúcás told me that we would always be brothers, no matter where we went or however our lives turned out. That was true. When he told you something, he meant it.
I first met Lúcás at the Jesuit Novitiate in Birmingham, England, in September 1996. On the day he joined the community, he sought me out after supper that evening, and introduced himself as Lúcás, an "Irish/Chinese" Scholastic from Hong Kong. In the course of our conversation, he talked very affectionately about Fr. James Hurley and the other Irish Jesuits who were residing in Hong Kong at that time. As he spoke, it was very evident that he loved them dearly and attributed his Jesuit life to them. Later on that evening as I ascended the stairs to my room on the top floor, I noticed a black and white Irish Road sign on the wall outside my room. The sign read; "Ireland" with the pointer pointing towards my door and beyond. I felt quite elated in thinking that someone was trying to make me feel at home. Turned out, it was Lúcás and he was my new next door neighbor! Within a very short space of time we became good friends and I began to feel a sense of mutuality between us.
In the year that followed, new novices arrived at Manresa House. One in particular was a Scotsman named Mark. Within a short space of time, Mark and I became good friends, through Lúcás. As our friendships grew, Lúcás christened us "The Trinity". Throughout the years we managed to stay in touch with each other, but not collectively. Lúcás was very instrumental in maintaining contact. Eventually in September, 2012, Lúcás managed to reunite all three of us in Dublin for what he called "The Reunification of the Trinity".
In late 2001, I left the Society and relocated to New York. About a year after that I received an email from Lúcás informing me that he would be taking up a residency at Boston College. This is where he began his studies in Moral Theology. Over the years of his time in Boston, we stayed in touch. He came on visits. Sometimes for a couple of hours, other times he came for a few days. Nonetheless, they were precious. Last year, on my birthday I received a phone call from Lúcás informing me that he was at Kennedy Airport awaiting a connecting flight to San Francisco. His flight was waylaid and he wondered if I could join him for lunch in the airport. That was one of the greatest birthday surprises I ever received. It done my heart the world of good to see him.
The last time I saw Lúcás was December 30, of last year. I loved our meetings. This time we met up at the beautiful Church of St Ignatius Loyola on Park Avenue in Manhattan. Prior to our meeting he told me to make sure I found a suitable place for us to dine as we would be celebrating Christmas and New Year. Like the food, the conversation was rich and wholesome. Lúcás was in great form – he was actually quite ecstatic. He spoke lovingly of his dear friend, James Keenan, SJ., being eternally grateful to him for believing in him as a moral theologian. I could see that Lúcás had finally come into his own as a Jesuit.
At Lúcás' funeral in Milwaukee, the congregation consisted of family, friends, colleagues and Jesuits – all suspended in a state of disbelief. Fr. James Keenan, SJ, very appropriately began his homily by referring to Lúcás as a Bridge-Builder. His brother, Charles in his eulogy, described Lúcás as a 'Gift From God' to their family. When all was said and done, it was consoling to know that in our gathering, we were all commonly connected through Lúcás' love for each of us. As I descended from the Church of the Gesu onto West Wisconsin Avenue, I was overcome by a great sense of grief and abandonment. As the evening light cast it shadows upon the churches magnificent facade, I decided to take a walk along the avenue in memory of Lúcás. Upon reaching the entrance door to Marquette Hall, in gratitude, I said a heartfelt farewell to my dear brother and friend."