Saint Edmund Campion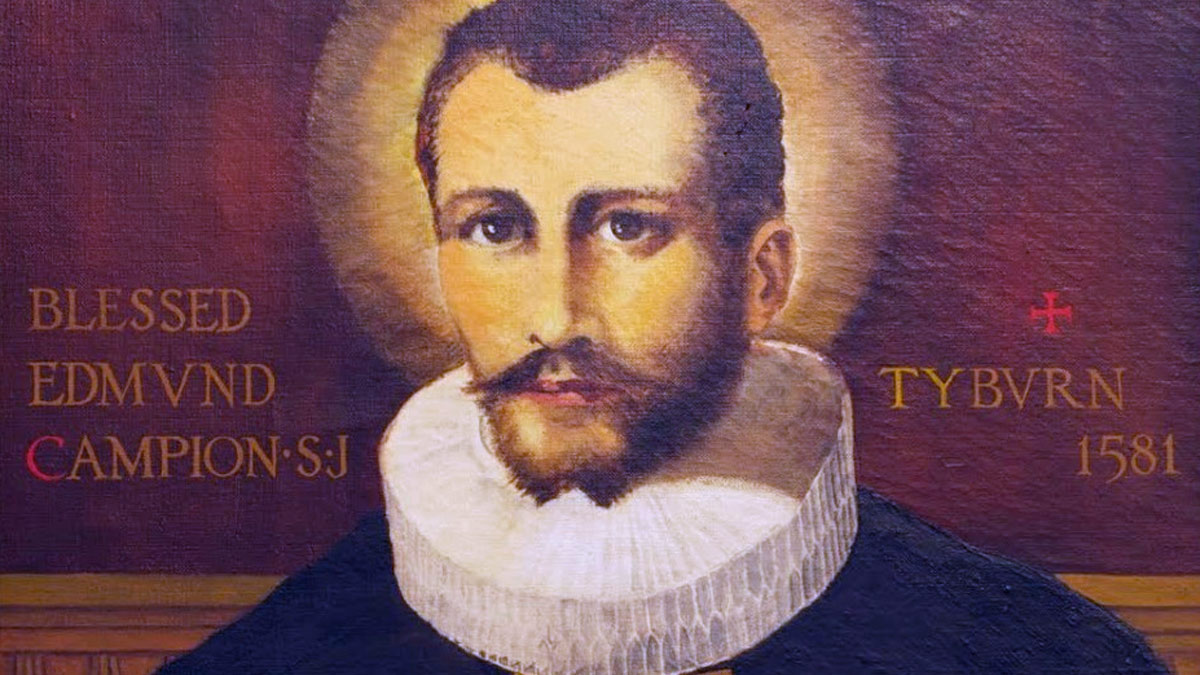 One of many Catholics to suffer at the hands of the English government in the wake of Henry VIII's separation from the Church of Rome, Saint Edmund Campion could have led a privileged life as a renowned scholar but could not follow the newly-founded Anglican faith. He was forced to flee Britain because of his beliefs and, when he returned to his homeland less than a decade later as a missionary, he was executed for them.
Edmund Campion was born in London in 1540, the son of a Catholic bookseller. He attended Christ's Hospital School, and at the age of thirteen was selected to deliver a ceremonial address to Mary Tudor as she visited London. A talented academic he received a scholarship to St John's College in Oxford at fifteen and was made a junior fellow three years later. In 1564 Campion was awarded a degree from the college. That same year he received Holy Orders and was made a deacon of the Anglican Church, having taken the Oath of Supremacy acknowledging Queen Elizabeth as head of the Church.
Despite his willing conversion to Anglicanism, however, Campion was less than certain in his new faith. With time, rumours about where his sympathies really lay began to spread, and where before Campion was a highly regarded scholar at the college, he found himself no longer in favour. He decided to move to Ireland, where he was appointed tutor to the son of a prominent politician. However, he soon found himself in danger for his beliefs when in 1570 Pope Pius V excommunicated Queen Elizabeth, an act which caused her regard for Catholics to cool considerably. He was forced to move from house to house, in hiding, to avoid likely arrest and torture.
In 1571 Campion left Ireland, escaping to Douai, in the north of France, where he entered a seminary. Reunited with Catholicism, and with some old associates from his time in Oxford, he taught and studied, and in 1573 was ordained a subdeacon. Later that year he set out walking to Rome, with the intention of entering the Society of Jesus there. He was accepted into the order, and after having completed his novitiate studies he taught rhetoric and philosophy at the Jesuit College in Prague.
In 1580 a mission to England was organised and Campion was chosen for it, despite his own personal reservations that he wouldn't be up to the task. Disguised as a jewel merchant, he arrived in London where he began preaching and ministering in secret, a crime that was punishable by death. He frequently traveled to avoid detection, staying with families sympathetic to his cause. During his time there Campion wrote his Decem Rationes, a work in which he questions the validity of the Anglican Church. This was published and was widely read, which only caused the authorities to increase their efforts to catch him.
Campion was arrested by a spy while at Lyford in Berkshire and was taken to the Tower of London. He spent more than four months imprisoned there, during which time he was offered freedom should he renounce his faith and, when he refused, was tortured on the rack. He was tried in court and found guilty of treason. As punishment for his crime, Campion, together with two other priests, was hanged, drawn and quartered before a crowd. He was beatified in 1886 and canonised as one of the Forty Martyrs of England and Wales in 1970.