"A book to relish"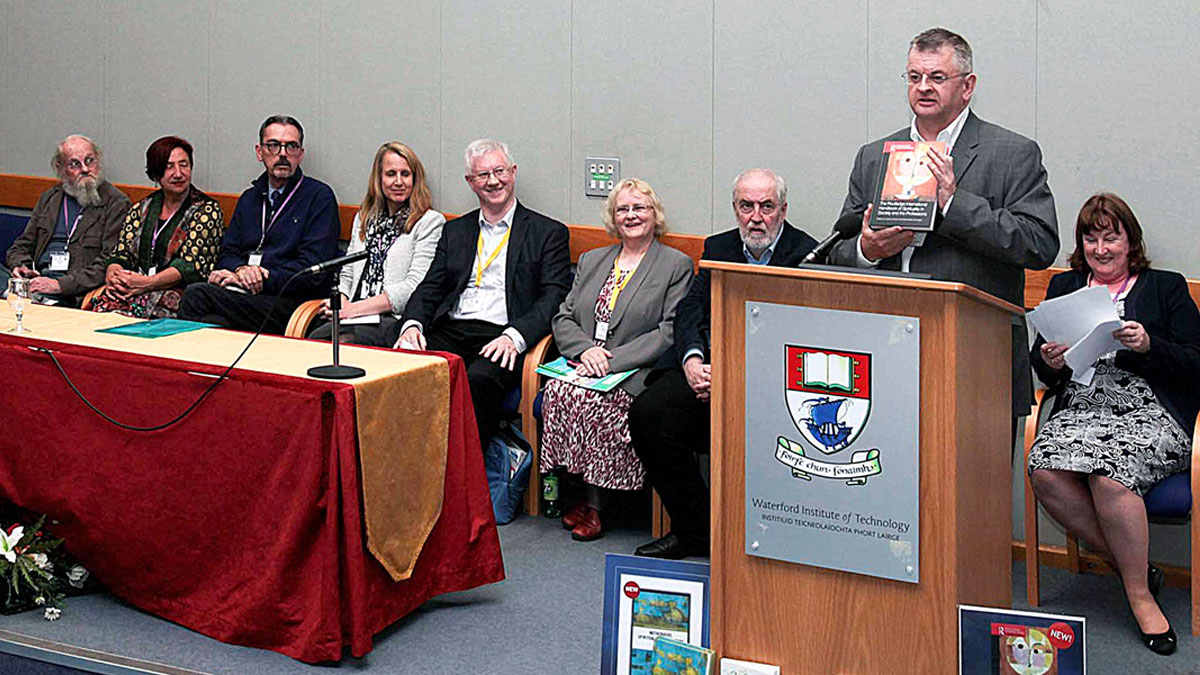 Michael Comyn, the presenter of RTE Radio 1's Leap of Faith programme, launched The Routledge International Handbook of Spirituality in Society and the Professions at the recent international conference of the same name, in Waterford. The book is edited by László Zsolnai and Bernadette Flanagan. The conference, based on the book, was a collaboration between the Waterford Institute of Technology, (WIT), the Spirituality Institute for Research and Education (SpIRE) and the European Institute for Spirituality in Economics and Society (SPES). It took place from 16-18 May 2019. The book was launched on Friday, 17 May 2019.
By way of introduction, Michael said he got quite a shock when he saw that the book he'd been asked to review was a tome running to 485 pages. "But as I browsed the text I knew quickly that this was a book I was going to relish," he added. The book features contributions from 68 professionals from a variety of disciplines including economics, politics, law, education, art, design and architecture.  According to Michael, it is  "accessible and enlightening. You will read essays that come from university professionals from a diversity of disciplines. They look to enhance their respective specialties through the application of the principles of spirituality… I am really delighted to discover that so many diverse professional bodies have developed strategies and insights into the benefits of spiritual enlightenment."
As a journalist Michael noted he was immediately drawn to the essay on 'Spirituality and Journalism', "before swinging back to an excellent contribution on leadership, and a compelling chapter on 'Spirituality and Medicine' – that's the way you will read this book – you will be drawn to your own area of interest initially but I would encourage you to explore the other areas too, there are many and they will intrigue you," he recommended.
Referencing the almost clichéd phrase 'I'm spiritual but not religious', Michael noted, "There are many purists who are quick to show their disapproval of that stance as some form of a cop-out. But for me it's been the driver to have over 100 conversations on air with people who for the most part put their search for spirituality ahead of formal religious dogma. Previewing the handbook has had the unexpected effect of rekindling in me an enthusiasm for the topic that after four years of presenting had recently left me feeling somewhat punch drunk."
Micheal also noted the strong perception, voiced by many people, of a certain overt hostility toward religion and matters of faith in both society and the media today. He was aware, he said, that this was neither the place nor the time to explore the multi-faceted and complex nature of this issue, "Suffice to say that in the face of that hostility, being well informed is often the best defense. Having read this book I can recommend that you are well served in that defense"
The Leap of Faith is off the air at the moment but will return in the autumn. Michael says that "The wonderful research available in this handbook will make my programme much easier. And whilst I naturally encourage you to acquire the handbook for yourselves, I may selfishly hide it from colleagues lest they get too many ideas!"
Photo of Michael Comyn launching The Routledge International Handbook of Spirituality in Society and the Professions, courtesy of George Goulding.