A first for Manresa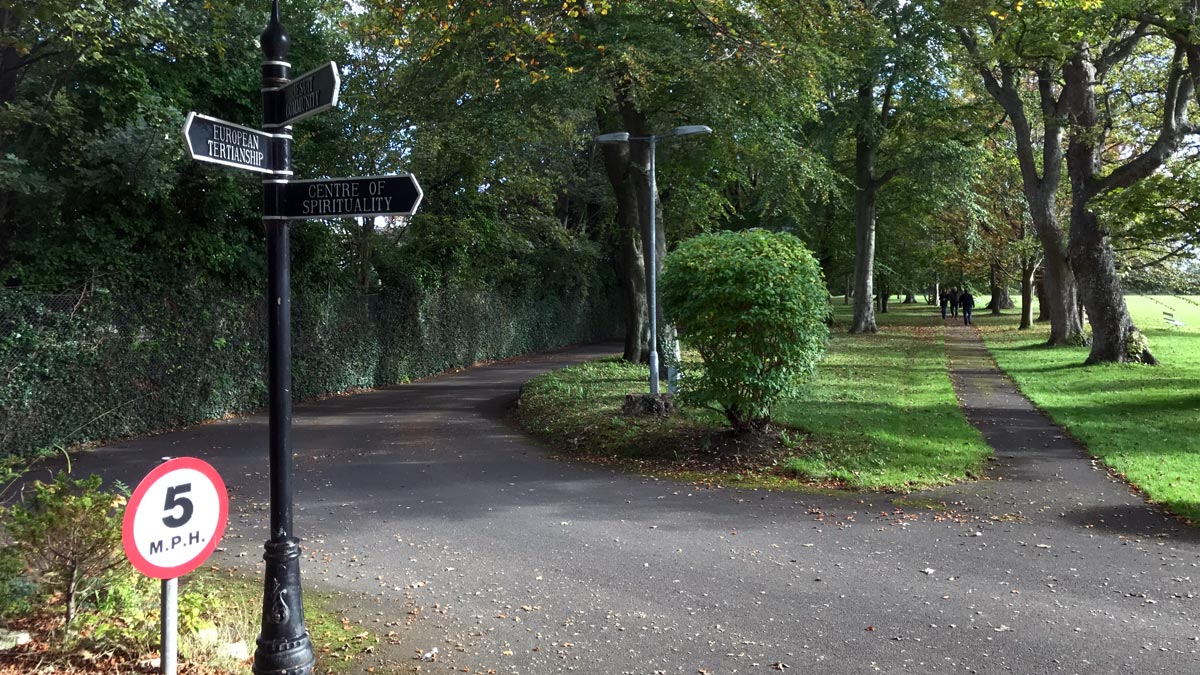 The first-ever retreat for women experiencing homelessness took place in Manresa Jesuit Centre for Spirituality from Saturday 15 February to Sunday 16 February 2020. Eight women living in temporary accommodation joined a team of facilitators who accompanied them over the two days of the retreat, known as the Ignatian Spirituality Project (ISP).
Eddie Cosgrove SJ is the co-ordinator of the ISP in Ireland. He conducted the first ISP retreat for homeless men here in August of last year. The project itself began in 1998 in Chicago when Fr Bill Creed SJ was invited to make the Spiritual Exercises of St Ignatius available to people who were economically disadvantaged. The ISP now runs retreats for people experiencing homelessness and in recovery from addiction in over 30 cities in the US and Canada, and now in Ireland.
The retreats are spiritual but not religious, in the sense that while they have a Christian and Ignatian foundation, they are open to people who would like to connect with God/Higher Power as they find helpful, similar to 12-step programmes. Each person is free to share about their own experience of God/Higher Power, however, they understand that.
Denise McDermott led the women's retreat and was joined by facilitators Noreen Mackay, Anne Boland and Susan Jones. Jan O'Halloran of the ISP in Chicago flew to Ireland earlier in the week to assist the team and work on the retreat also. Read Denise's report below of the two 'Spirit-filled' days.
Peace from a Day Well Spent
After months of visiting transition houses and hostels for homeless women who are in recovery from various addictions, at 8.20 am on 15th February 2020  two cars pulled up outside Sancta Maria to pick up six women who would be joining two others, who were being collected from Regina Coeli hostel. The first Dublin's woman's Ignatian Spirituality Project retreat had finally begun.
As we drove through the city some questions came from the women: "What is going to happen? What exactly does 'spiritual' mean? Will there be a lot of praying?" There was a mixture of anxiety and excitement emanating from all, including me the driver.
Jan O'Halloran of the ISP in Chicago had flown over earlier in the week to help us Irish volunteers, Anne, Noreen, Susan and myself facilitate the beginning of this new and ongoing adventure.
The first men's retreat had taken place last year led by Fr. Eddie Cosgrove SJ the overall Dublin leader of the project, and now it was our turn to host the women's retreat. Jan's encouraging presence was hugely appreciated by all of us as she brought with her years of experience throughout America and Canada of helping various ISP women's groups.
The women coming on retreat were greeted in the tertianship building in Manresa by Anne and Noreen, and then led to their rooms. "We have a room to ourselves" where the first excited exclamations from our retreatants as they emerged to join us in the dining room for a welcoming cup of tea and hot scones, freshly made by Tommy who along with Jacinta and Michelle cared for us with such cheerfulness and kindness throughout our stay.
When we sat in our first circle together the community had already formed. The Holy Spirit was indeed in charge and we just simply had to co-operate. The sessions flowed seamlessly from one to the other, all the time taking us deeper into our own personal stories.
We held rituals, prayed together, and one woman was brave enough to share her story with the group and that helped us all to open up to our own stories in smaller groups.
Susan led us in a fun art project that evening, and it too had a deeper layer to it which was expressed in our own interpretations of our art pieces. By the time Noreen finished the day with a beautiful Examen, peace had descended on the group, a peace from a day well spent, a day of transformation of all present.
Sunday morning brought more prayer and sharing and as Anne led us in a closing blessing, I inwardly bowed to the Divine in each of us who had met and touched our lives in the last 30 hours and changed us for the better.
In response to the question "What did you learn about yourself?"  our retreatants answered:
• I am stronger than I think I am. My spirituality has not diminished
• The answers are always within
• I learnt that I don't need to keep holding on to stuff in the past and to let go
• I am a good person who has had to travel a long, painful and sorrowful journey. I know I can be happy and leave the deep sorrow and sadness behind me
• I have courage and strength and the ability to share honestly
• I am stronger mentally, physically and spiritually than I thought I was
• I have grown stronger in myself
• I am a compassionate caring person
Jan who had travelled to be with us had this to say. "As I sat in that large circle and listened to all of the women share their vulnerabilities, I kept thinking that this ISP format works and has worked for more than twenty years! I imagined myself picking up the whole circle and plopping it in a different city in the United States or Canada. What I realized is that the stories are the same in Dublin, in Chicago, in Toronto or in any other city. Our similarities are so much greater than our differences. We are all connected on a deep, spiritual level and we are all looking for acceptance and love. We are able to find that deep connection with one another by sharing our stories, openly, without fear of judgement. What a true gift that is for each one of us!"
As for myself, I found the experience truly humbling. What an honor to sit and listen to such courage and hope despite such difficulties in life. All of us had broken open our vulnerabilities and were loved and held within the circle. On the journey home there was only one question "When is our follow up day?" The journey continues…
Denise McDermott