Belfast Jesuit Centre: Appeal for volunteers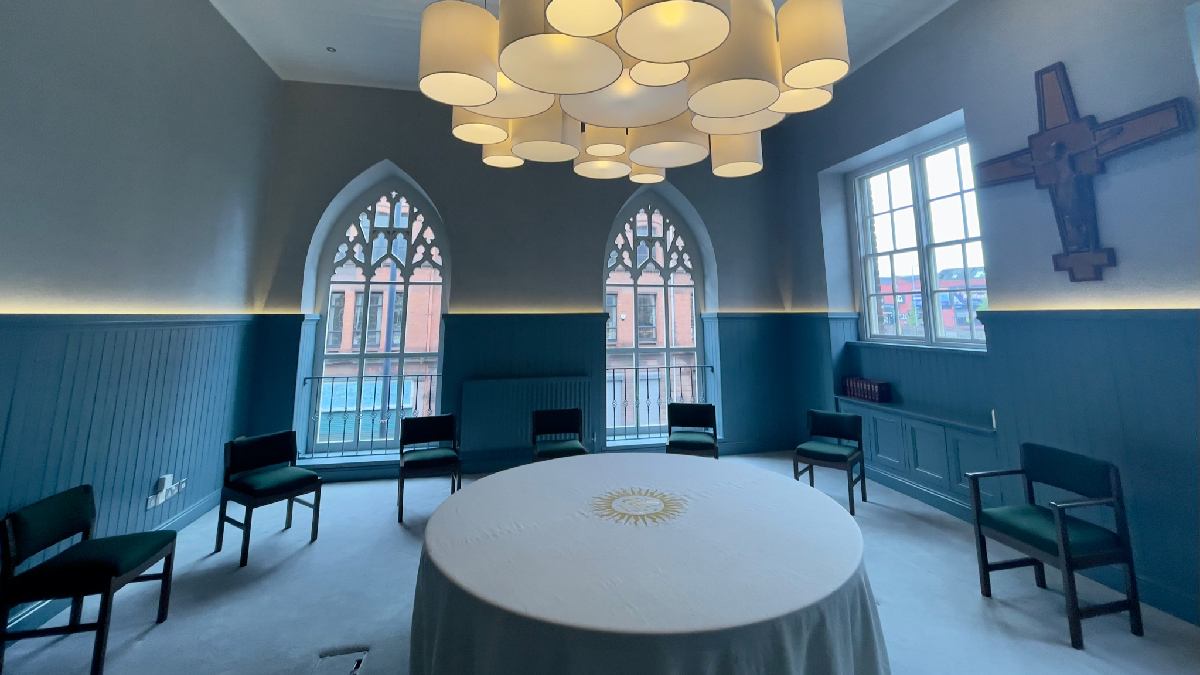 The Belfast Jesuit Centre » made a great start to 2023 with the Old Year/New Year Reflection on 1 January, and there are plenty of events and activities planned for the coming months. The Jesuits are appealing for volunteers to help out in the hospitality and liturgy teams, as well as needing volunteers trained in spiritual guidance and administration. Gerry Clarke SJ, Director of Belfast Jesuit Centre, reflects on the events that took place at the new Jesuit ministry in 2022 and looks ahead to much more in 2023.
Plans at the Belfast Jesuit Centre
I suppose we've proved one thing: that four Jesuits can organize and deliver a few things in the course of a few months.
Since our launch on 22 October 2022, I've enjoyed the interest and the excitement around the new Jesuit Centre on Donegall Street in Belfast. Perhaps it comes as no surprise given the investment of the Society of Jesus in Belfast since our house in Brookvale Avenue was opened almost 34 years ago. We stand on the shoulders of others, always. But, at a time when so much is closing, it's exciting to see work starting.
Some ideas soared, some never left the ground. Brendan McManus's course on Channelling the Inner Fire, Kieran O'Mahony's course on the Advent readings, the 6pm Mass at St Patrick's, the Wednesday Book Club, the Advent Sunday Retreats and, first activity of 2023, the Old Year/New Year Reflection on Sunday 1 January. All of these were a success and attracted a typical average of 20 participants.
Having offices, a conference room, prayer room, a kitchen and space to welcome people has herded these Jesuit cats into a series of shared ministries like never before in Belfast. That's good. And friends have been so generous: our walls are filled with simple but telling scenes from the Gospel. The crucifix which fits so well in the Prayer Room: both gifts.
And the hope that we can be faithful to the Master-Weaver, the tapestry that God is weaving anew and unravelling here and there.
The launch was another matter! Packed house below in the old School Room. And Austen Ivereigh, no stranger to Belfast or the North, invited us to become a centre of Discernment and a resource for Synodality.
And plans?
Well, we know what we can do. This is a good place. Volunteers are beginning to show up. But do we need to widen our tent pegs a little bit? Do we need to pivot more towards the younger people? Can I, can we, still manage that?
There are tools of course: implements of ministry; apostolic instruments; techniques; things that help, things that work. So, we have to be rooted in prayer now, choosing, wondering, being open, listening, discerning. Practising what we preach and being, above all, free. Free to choose, free to believe, free to fail, free to lose, free to start again. Because, "at the end of the day", as the sports commentators say: it's not about winning or losing … well, they don't say that … but we do. It's not about winning or losing but doing thy most holy will: following the star, following the consolation, following with one foot where the other has found firm ground, steppingstone by steppingstone into the middle of the flow.
Go-with-the-flow with what I know, what I don't know. Go.
As Pope Francis says: "Have courage. Go forward. Make noise".
Could you help?
There are loads of ways to help at the Jesuit Centre in Belfast and we welcome all volunteers with any availability and any skills!
We have taken on the 6pm Mass as a special focus of activities and currently there is a team of volunteers who make hot chocolate for mass goers after Mass.
We also welcome Readers, Ministers of the Eucharist and volunteers for the hospitality and liturgy teams for the 6pm Mass at St Patrick's.
At the heart of our charism is helping people to find God. For this we are ably assisted by volunteers trained in spiritual guidance and we welcome more.
And throughout the year we are always seeking new ways to help people discover God: God at work in our personal lives, in our society, in our shared life in the church. We welcome ideas and people with ideas to develop this at the Jesuit Centre.
Practically-speaking we do need help with administration and welcome any and all with skills and some willingness.
See the Belfast Jesuit Centre website for contact details ».