'Fine scholar, outstanding lecturer'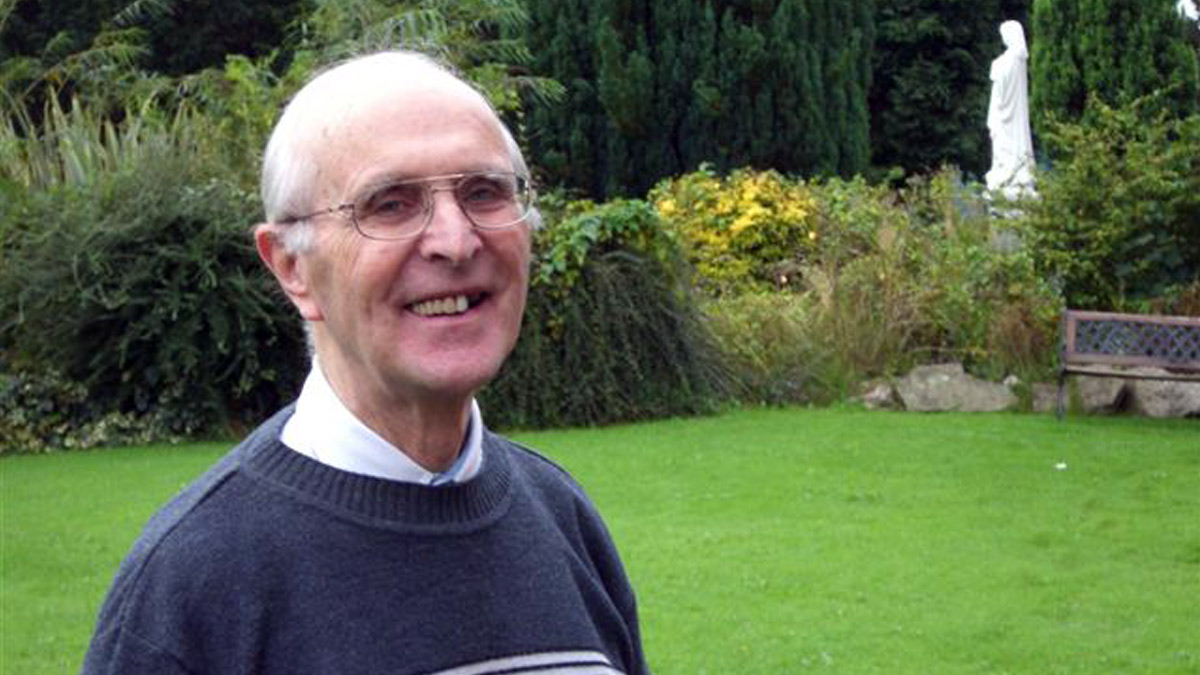 Jesuits, family and friends of the late Ray Moloney SJ packed into Milltown Chapel for his funeral mass celebrated by Bill Matthews SJ. Ray died on 26 January, aged 85. He was born in Belfast in 1931 and raised in Magherafelt, Co. Derry. At the age of 12 he went to Clongowes Wood College SJ and joined the Jesuits in 1950. Most of his life revolved around the Milltown Institute where he taught theology and liturgy. He spent five years on the missions in Kenya where he learnt Swahili so he could travel and celebrate Mass with the local people. He was the respected author of many theological books, and well known for his theology of the Eucharist.
Homilist Brian Grogan SJ noted that Ray's writings on the Eucharist offered fleeting glimpses into his soul. Ray summarised his book Rediscovering the Eucharist not in terms of sacrifice, or obligation, or the Real Presence, but in terms of friendship. "In the Eucharist we already anticipate something of what our friendship with Christ will be when it comes to its full flowering in heaven. In the long run that friendship is all that matters," he wrote.
Referring to his long academic ministry, Brian said that Ray was a "fine scholar and outstanding teacher." This view was echoed widely by many of his former students who posted on the Irish Jesuits Facebook page. "Fond memories of learning theology from Ray Moloney. A scholar and a gentleman", wrote Thomas Giblin. And US Jesuit James Pribek commented, "He combined fine scholarship with genuine humility and benevolence. In a group, he was usually on the edge, taking everything in and smiling. He radiated peace. May God be good to him".
In his wide-ranging homily Brian spoke also about Ray's life as a Jesuit, noting that his ministry in the intellectual apostolate was underpinned by a deep faith, committed prayer life and love of God. He said he lived an ascetic, almost monastic life, and a fitting symbol for that life was his breviary. "Ray leaned into the contrary wind and lived an orderly and predictable day. Some clerics, I have heard, sailed with the prevailing wind and eased up on the divine office, but not he… At the end his well-worn breviary was the only book beside his bed."
Brian acknowledged that Ray held firmly to what some would call a more conservative theological position and was slow to relinquish beliefs that were dear to him. "But agree with him or not, he commanded your respect. He knew where he stood, and had a steely quality characteristic of his Northern Ireland roots." He was also prepared to change and develop, something attested to in a few words from Provincial Leonard Moloney just before the final commendation. He said he had been speaking to Ray not too long before his death and Ray told him that his prayer had changed in recent times and was now much more affective than rational.
Speaking at the end of the Mass, Ray's niece also told a revealing story about the man her family knew and loved. She remembered with fondness his visits to her home as a child and how he would let her put her feet on his shoes as he danced her round the room.
Brian concluded his homily with the following words: "In a little while we will say: 'We shall become like God, for we shall see him as he is.' Like Aquinas when asked by God 'What do you want?', Ray would have responded, 'Teipsum, Domine. Yourself, Lord.' … Ray now sees God. He is enlightened, entranced, immortalized and divinized. Our Eucharist today is a thanksgiving for all that God has accomplished in our brother and friend, Ray Moloney".
Ar dheis Dé go raibh a anam dílis.