Jesuits make their mark at Ploughing Championship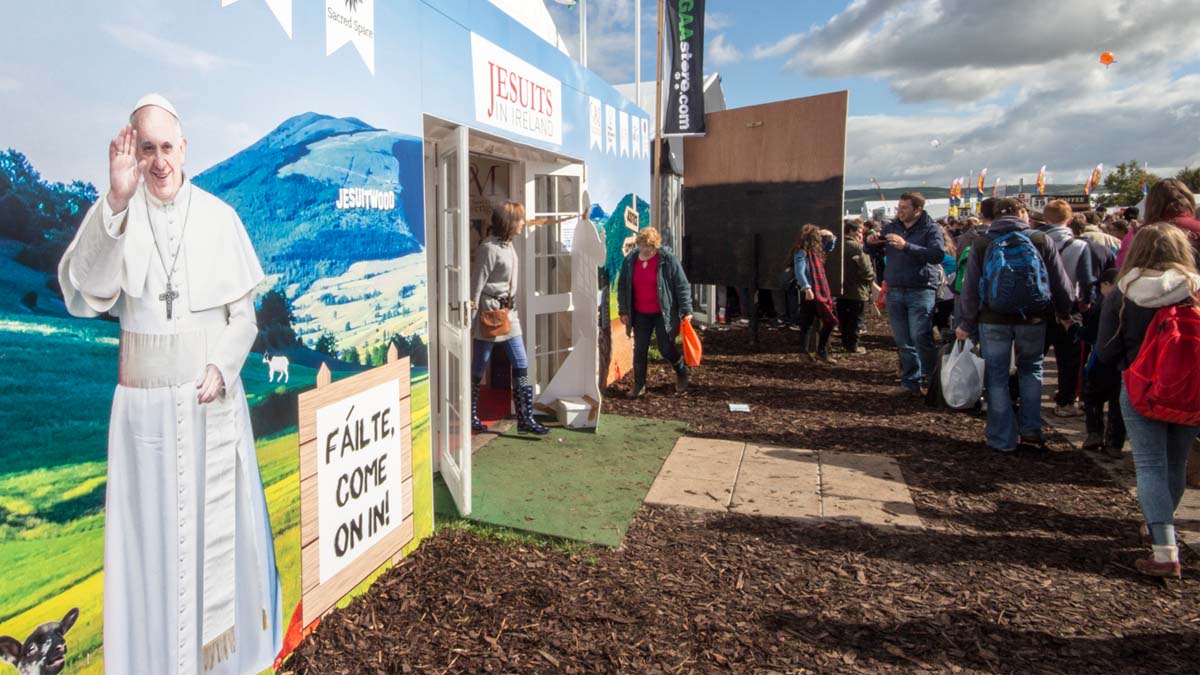 The Jesuits made their mark at the Ploughing Championships in Stradbally, Co Laois, this year.
Hundreds of thousands of people attended the largest outdoor agricultural event in Europe. The Jesuit tent, on one of the main thoroughfares of the 800-acre site, saw a continuous stream of traffic during this three-day event.
The tent itself, inside and out, was designed by Caitríona Maher of Messenger Publications. It was cleverly illustrated with agricultural / spiritual / justice themes on the outside, and it was colourful and welcoming inside.
A life-size cardboard cut-out of Pope Francis was placed outside the tent. It attracted large numbers of young people – and some older people too. They had great fun taking selfies with the smiling Pontiff, who is himself fond of rural metaphors . He has more than once publicly urged pastors to "know the smell of their sheep".
The photo opportunity was also an opportunity of another kind, as it allowed Jesuit and colleagues outside the tent to engage with people. They talked to them about their schools or their work and their knowledge of the Jesuits.
Patrick Muldoon, of Irish Jesuit Communications, was particularly talented in this regard, having trained in evangelisation in Rome. He was often to be seen surrounded by young teenagers who were chatting comfortably with him.
Not only did people of all ages stop to talk outside, but many of them also came into the tent, where there was a variety of stands showcasing the different works of the Jesuits in Ireland. Jesuits, colleagues, staff, and volunteers were on hand there to talk to the people or to give them information or insights into their work and mission.
Powerful images ran around the length and breadth of the tent. Pictures of refugees, shelters, makeshift homes, and prison cells illustrated the work of the Irish Jesuit Refugee Service, the Jesuit Centre for Faith and Justice, and the Peter McVerry Trust, which cares for the homeless. Peter was one of a number of Jesuits who came for a day to meet people.
The stunning images of Manresa, the Jesuit centre for spirituality – a country retreat house in the heart of Dublin – also attracted attention. Piaras Jackson SJ, Tom McGuinness SJ, and some lay volunteers were on hand to distribute brochures and talk about the variety of retreats and courses available there.
Also busy – but quietly so – was the Sacred Space prayer room at the back of the tent. Here was a place of peace for the weary to sit down, rest or pray. A lit candle, autumnal flowers, and soothing music all made for a welcome break from the hustle and bustle of the jostling crowds outside. The Sacred Space prayer stand was promoting the online prayer website of the Jesuits, which had 4.7 million unique visitors last year.
Other people called into the Jesuit tent to visit the Fr John Sullivan SJ stand. They wanted to find out about the saintly priest who brought healing and peace to the people he visited, mostly poor farming people in Kildare in the nineteen hundreds, and to all those who have prayed and continue to pray to him down the years. Down the years, and even still today, people with devotion to Fr John have attributed miracles to him. He was declared Venerable recently, the first step towards beatification and canonisation. His tomb is in Gardiner Street Church.
Also in Gardiner Street is the cross his mother gave him and which he held as he died. People come from all over Ireland for a blessing with that cross. It was brought to the Ploughing Championships and kept in the prayer room. Frs Piaras Jackson, Tom McGuinness, and Kevin O'Rourke were the main Jesuits who  gave this blessing  and shared prayer and consolation with the hundreds of people who came into the prayer room.
For those involved it was a privilege to share at a deep level the cares and concerns and heartfelt prayers of those who sat down to pray. There were old and young, including the students from the Jesuit school in Limerick, Crescent College, and there were singles, couples and families.
The Ploughing Championship, in fact, is remarkable in that it attracts all ages, from the babe-in-arms to the 90-year-old man with stick in hand. For many it is a family day-out. At the Pioneer and Total Abstinence stand (which did a great trade in lovely Christmas cards) three generations of the one family signed up to become pioneers, to abstain from alcohol and to promote sobriety.
Jesuit Missions managed to attract media attention with their colourful pop-up poster looking for an Irish farmer to work in Zambia. Jesuit ecologist Peter Walpole, a Limerick man, was back from The Philippines, and he too was looking for a volunteer Irish farmer to help him with his work there. He runs an agricultural school which teaches 300 young people. He also provides hands-on assistance to men and women farmers. helping them to produce such crops as coffee and bananas in an eco-friendly and productive way. He gave an interview to the RTE News At One, The Farmers' Journal, and local radio. Four Irish farmers have expressed interest in these projects.
Messenger Publications had quite a bit of traffic, with a number of people reminiscing with Messenger staff about the Sacred Heart Messenger, which still has a large circulation in Ireland. The Messenger bookstand was also popular, displaying a variety of publications, old and new, from Jesuits and other spiritual authors. They managed to increase their sales figures over the three days. And Proinsias Mac Brádaigh, editor of An Timire (the Irish language equivalent of the Messenger) and Foilseacháin Ábhair Spioradálta publications had some worthy conversations 'as gaeilge'.
There was a good response to a small fold-out leaflet on Making Good Decisions offered to all visitors. It was specially produced by Jesuit Vocations as a guide for anyone facing an important decision. They compiled it using and adapting the wisdom of St Ignatius, especially in the area of discernment.
The weather was clement (mostly), the work was hard, and the welcome was warm. All involved certainly raised the profile of the Jesuits and their work. They received in return a sense of the goodness of people – real people. Also a deeper or renewed understanding of the Ignatian insight that one must meet people where they are.
The Jesuits presence at the ploughing championships was highlighted in a news article titled 'Divine inspiration for one shepherd' in the Sunday Independent on 27 September. An article 'Venerable John Sullivan's crucifix blessings sought' was also published on CatholicIreland.net, while a photo of Frank Joy from Killorgan, Co Kerry, posing for a selfie outside the Jesuits in Ireland marquee was featured in the 'Times present' section in the Irish Times on Monday, 28 September.