Memorial Mass for Joe Mallin SJ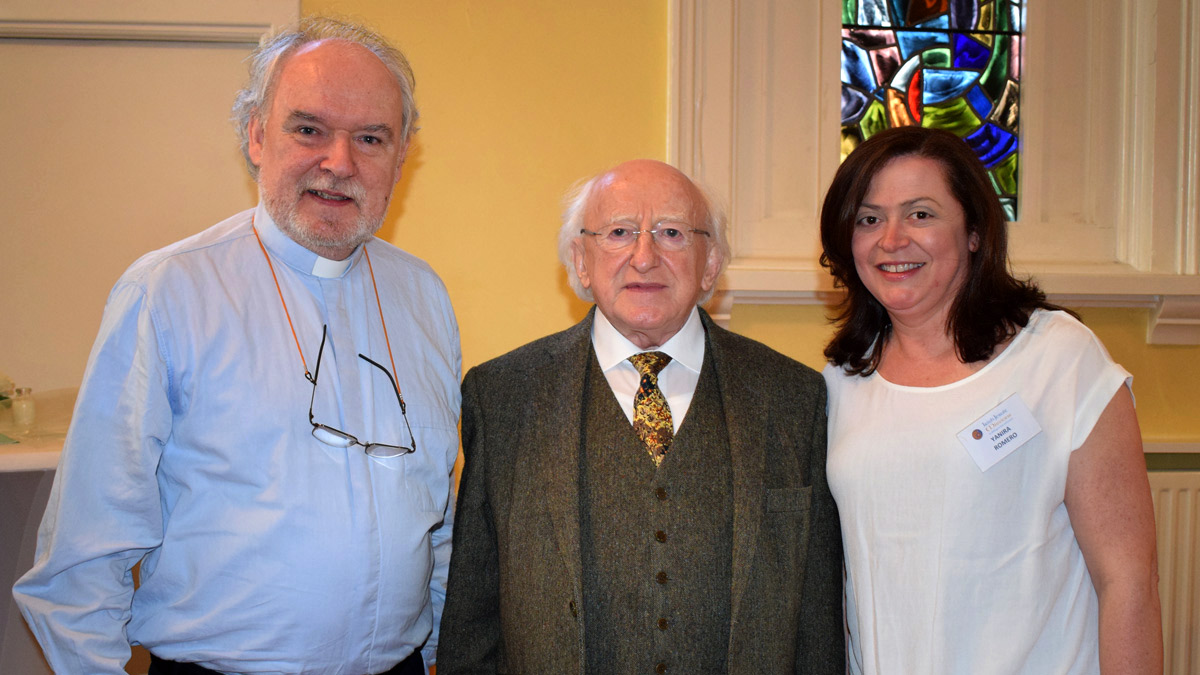 President Michael D. Higgins was among the dignitaries at the Memorial Mass for Irish Jesuit missionary Fr Joseph Mallin SJ at Gardiner Street Church on 21 April, 2018. Fr Mallin's funeral was previously held in Hong Kong where he had lived and worked for the last 70 years.
The service was a celebration of his remarkable life, which had both historical and spiritual significance and offered his family, friends and fellow Jesuits the opportunity to mark his passing in his home town.
The packed congregation in St Francis Xavier Church also included the Lord Mayor of Dublin, Mícheál Mac Donncha, the Taoiseach's aide-de-camp Commandant Caroline Burke, Councillor Cormac Devlin, Aengus Ó Snodaigh TD and Senator Mark Daly, who were in attendance due to Fr Mallin's stature as the last surviving child of an executed 1916 leader and as a Freeman of Dublin.
A book of condolence was signed by mourners as they entered the church. The book sat on a table against a backdrop of photographs of Fr Joseph's parents. The portrait of his father Michael Mallin sits beside a photo of his mother Agnes who is captured sitting with her five small children Séamas, Seosamh, Séan, Maura, and Úna at Maura's baptism in 1916 – the year her husband was executed.
Fr Joseph's cousin, Fr Ray Warren OMI, was the main celebrant at the Mass and delivered a heartfelt homily in which he said that his cousin was a man who was 'blessed indeed with understanding, wisdom, and knowledge' and noted his 'encyclopaedic memory'.
The Mass was a bilingual celebration in honour of Fr Joseph's lifelong love of the Irish language and of course his heritage. It was also an event in which both his biological and Jesuit family came together. Fr Gerry Clarke SJ, the Gardiner Street parish priest welcomed the congregation and was joined on the altar by many other Jesuits including Ashley Evans SJ, James Hurley SJ and the Provincial, Leonard Moloney SJ. John Guiney SJ, Director of the Jesuit Missions Office, accompanied the President, Michael D. Higgins throughout the ceremony.
Fr Joseph's niece, Una Ni Challanáin, did the first reading and his cousin, Fr Ray Warren OMI, read the Gospel on 'The Beatitudes'. Other members of the Mallin-Hickey family read prayers of the faithful and sang at the event.
An offertory procession that presented symbols of Fr Joseph's life were presented at the altar during Mass. The items chosen were a flag, a flute, and his rosary beads and also his pen and glasses. Fr Joseph didn't return home very often from the time his mission in Hong Kong began but he was a prolific letter-writer who corresponded with many people in Ireland and around the world. A letter to his nephew arrived in Ireland five days after his death and added a poignant touch to the collection.
Seán Tapley is a nephew of Fr Mallin's who corresponded with him right up until his death and worked closely with him on the document that revealed new evidence about his father Michael Mallin's court martial and execution. He gave a moving eulogy which gave tribute to Fr Mallin's legacy of education and pastoral work in Hong Kong, and his love of his adopted home. He also noted that in spite of the many letters that Fr Mallin wrote, he was essentially 'a thoughtful man with a droll sense of humour' who was economical with words.
The Jesuit tribute to the deceased missionary was delivered by Fr Leonard Moloney SJ, the current Provincial of the Society of Jesus. In it he emphasised Fr Mallin's dedication to his mission in Hong Kong, and his reputation for never speaking ill of anybody over his long life (see the full speech below).
After the ceremony, the congregation stayed for refreshments and conversation in Gardiner Street Jesuit community, to celebrate the life and achievements of this remarkable man.
Photo: Accompanying the President are John K. Guiney SJ and Yanira Romero of Irish Jesuit Missions.
Reflection by Irish Jesuit Provincial Leonard Moloney SJ
In the second last letter to his wife Agnes, written literally on the back of an envelope, Commandant Mallin, Joe's father, wrote, "All is lost, my love to all my children. No matter what my fate I have done my duty to my beloved Ireland, to you, and to my darling children."
Joe's father was one of those Irish men with a deep Catholic faith and a sense of sacrifice, who were prepared to give their lives for what 'was right and just', as Joe himself has said.
Ireland has that tradition of self-sacrifice for the good of others, and it's also expressed in another vein – that of our missionary tradition. We have the monks of old like St Columcille, St Columbanus and St Gall who left their native land to spread the good news of Christ and his vision of justice and peace.
When Fr Joe became a Jesuit, he joined an order whose early founders, like Francis Xavier, began the European missionary journey to the East. Indeed, Francis wanted to go to China but died on the island of Shangchuan, in sight of the mainland.
So like the early Jesuit Fathers, Fr Joe become a part of the Jesuit tradition of mission, going where the need is greatest, obeying orders! And following in the sacrificial tradition of his own Father, (and Irish missionaries) he gave his life – over 70 years of it – working for and with the people of China and Hong Kong.
As he said in an interview a short while ago, the men and women of the Rising, like his father "had a vision of what was right and just, and they wanted to do what they could to build a better Ireland free from poverty and oppression."
That too was Fr Joe's motivation as a missionary and as a Jesuit. In the words of Pedro Arrupe, a former Fr General of the Jesuits and himself a European missionary to Asia, Jesuits are men called to live 'a faith that does justice.'
And that was the faith that Joe lived out, teaching those he was sent to, and in the best missionary tradition, allowing them to teach him. In that same interview, he quoted a Chinese saying that summed up what life was about: "It's not about 'ourselves alone', (now there's a resonant phrase!) "it's about what the Chinese call 'sharing with others'."
Joe certainly shared his long life with others, be it as teacher, construction supervisor, bursar, headmaster, or director of a social services centre. He found himself in those various roles because, "of his sound judgement and attention to detail" to quote his fellow Jesuits in China.
That word attention is key. For as 20th century mystic Simone Weil points out, "Taken to its highest degree, attention is the same thing as prayer. It presupposes faith and love". And what else would you call it when someone takes the trouble to remember the name of every boy in his school, as Father Joe did.
The Jesuits in his community also attest to his goodness – 'He never complained', fellow Jesuit community member Fr Joe Russell tells us. And in fact, as Fr Ray has pointed out, Fr Joe was a great communicator, and he was very careful with words.
This is something that Pope Francis singles out for attention in his recent apostolic letter Gaudete et Exultate. He tells us that resisting the temptation to gossip or engage in back biting is a holy thing.
And Fr Russell also adds, "Remarkably, he never spoke unkindly about others. I never remember him ever speaking disparagingly about another". 104 years and never an unkind word about another person – remarkable indeed!
In that letter on the envelope that Commandant Mallin wrote to Joe's mother he started by saying, "All is lost". He ended by qualifying that statement saying, "All is lost, Agnes, except honor and courage".
Those qualities were certainly not lost in his son whom we remember today. Fr Joe Mallin, a man of courage and honour, a good and holy Jesuit.