New issue of Studies: Fraught times for democracy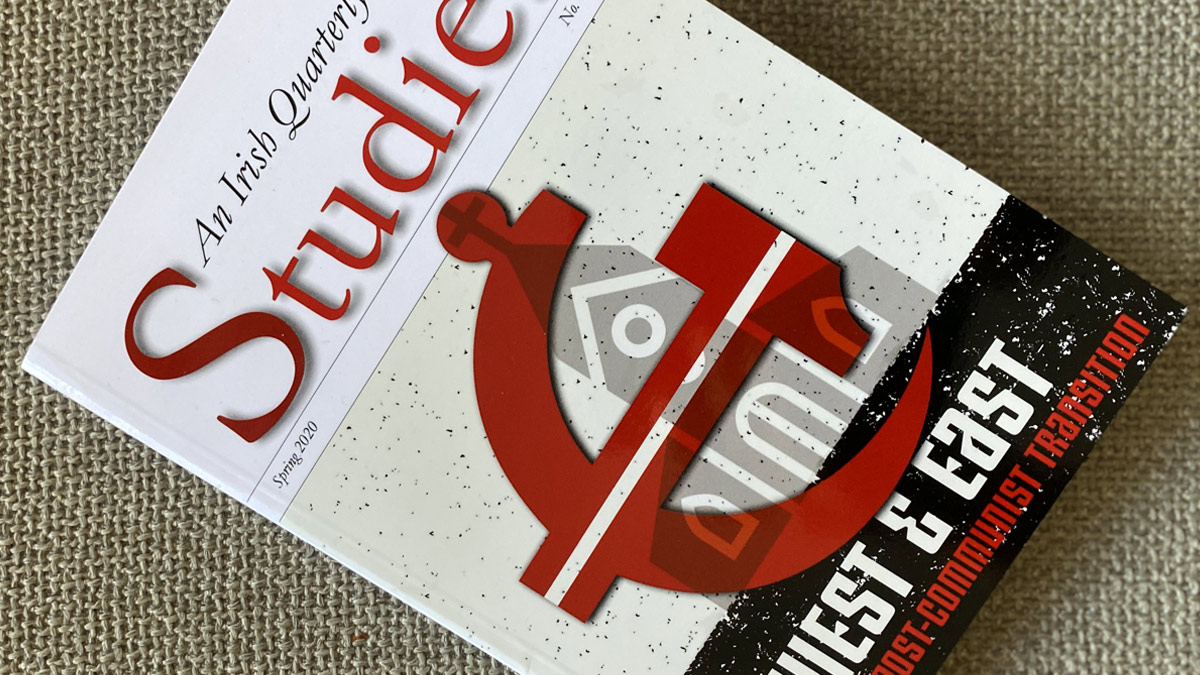 There is no doubt that the Covid-19 outbreak is a game-changer in many respects. For some time to come, no critiques of politics, democracy or culture will feel complete without incorporating this traumatic episode – its causes, the structural faults it has exposed, or the shifts in political culture it has activated – and using it as a prism through which to view the terrain of late modernity. This is not to say, however, that all analyses from before last January are now redundant. Far from it. Credible explanations of the current crisis are only possible within a larger interpretive framework that attends to all aspects of modernity.
The Spring 2020 issue of Studies is helpful in this respect. Its lead article in particular provides a broad-sweep view of post-medieval history, paying attention mainly to the 'dual experience' of Europe. What its author, Tomáš Halík, is referring to in 'West and East – Europe's dual experience' is the European experience of two distinct cultural and political realities, not merely a geographical dichotomy. Halík, who was secretly ordained to the priesthood in Communist Czechoslovakia, is a philosopher and theologian, and he worked for many years as a psychotherapist. He was advisor to Czech president Václav Havel, and Pope Benedict XVI made him a Monsignor. The article in this issue of Studies is the text of a paper he gave to a gathering of European Jesuit Provincials in October 2019.
Halík notes the optimism of politicians after the fall of Eastern European communism, and indeed of Pope John Paul II who spoke of "Europe breathing with both its lungs". Such optimism was unfounded, however. He notes: "After 1989 the process of European integration relied excessively on economic and administrative aspects and neglected the cultural, moral and spiritual component: nurturing European awareness."
The concrete difficulty in that period of negotiation between east and west, Halík judges, arose in the context of trying to frame a basic constitutional document for the EU:
It is very difficult to find a compromise between two concepts: a conservative one based on nostalgia for a 'Christian Europe', and a secular liberal one that avoids linking the European idea with Christianity. Clearly on both sides there are prejudices, 'enemy images' and fears of the possible destructive consequences if the other side were to totally dominate public space.
The particular problems which Europe faced during the post-1989 period of integration, Halík believes, were concrete manifestations of multiple underlying crises of meaning. People in the newly-liberated countries, for example, had understood and desired democracy simply as a political system that can be established straight-forwardly by putting the right institutions in place. What transpired, however, was that democracy is "a political culture that requires a thoroughgoing and challenging transformation of how people think and behave, a change of values orientation and of the overall moral climate." "Democracy," he adds, "is above all a specific culture of relations among people.
Throughout the rest of Halík's address, he takes an incisive look at the other critical issues which have come to the fore in recent decades, more in post-communist countries than elsewhere. Particularly he notes the process of globalisation, which he says did not introduce uniformity, as people supposed it would, but served instead to intensify disparities.
Halík considers also the rise of religious nationalism and aggressive populism. "It is above all in the post-communist countries," he says, "that migrants and Muslims in general have become the favourite objects of fear and hate, along with 'deviant' groups such as Roma or homosexuals." His reflections on religious nationalism in the east take Halík back to the historical processes in the Church in the wake of the Enlightenment, especially how the Church, by closing in on itself, unwittingly contributed to the process of secularisation.
The second half of Halík's paper considers the changes wrought by the Second Vatican Council, and includes a fascinating account of his own experience of the 'underground church' in the east in the decades after the Council. His finishing note of hope invokes the Council's exhortation to 'read the signs of the times'.
Also in this issue of Studies, other signs of the times are discussed. Some of them are a little disquieting. Patrick O'Riordan SJ relates his concern about the rise of religious persecution around the world, and he examines a number of different perspectives (citing Ronald Dworkin, Martha Nussbaum, Charles Taylor and Jacques Maritain) on the question of what kind of protection religious liberty should be afforded in the contemporary state and whether this liberty has a value which is distinguishable from other democratic values, such as freedom of conscience, expression and association. Then, in an article on "Britain's strange 'Brexit' parliament", William Kingston of TCD Business School notes the loss of trust in the representative role of politicians in a democracy which has become evident in the Brexit story. And in a special review article Keith Adams of the Jesuit Centre for Faith and Justice examines three publications relating to social housing in Ireland. He includes discussion of the dangerous impact a neo-liberal political culture has had on public housing, and he notes the need "to subordinate housing policy to wider climate policy to reduce emissions and build homes which are not reliant on private car ownership".
The Spring 2020 issue can be purchased from the Studies website »