Titanic with Father Browne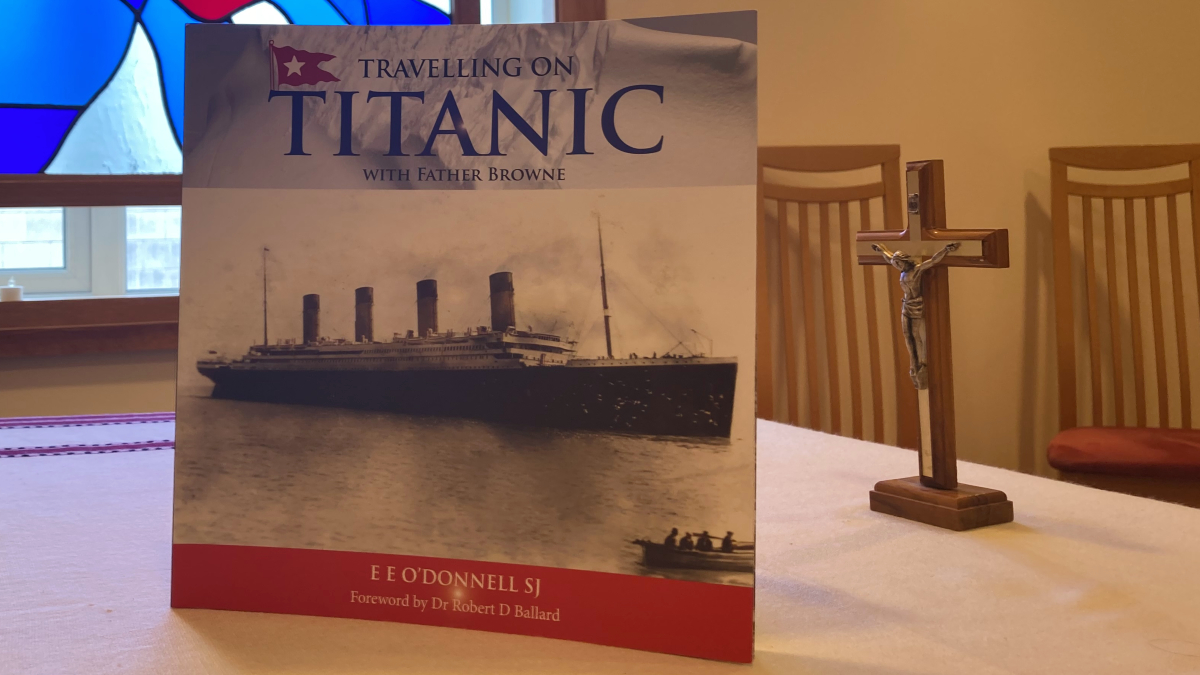 A new revised book of photographs, memories and letters has been published by Messenger Publications to commemorate the 110th anniversary of the sinking of the RMS Titanic. Taken by renowned photographer Francis Browne SJ (1880-1960) and edited by Eddie O'Donnell SJ, Travelling on Titanic – with Father Browne » includes historically accurate colourised photographs and updated text.
According to Fr O'Donnell, Frank Browne was deeply influenced by his uncle Robert Browne, the Bishop of Cloyne. He gifted him not only with a new camera but also with a two-day cruise on the Titanic as it journeyed to Queenstown, modern-day Cobh.
The photographs that Fr Browne took on board the world's largest liner may have never seen the light of day, had not he been ordered by his Jesuit Superior to 'get off that ship!' at Cobh, the last stop before crossing the Atlantic. He obeyed the instruction and his photographs now form a rare and precious account of the Titanic's journey before over 1,500 lives and the magnificent ship itself were lost to the Atlantic ocean.
Fr Browne's images appeared in all the major newspapers and magazines across the globe and became the world's collective memory of an unthinkable tragedy ­– the sinking of the Passenger Liner Titanic on its maiden voyage. They captured the ship in all its magnificence – the splendid suites, the lavish ballroom, the attention to detail in every aspect of design and of course the passengers, enjoying the novelty and the luxuries of life aboard one of the largest and most opulent ships in the world.
This archival treasure includes a foreword by Dr Robert D Ballard, who discovered the wreckage in its resting place in 1985. He acknowledges Fr Eddie O'Donnell as a kindred spirit as he found Fr Browne's collection of more than 42,000 photographs in the same year.
Poignantly, this edition has been printed by GPS Colour Graphics, a Belfast-based print company that was incorporated in April 1912 – while the Titanic was actually on the ocean, sailing towards its doom.
Frank Browne, remembered as an unassuming Jesuit priest, is now recognised as one of the most important Irish photographers of the twentieth century. He captured thousands of other moments on camera, many of which are known by generations of Irish people.
Travelling on Titanic – with Father Browne », edited by EE O'Donnell SJ is published in Ireland and the UK by Messenger Publications, priced at €25/£23. Publication date is 15 April 2022.
In the video below, listen to Fr Eddie O'Donnell SJ speak about the set of photographs which Fr Browne took of the Titanic on the first leg of its maiden – and only – voyage, from Southampton to Cobh, Cork, in 1912.
The photograph colourising was done by Edwin Davison. Davison & Sons digitised the Fr Browne collection and manage and safeguard it.