A memoir full of gratitude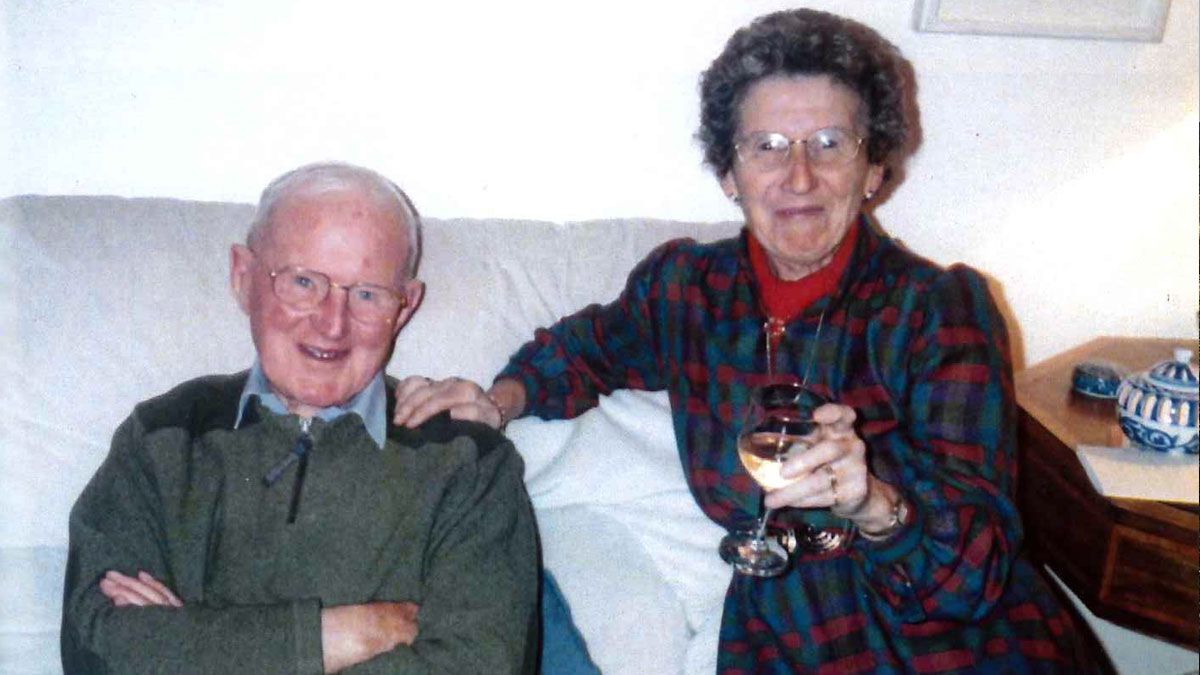 Dr Catherine McCann, lifelong friend of recently deceased Jesuit Charlie O'Connor, has just published her latest book In Gratitude: The Story of a Gift-Filled Life. It's the memoir of what one reviewer, Tom Casey SJ, has called "an engrossing life, moving from social privilege to service of others".
Catherine McCann grew up in Simmonscourt Castle, a veritable 'big house' with beautiful gardens but in the heart of Dublin city. They had servants indoors and out. There home was a happy one where faith played an important part. Her mother donated a section of the land to the Poor Clare community who have a convent there in Simmonscourt Road to this day. And her aunt joined the order.
Catherine herself joined the Sisters of Charity, at the age of twenty. She was drawn to them because of the fourth vow they took of service to the poor. This had become an important aspect of her faith after joining the Infant Aid Society in her teens. She writes that she was truly shocked by the poverty she witnessed first hand in the tenements of Gardiner St at the time. She would go there distributing food and milk for the young children and infants who lived there. The experience marked her deeply and fired her social conscience which informed her faith for the rest of her life.
She also writes candidly about her time as a religious. The training and formation was 'difficult and anti-intellectual', but the sisters who worked hard setting up schemes to tackle the rampant poverty of the time, were inspirational. She herself was supported by her order to train as a physiotherapist, a relatively new profession at the time. She worked in the public health service and developed her own thinking around the role of carers both professional and family. Eventually she published an important book on the topic entitled Who Cares? A Guide for All Who Care for Others. The book formed the basis of two radio programmes produced by RTE's John Quinn.
In her mid thirties she met the Jesuit Charlie O'Connor whilst on retreat. He was on the missions and they began writing to each other. The letters became the basis of a long lasting and loving friendship of forty four years. When Charlie returned to Ireland they worked together on many projects and were most well known and regarded for the wonderful tours they gave of the Holy Land. 'We conducted forty pilgrimages over forty years', she writes. In recent years when Charlie's health began to fail and he was cared for in Cherryfield Jesuit nursing home, Catherine says the Jesuits were most kind in allowing her attend to him until his death just over a year ago. She also read her memoir to him and says he only suggested a few minor changes. After his death she refused to make any more amendments to the book she'd read to him.
After twenty five years as a nun (and to her great surprise) she realized on a thirty day directed retreat that God was calling her, like Lazarus, to 'come out'. 'And like Abraham to go to a new land of promise', she says. So she said goodbye to the Sisters of Charity and set bout taking a new set of religious vows as a single women and made publicly in front of family and friends.
She continued her work as a physiotherapist and bought a house in Wicklow. It was situated in the beautiful Glenmalure Valley and before long she had made a beautiful award-winning garden out of the land she had acquired with the house. Gradually she filled the garden with pieces of spiritually symbolic sculptures by various artists. Before long the Shekina Sculpture Garden was attracting people of all faiths and none who spent time there mediating, praying or reflecting. Jesuit artist Colm Lavelle was one of the first people to lead a nature retreat there and Catherine and Charlie led many themselves in the years that followed. To this day visitors still come to spend time getting in touch with God and their deeper selves away from the pressures of modern living.
At the age of 70 Catherine did a qualitative study based on the experience of some of these visitors, using Bernard Lonergan's work as a methodological tool. This was for her PhD thesis which she obtained from All Hallows College, Dublin. Before that she had been conducting workshops all over Ireland on the positivity of aging. These workshops followed on from her second book Falling in Love With Life: An Understanding of Ageing.
Now in her 81st year she has no signs of slowing down and is still very much 'in love with life'. Last year, following up on her interest in the Hindu faith, she travelled to India alone and spent some time in an Ashram there. And currently she is writing up a journal of her experience there and in Eritrea which she also visited last year. She dearly misses her beloved Jesuit friend Charlie but says her life has been always grace filled, hence the title of her book In Gratitude. It's published by Orpen Press and costs €15. Listen above to Catherine in conversation about her gifted life with Pat Coyle of Jesuit Communications.