Novices work hard at the Ploughing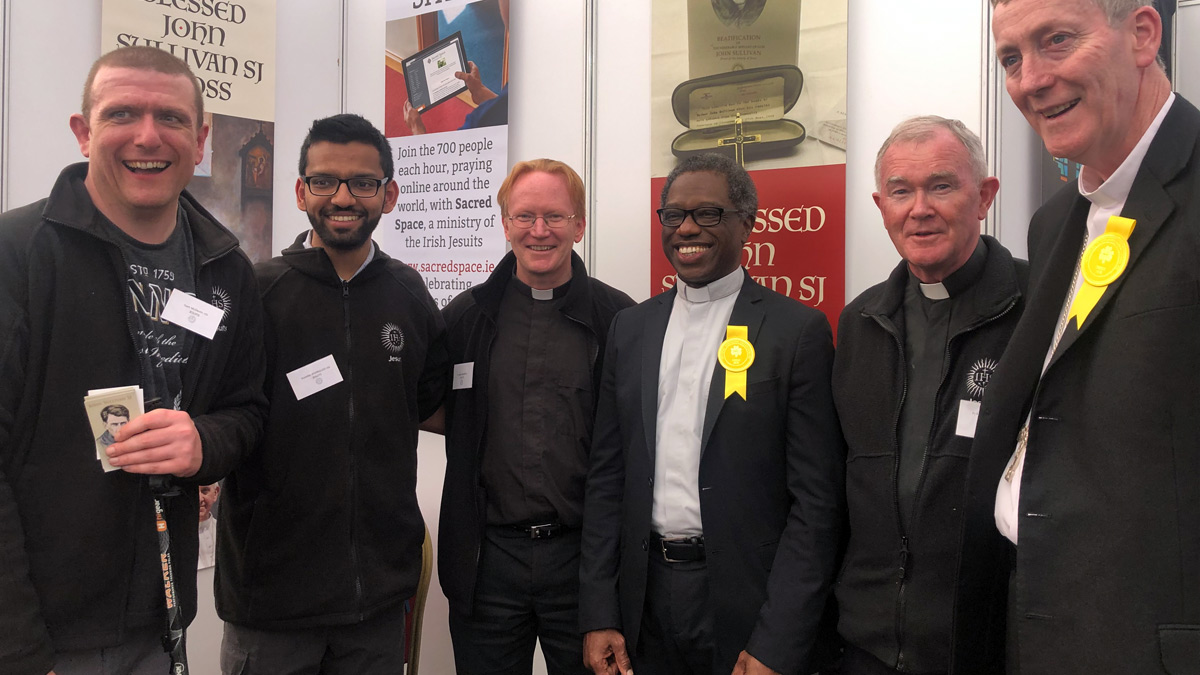 Jesuit novices from the joint British/Irish novitiate in Birmingham joined their Irish Jesuit colleagues and friends to work at The National Ploughing Championships for the first time, on Tuesday 17 and Wednesday 18 September 2019. Last year a hurricane put paid to a similar plan, but this time the sun beamed down on novices Fr Paul Prior (Ireland) John Bosco Noronha (Britain), Thiranjala Weerasinghe (Sri Lanka) , Dom McDevitt (second-generation Irish), Sam Dixon (Britain), and Dunstan Rodrigues (Britain) as well as their director, Simon Bishop SJ, and assistant director Kevin O'Rourke SJ.
'The Ploughing' as its colloquially known, is the largest outdoor agricultural event in Europe attracting more than 320,000 visitors annually. Many of the people who made their way this year to Tullow Co Carlow visited the Jesuit stand. Paula Nolan had done the impressive design work for it, with banners indicating what was on offer for the thousands of people who walked through the busy tent called The Hub.
Cecilia, Francis and Carolanne of Messenger Publications were selling a wide variety of their books by both Jesuits and other authors. Their best-selling Sacred Space Prayer book, based on the content of the online prayer website sacredspace.ie attracted attention and gave Pat Coyle and Fiona Owens of the Sacred Space apostolate an opportunity to introduce visitors to the website that attracts up to 700 people an hour for online prayer.
The central attraction for people was the offer of a blessing with the cross of Blessed John Sullivan SJ. Fr John held the cross, given to him by his mother, as he was dying. It is usually kept in Gardiner St Church, the home of Fr John's tomb, and people from all over Ireland, come for a blessing with it, administered by Paul Farquharson SJ. A continual stream of people came for a blessing with the cross over the three days and  Kevin O'Rourke, Simon Bishop, Paul Prior took turns in greeting and talking to those who came. Many people had a story to share or a request for healing for themselves or a loved one. "It was a privilege to meet such lovely people," said Simon Bishop. "And to see what the blessing meant for them would lift your heart," he added.
Pat Coyle of Irish Jesuit Communications commented on one woman who came to the stand. She had received a blessing for her 15-year-old son with special needs the previous year. "She wanted to tell us that he had died just ten weeks ago and though it was heart-breaking for herself and her husband and daughter she was taking comfort in her belief that Fr John was looking after him. She said she felt that strongly. It's hard work at the ploughing, you're up at 5.30 am and not getting to bed 'til after 10 pm. But meeting people like that make it all worthwhile. That's just one story, but there were many more just as touching," said Pat.
Cait Cullen, who was recently awarded a papal medal for her work in promoting the cause of Fr John in Clane, Co. Kildare, spoke to the passers-by, offering them a Fr John prayer card or pen, as well as a chance to receive the blessing. Some of the novices did the same thing, whilst others spoke to some of the hundreds of young people, many with hurls in hand, who visit the ploughing every year. Dunstan, Thiranjala and John Bosco offered them the Jesuit leaflet on Making Good Decisions, and indeed some people who got the leaflet in previous years came back for some more. The novices also distributed a fold-out pamphlet on the various ministries of the Jesuits in Ireland.
The ploughing takes place in the diocese of Kildare and Leighlin and Bishop Denis Nulty dropped over, as usual, this time accompanied by the Papal Nuncio, Archbishop Jude Thaddeus Okolo.
This is now the sixth year of Jesuits at the ploughing. Kevin O'Rourke, in fact, is in his seventh year, having visited by himself in 2012. It's a labour of love for him. Although he had to give the blessings on his own on the last day, it was a great help for him to have the company of the novices on Tuesday and Wednesday, and his fellow Jesuits Barney McGuckian on Tuesday, and John Callanan SJ on Wednesday.
The night before the novices went home the whole ploughing team squeezed into the small blessing room for a memorable Mass at the end of the day. Fr Simon Bishop presided. As well as praying for one another, and for the safe return of the novices to England, all the people at the ploughing were remembered in prayer, especially those who had come for the blessing, some of whom were sick or troubled.
"It was another good ploughing," according to Pat Coyle; "The novices were wonderful. They worked really hard and had no problem throwing themselves into the middle of the mayhem, engaging so easily and affably with strangers that they quickly warmed to and who clearly warmed to them. It really was two days of great fun for us all."