Blessed John at the ploughing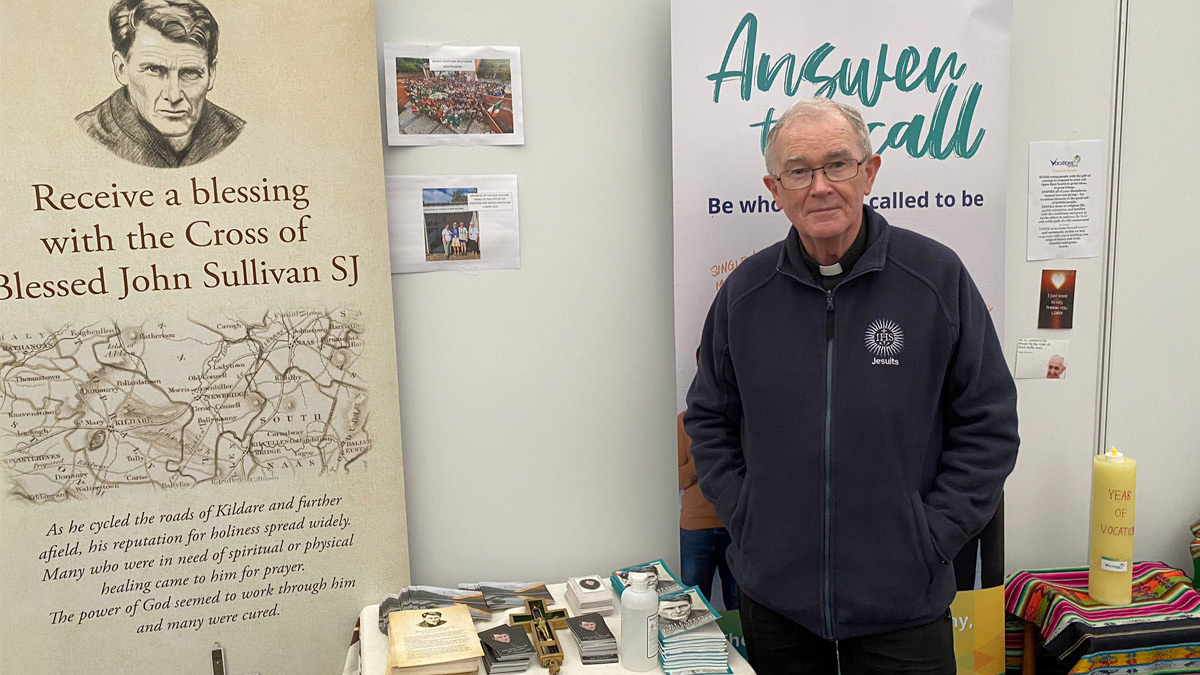 Kevin O'Rourke SJ once again brought the cross of Blessed John Sullivan SJ to the National Ploughing Championships this autumn. The event took place in Ratheniska, Co Laois from Tuesday, 19 September 19, to Thursday, 21 September 21, 2023.
Fr Kevin was stationed in the Vocations Ireland tent and many of the people who dropped into the stands there came to him for a blessing with the cross and a chat. "I was delighted to see some of the younger school kids coming along, looking for leaflets," says Fr Kevin, "and the many other older people looking for a blessing. It's always a great opportunity at the ploughing to meet people and listen to their stories and sometimes their sorrows. They are the salt of the earth."
The cross belonged to Fr John Sullivan's mother » and is kept by the Jesuits in Gardiner St Church. They give blessings with it to the many people from Ireland and further afield who come to visit Fr John's tomb and pray usually for healing or a special intention, for themselves or someone close. The cross is also taken to the sick and dying in hospitals when requested.
The John Sullivan SJ Room in the Gardiner St community building beside the Chruch has been recently renovated and redecorated and many parish groups including AA and Al-Anon make good use of the room which looks out onto their beautiful garden in the heart of inner city Dublin.
Blessed John spent most of his life teaching at Clongowes Wood College and travelling the roads of Co. Kildare by bike or on foot visiting the poor and the sick. His reputation as a man of great holiness and healing spread in his lifetime and is still talked about to this day. Click here to find out more »
In the Curia headquarters in Dublin Fiona Halpin is kept busy sending out prayer and information leaflets about Blessed John, on foot of requests that come in from all over the world. And the shrine to Fr John in St Ignatius Chruch, Sea Road Galway, is never short of a visitor.
Meanwhile, the Jesuits in Britain have plans to open their own prayer space dedicated to Fr John at their church in Farm Street, London. Archbishop Michael Jackson, former Church of Ireland Archbishop of Dublin is the guest speaker who will officially mark the occasion when the iconic picture of Father John by artist Sean O'Sullivan will be unveiled. Invited guests include Jesuits from Ireland and members of the Lloyd family, relatives of Fr John Sullivan living in England. The event will take place on Sunday 5 November this year.