Young people keeping the faith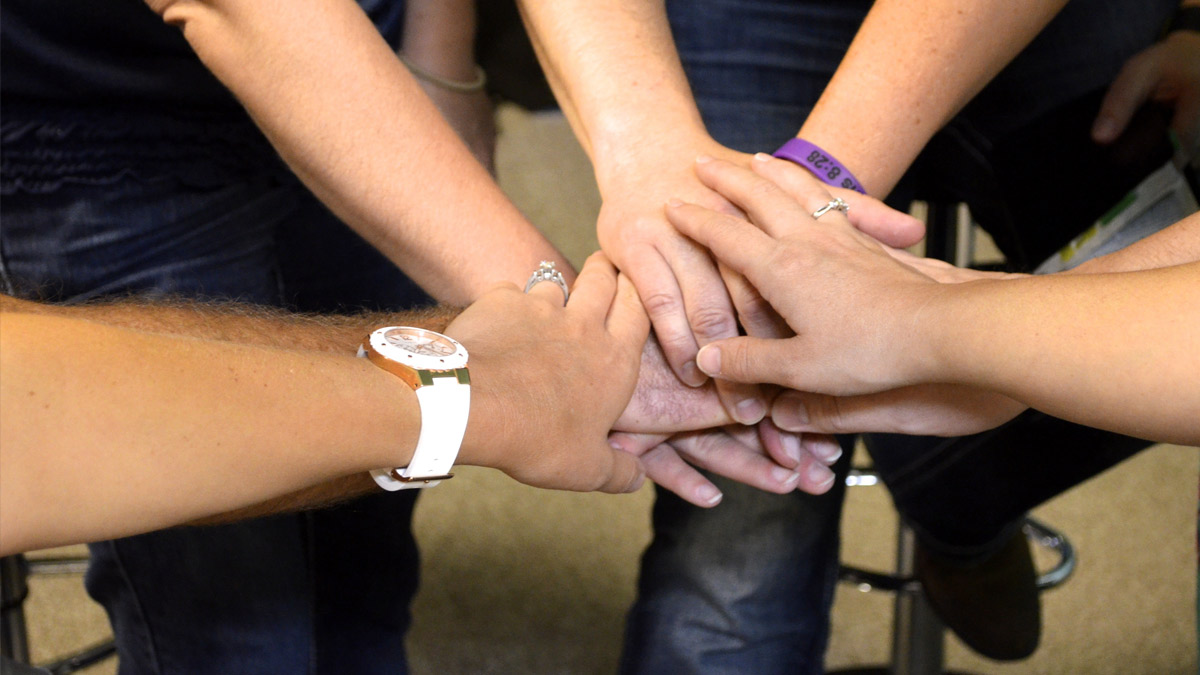 I often hear that young people have no faith nowadays. I hear of Catholic schools changing ownership; I hear young people condemning the Church for its history of sexual abuse; and I hear the voice of Dawkins and of Humanism. But what is the reality of the situation?
I had been thinking about this for sometime when I happened to listen to Will Flanagan, chaplain of Loreto Abbey Dalkey, at the Novena of Grace in Honour of Saint Francis Xavier this month in Coolock, Dublin. In preparation for the Novena, Will did a survey in one class which revealed that 18 out of 20 girls expressed a belief in God, but that only 3 out of 20 reported attending Mass. He pondered a disconnect between the students' faith and their practice, and this got me wondering.
After mulling over it a bit more, I made contact with Belvedere College SJ chaplain, Eoghan Keogh, who shared his own experience from working with teenagers. "While students don't seem to be queuing up to go to Mass," he said, "projects such as the annual sleep out for the homeless; the block pull which is a charity walk from Dublin to Galway; the weekly SVP meeting and soup run; overseas immersion projects as well as many other initiatives which are run in the school are all heavily oversubscribed to."
Belvedere also runs three pilgrimages to Lourdes, where students go in helping roles to look after the sick and elderly while they make their pilgrimage. Eoghan said, "It's here I see how students seem to address their own hunger for something spiritual. While on these trips, I experience students having a profound respect for the faith and tradition, and engage in a way that is deeply personal to them."
Belvedere boys engage in reflection at retreats such as Kairos, where conversations about the subject of faith arise and where they try to answer the questions of God in their own lives. "It's as much a lived experience of gratitude and a continual seeking more so than a clear definitive image of God", said Eoghan.  Listening to Eoghan was inspiring. Just to hear how these male students actively express their faith, and how they nourish their own spiritual life was new to me.
I then scanned the internet for how other Jesuit students may express their faith today. I found that Gonzaga College SJ, based in Ranelagh, Dublin, is also known for its student service opportunities. For example, their 4th Year Social Outreach programme provides numerous activities including work in local schools, nursing homes and hospitals, and visiting older people who live alone or who feel lonely. The school is helping the students to foster a sense of value and a commitment to the service of others. Their community based work increases their social awareness and competence.
Like Belvedere, there is a keen interest in this active expression of faith among Gonzaga boys. They work for a variety of charities doing bag packing, street collections, Church gate collections and carol singing. A timetabled two week social outreach placement gives students eye-opening experiences into those who are on the margins of society, and there is also an opportunity to do an additional placement at the Peter McVerry Trust homeless charity. All of this helps them to grow in confidence and maturity and gives them a greater appreciation for others and the world in which they live.
Enthused by what was I was learning, I got in touch with Patrick Muldoon, who works with Sacred Space, the online prayer website of the Jesuits. He is also involved in youth evangelisation. "In my experience", he said, "young people are searching for meaning and purpose in their lives. Many express that their faith in God is important to them, even if they do not regularly attend Mass. Some youth participate in voluntary work and try to reach out to vulnerable persons in our society, thus embodying the Christian values of social justice and concern for the poor as highlighted by Pope Francis.
"Others find their way to the heart of the Church through movements involved in youth evangelisation such as Youth 2000 and Pure in Heart, and become leaders in evangelising their peers. Young people, in my opinion, are very much influenced by the witness of other young people, and benefit from the joyful sharing of faith, and the explanation of teachings of the Church. The success of Youth 2000 in Ireland, where youth invite youth into a personal encounter with Jesus, verifies this.
"Through my experience working in youth evangelisation", Patrick concluded, "I have seen how young people are open to exploring the deeper questions of life, and how they respond positively to a positive faith story, a message of hope and joy. It is often through these instances that they are renewed in faith, and receive the courage to express their belief in a God of love, with courage and clarity. This is at the heart of evangelisation and it can happen unexpectedly at any time and in any situation."
What's more, Clongowes Wood College SJ in County Kildare, has many prayer opportunities for its students. Mass is celebrated in the Boys' Chapel, the People's Church and the Ignatian Chapel while the Sports Hall transforms into a Chapel on Sundays to facilitate school Masses. Also, the Manresa Room is a quiet space where boys can spend time reflecting and meditating. Director of Liturgy, Mr Cyril Murphy, let me know that a highlight on the school's calendar is the annual Easter service of Tenebrae, an ancient Christian liturgy modernised by the students along with opera star Celine Byrne.
I don't know about you, but the impression that young people have no faith appears far from true to me if this preliminary investigation is anything to go by. Granted, I looked to a select number of Jesuit and Catholic schools, but I gather that I would find large breadcrumbs of faith elsewhere too. As a Christian, I have much to learn from these young people. They are so active and vibrant that I feel inspired by them to do some voluntary work, perhaps with the Jesuit Refugee Service and to show my 'younger' face more at Mass. Moreover, I pray that all people of good will may support our young people to live out their faith in creative and expansive ways.