'God is love' – Kennedy's mantra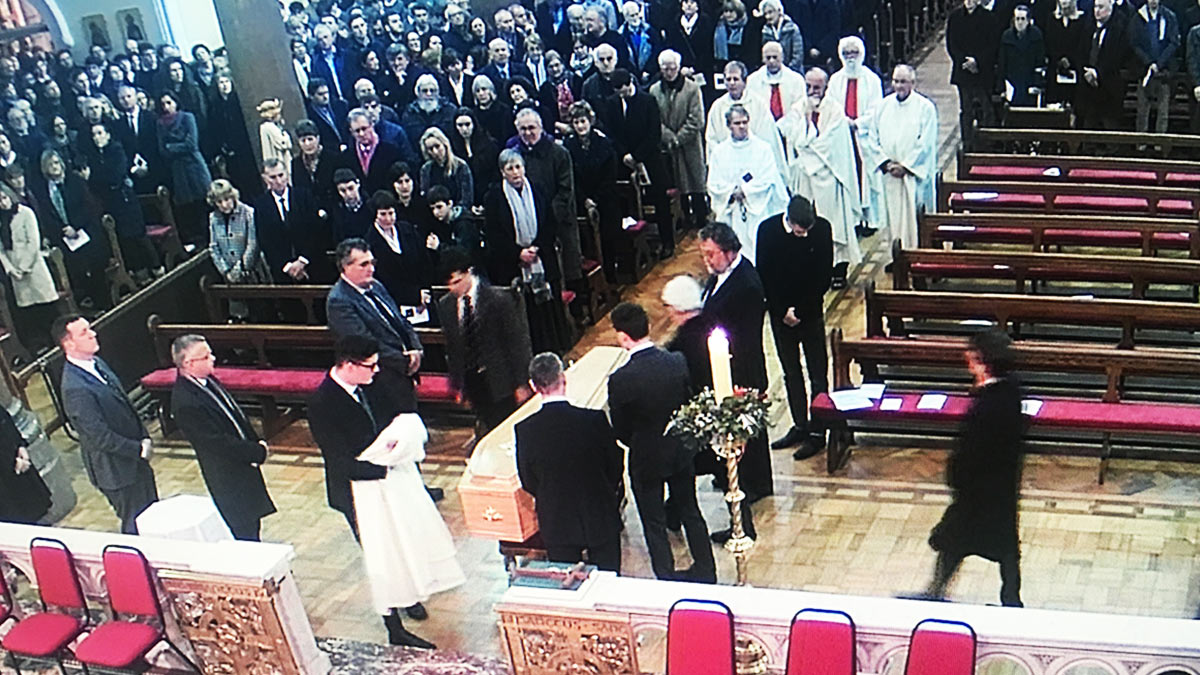 The Funeral Mass of Kennedy O'Brien SJ took place at the Church of the Holy Name, Ranelagh, on Saturday 13 January before a packed congregation, with crowds outside in the cold. A native of Galway, Kennedy (aged 61) devoted his Jesuit life to teaching.
Mourners at the Mass included a large number of students from Gonzaga College SJ, where the Kennedy taught English and served as chaplain and retreat leader. The College choir provided the music, and a number of students removed the pall from the coffin. Irish Provincial, Leonard Moloney SJ, was the main celebrant.
At the end of a traumatic week for Gonzaga (with the deaths of both Kennedy and his fellow-Jesuit Joe Brennan, who had taught in the college for many years), Principal Mr Damon McCaul spoke at the Mass. "For me personally, he [Kennedy] was a friend, a confidant, a sounding board. What I really appreciated – and Kennedy was good at this – was being told when he thought things could be done better, or differently. In that, Kennedy was the embodiment of Magis [the Jesuit principle of more or greater]… a half job was never enough."
With good humour, Mr McCaul reminded the congregation of Kennedy's initial reluctance to come to Gonzaga. He taught in his alma mater, Coláiste Iognáid, in Galway and in Belvedere College in Dublin beforehand. However, he said of Kennedy: "He went where the need was greatest; he threw all of himself into Gonzaga, to such an extent that he loved it in spite of himself". He then expressed his gratitude for the care and support the school had been given in recent days.
Mr McCaul finished by asking the Gonzaga students to join him in reciting Kennedy's favourite Gospel message, one he used to repeat at every College Mass: "God is love. Whoever lives in love, lives in God, and God in him or her".
Kennedy had a wide range of hobbies and interests, including heraldry, gardening, rowing, cricket and the poetry of G M Hopkins. His popularity and regard as a priest was attested to by the number of weddings, baptisms and funerals at which he was asked to officiate.
He was buried at Glasnevin Cemetery following the Funeral Mass.