John Paul II Awards in Galway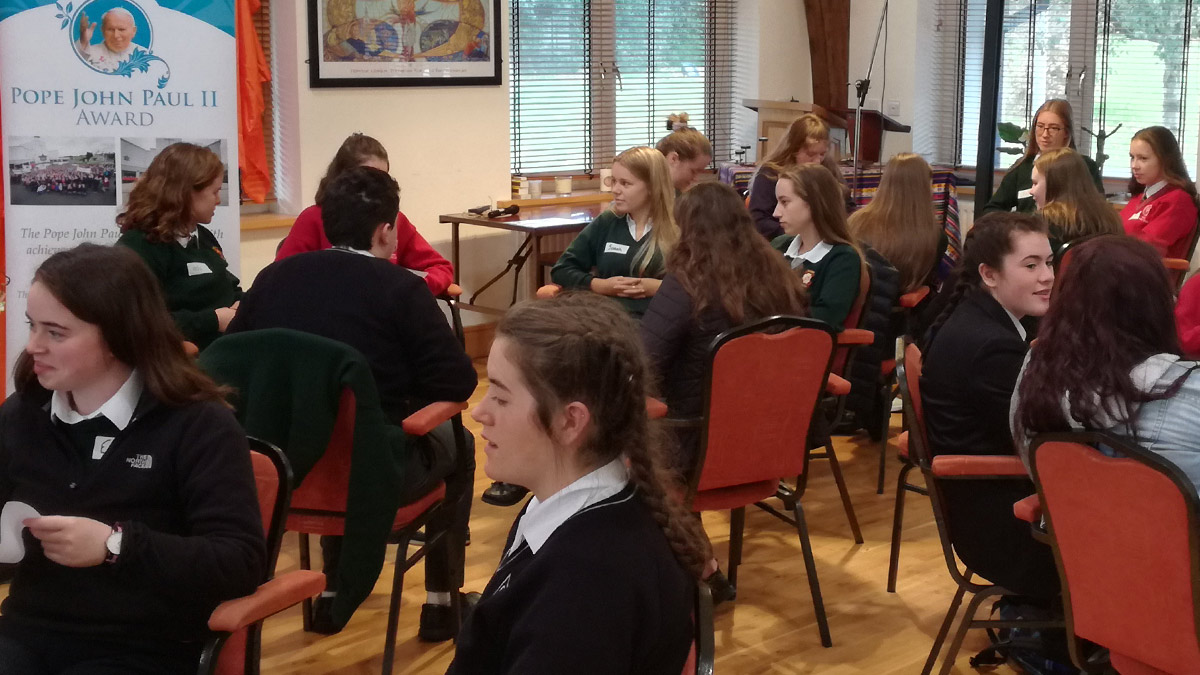 The Jesuit Centre of Spirituality & Culture in Galway was involved in a new venture recently when Sr. Moira McDowall and Amy Hallett Cusack facilitated sixty students participating in the John Paul II Awards for Galway Diocese. The 5th & 6th year students came from six different schools, from Galway City and also from Claregalway, Oranmore, Kinvara, and even as far as Lisdoonvarna and Ennistymon in Co. Clare.
The morning's reflection was the last part of the voluntary award, which over the year saw them become more involved in their parishes as well as in their local communities.
Parishes benefitted from having new members in their choirs or music groups, or extra help with the First Communions. Some students helped in cleaning their church and graveyard, whilst others volunteered to help at the Papal Mass in Phoenix Park. In addition, there was a special project in which 19 students created a child safeguarding information leaflet for children and parents, available soon in every parish in the diocese.
Students also volunteered with organisations such as St. Vincent de Paul, Forόige, the Irish Cancer Society, Make a Wish Foundation, and helping children in Chernobyl with the Burren Chernobyl Project. Musicians in the group used their talents in local schools and nursing homes whilst others were involved in coaching sports teams and dance classes.
One student, whose experience of the award was so positive that she promoted it in her school to recruit this year's group, reflected, "I really enjoyed doing the award because it gave me something else to focus on for the year apart from school. Doing the award, I was able to help a lot of different people and I was able to see the difference I can make". Other students mentioned that the award has given them greater confidence, and that helping others increase their self-esteem.
The morning's closing prayer invited everyone to reflect on how following Jesus' example of serving others also nourishes their faith and relationship with God, as well as with themselves and others. Each student received a little packet of mustard seeds to take with them as a reminder that their faith will grow from the seeds planted over this past year.
"The day was a chance for the students to take time to reflect on their experiences in a prayerful yet fun setting," one teacher remarked, whilst another added; "They really enjoyed the day. It was a great idea to bring the different school groups together to share with one another. It was a morning well spent, and we hope it will bear fruit into the future".
It was also an opportunity for the Jesuit Centre to collaborate with the Galway Diocesan Pastoral Centre, and to meet in a third venue, Croí Nua, run by the Missionaries of the Sacred Heart.
"It was lovely to work with the Jesuit Centre," commented Mia Joyce Walsh, Youth Ministry Coordinator for the diocese, adding; "We hope that this is the beginning of finding new and creative ways to work together and support each other in our ministries here in the diocese".